BRIC Rotunda Gallery
Introduction
BRIC presents contemporary art, performing arts, and community media programs that reflect Brooklyn's creativity and diversity. BRIC's visual arts program focuses on the Rotunda Gallery, that has supported the work of Brooklyn artists since 1981 through five annual group exhibitions. The gallery also provides arts education programming for thousands of New York City public school students. Its online image registry contains the work of these artists and is accessible to curators, dealers, gallery owners, and other visual arts professionals throughout the world.
Images
The BRIC Rotunda Gallery is located on Fulton Street in Brooklyn and features a variety of diverse exhibits.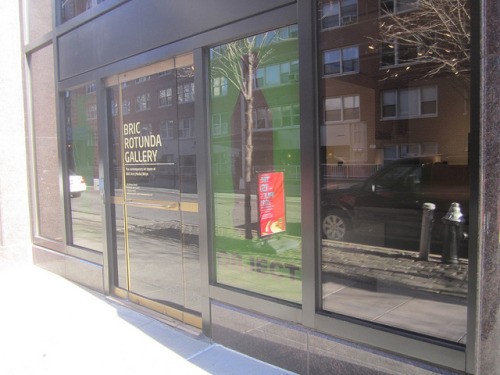 Backstory and Context
BRIC programs reach hundreds of thousands of people each year.

The main venue, BRIC Arts/ Media House, offers a public media center, a major contemporary art exhibition space, two performance spaces, a glass-walled TV studio, and artist work spaces.

BRIC also provides resources to launch, nurture, and showcase artists and media makers. It aims to advance access to and understanding of the arts and media by presenting free and low-cost programming, and by offering education and other public programs to people of all ages.

BRIC is the leading presenter of free cultural programming in Brooklyn, and one of the largest in New York City. BRIC presents and incubates work by artists and media-makers who reflect the diversity that surrounds us.


Sources
"BRIC." BRIC. May 11, 2017. Accessed May 21, 2017. http://www.bricartsmedia.org/.

"The Complete Guide." NYC-ARTS. Accessed May 21, 2017. http://www.nyc-arts.org/.
Additional Information