Brooklyn Heights Promenade
Introduction
The Brooklyn Heights Promenade is a pedestrian walkway made famous in multiple Hollywood movie productions like "Annie Hall" and "Moonstruck." One-third of a mile long, it offers a vista of the Statue of Liberty, the Manhattan skyline, and the Brooklyn Bridge. Lined with flower beds, trees, benches, and playgrounds, the promenade is a favorite destination for tourists, joggers, strollers, families, and lovers. It looks out on the East River and is part of Brooklyn's first Historic Preservation District.
Images
The Brooklyn Heights Promenade is a pedestrian walkway that faces the East River, offers views of the Manhattan skyline and the Brooklyn Bridge and is a popular destination for joggers, walkers, and film crews.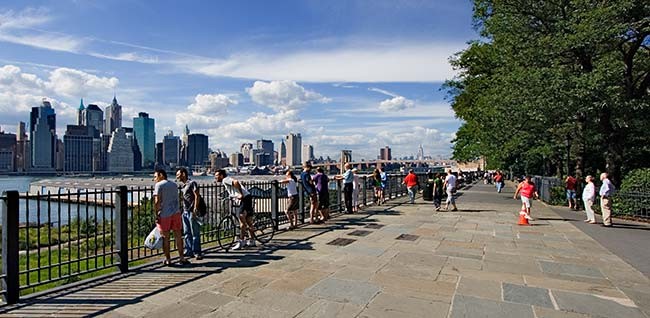 Backstory and Context
The adjacent neighborhood features brownstone homes and quiet streets. Brooklyn Heights encapsulates the history of New York and America. The Dutch first appeared in 1645, forming the settlement of "Breuckelen" near the site of today's Borough Hall. The bluffs of Brooklyn Heights were already a popular location in the 18th century when many of Manhattan's early merchants built mansions there overlooking the city on the island below.
During the 1800s, New York and Brooklyn boomed and many of New York's wealthiest investors settled in Brooklyn Heights. In 1807, Robert Fulton captained his steamboat, The Clermont, from Brooklyn on its maiden voyage up the Hudson River. In 1814, Fulton gained a franchise to operate ferry service via steamboat from Brooklyn to Manhattan. As the population exploded, Brooklyn became a city in 1833.

In the mid-1940s, Robert Moses wanted to construct a new expressway right through the heart of Brooklyn Heights. He was stopped by the outcry of the Brooklyn Heights Association, and a solution emerged to build a two-tiered highway above the waterfront. The Promenade was constructed in part to insulate the neighborhood from the noise of the Brooklyn Queens Expressway. It opened to the public in October 1950 and has been a magnet for local residents and visitors alike for over half a century.
Sources
Productions, Mixit. "Brooklyn Heights Promenade." New York Harbor Parks. Accessed May 21, 2017. http://www.nyharborparks.org/visit/brhe.html.


Fichera, — Chris. "Brooklyn Heights Promenade." NYMag.com. Accessed May 21, 2017. http://nymag.com/listings/attraction/brooklyn_heights_promenade/.