Fort Hawkins Archaeological Park
Introduction
Fort Hawkins was built from 1806 to 1810 and served both as a trading post and military command post until 1824. The site is now the location of a recreated fort and educational complex as well as an active archaeological site owing to artifacts that reveal information about the lives of American Indians and European Americans in the early 19th century.
Images
A recreated fort shows visitors how the site appeared when it was a military command headquarters under President Thomas Jefferson.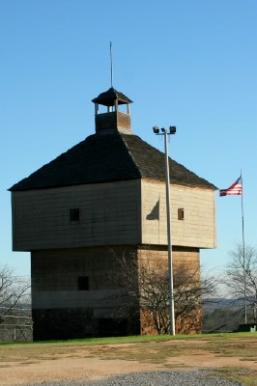 Backstory and Context
Named for U.S. Indian Agent Benjamin Hawkins, this fort was established under President Thomas Jefferson 1. Fort Hawkins was created in 1806 and finished in 1810 in the historic Creek Nation. The fort was turned out to be a powerful structure having: solid walls, barracks, a hospital, storage buildings, blockhouses, and quarters for officers 2. The fort was ultimately used as an attempt at "civilizing" the Indians of the area. President Jefferson believed that providing this location would help to create possibilities of hunting land for white settlements as Indians would fade from their traditional ways 1.

Fort Hawkins found purpose as it served U.S. regulars and Georgia militia forces with shelter during the War of 1812 and Creek War of 1813-1814 2. The fort was also significant as it was a logistical base for operations against British and Red Stick Creeks during these wars. As the wars ended focus quickly transferred to other forts, yet Fort Hawkins continued to serve as a supply depot 2. Over time supplies of the fort ran out and inhibitors disappeared. Though even before the now faded fort was established the location still proved to be significant as over 40,000 artifacts have been discovered through excavations.

Due to Fort Hawkins the town Macon, Georgia had developed. With the town the fort became of great significance eventually being added to the U.S National Register of Historic places in 1977 2. Before being established and becoming a U.S. landmark the original fort had been demolished. Though a replication was built which stands in Fort Hawkins Archaeological Park today.
Sources
1) http://www.forthawkins.com/aboutus.html 2) http://www.exploresouthernhistory.com/forthawkins.html
Additional Information