Providence Biltmore
Introduction
Reporting on the opening of the Biltmore on June 6, 1922, the Providence Journal declared that the event would be "the most elaborate social event ever to be held in the city." Owners John Bowman and Louis Wallick did not disappoint, lighting the exterior of their hotel with 25,000 lights and inviting celebrities and prominent leaders from New York and other surrounding states. The Biltmore was the largest building in the city at the time and held six hundred guest rooms. Although the building survived several natural disasters, including a hurricane in 1938 that left the lobby under eight feet of standing water. However, the luxury hotel almost succumbed to the effects of suburbanization, the changing tastes of consumers, and proliferation of smaller hotels. With fewer guests staying downtown and far more costs related to maintenance than newer hotels, the Biltmore closed in 1974. With the help of federal tax credits for historic buildings, a group of investors were able to purchase and renovate the property in the following years. The hotel re-opened in 1979 and is now part of the Hilton chain.
Images
The Providence Biltmore was designed by the New York architectural firm of Warren and Wetmore, who also designed Grand Central Station.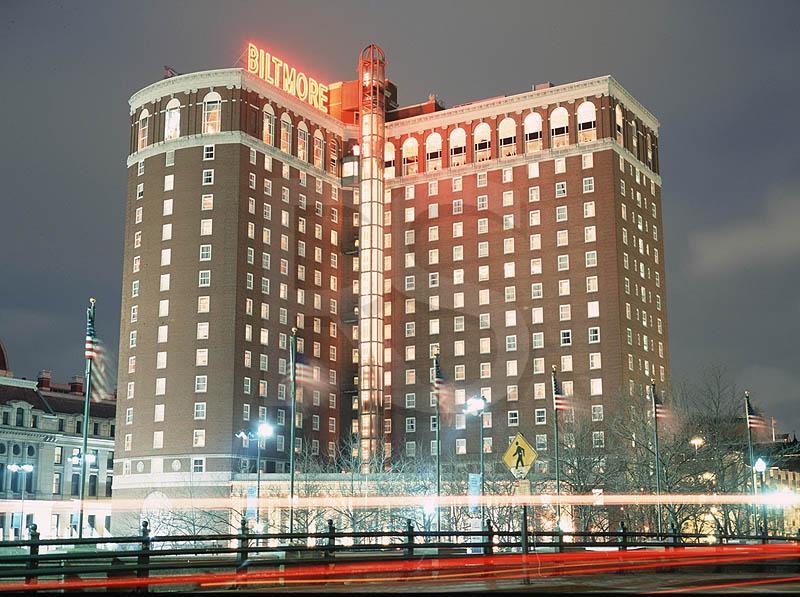 The hotel was completed in 1922 and was the largest building in the city until 1928.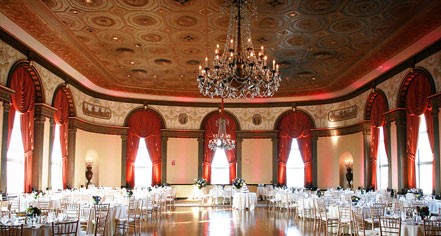 The hotel lobby is built around the glass elevator shaft and includes a historic plaque marking the high water mark of the 1938 hurricane.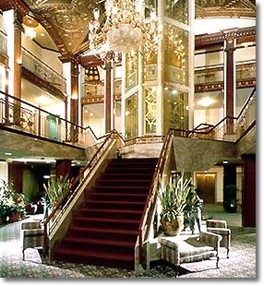 Backstory and Context
Civic leaders predicted that the hotel would make Providence a leading destination and fuel the growth of the city-a view that reflected the optimism of the 1920s. The hotel was best-known for its unique V-shaped design, an innovation that allowed every guest to enjoy a window and view of the city at a time when most hotels had a large number of interior rooms in their inventory. During the 1920s, the hotel's Bacchante Room was the center of Providence social life. The hotel held nightly parties with jazz music and the beautiful servers, known as "the Bacchante Girls" enchanting guests with their short skirts and stiff drinks. The hotel at that time featured its own print shop, photo lab, and drugstore, in addition to the Garden Room that featured entertainers such as Benny Goodman and Esther Williams.

Reflecting the changing trends, the hotel that once held 600 guest rooms now includes a total of 229 rooms and suites. During the renovation, many walls were removed to provide larger standard rooms as well as the creation of numerous suites.

Famous guests have included John and Jacqueline Kennedy, Audrey Hepburn, and boxer Rocky Marciano The hotel is a member of National Trust for Historic Preservation's Historic Hotels of America program.


Sources
"The Providence Biltmore: 90 years of rich history," Rhode Island Public Radio http://ripr.org/post/providence-biltmore-90-years-rich-history
Additional Information