Cobbs Cemetery
Introduction
The Cobbs Family Cemetery holds several old graves including that of one of the first white settlers in the Kanawha Valley. Fleming Cobbs was a pioneer scout and did much work to secure the valley for white settlers. The Cobbs or Cobb Cemetery holds at least thirteen graves of the family that span about 200 years.
Images
Fleming Cobbs' gravestone in Cobbs Cemetery.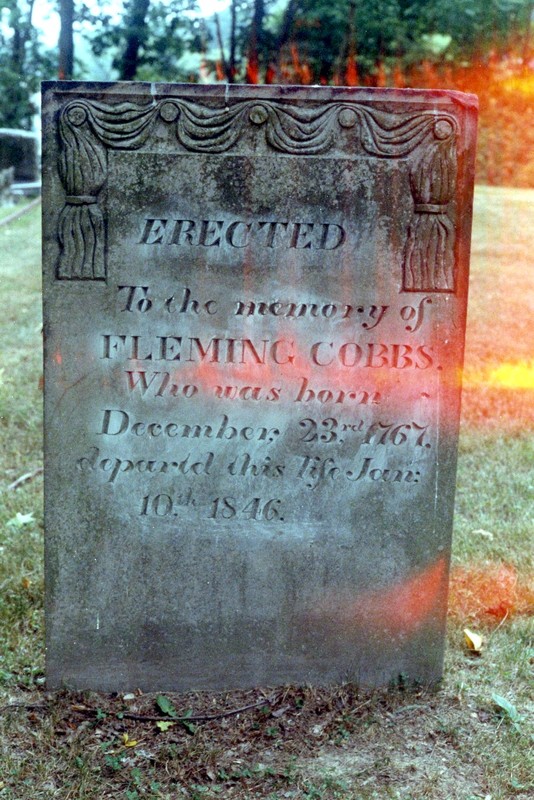 Mary Cobbs, Fleming's wife, headstone in Cobbs Cemetery.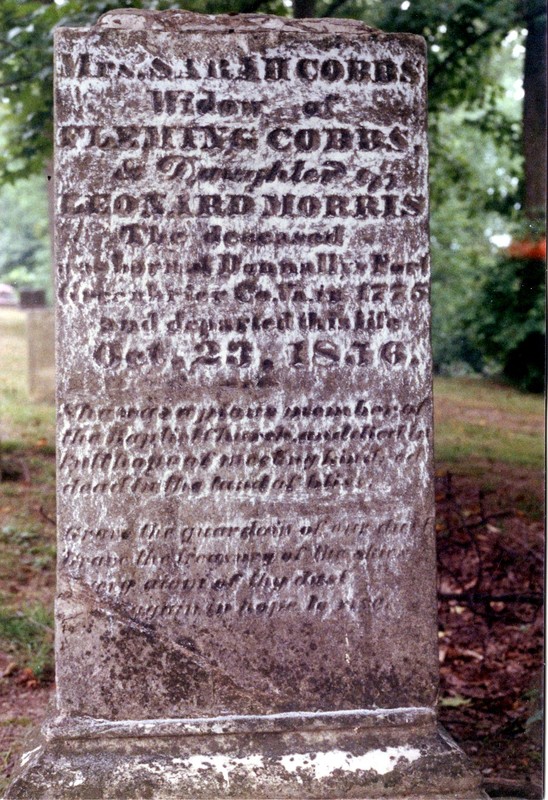 Portrait of Fleming Cobb published in Images of America: South Charleston. (Romano, 62 and Draper, Web)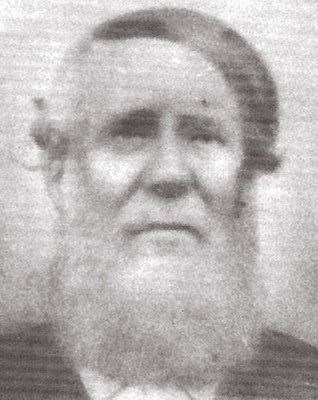 Backstory and Context
The Cobbs Family Cemetery is located in Spring Hill, West Virginia. It is beside the Little Creek Park Golf Course (formerly Kanawha Country Club), right off of the fourth green (Draper, Web).
Fleming Cobbs is the most famous person interred within the cemetery. He was a scout during the early years of the settlement of the Kanawha Valley region by whites. He and his uncle Thomas Upton were two of the first white people to settle in the South Charleston area (Romano, 62).
Fleming Cobbs planted two pear trees on Blaine Island in the Kanawha River in the 1790s which survived into the 20th Century. He inherited the island from his uncle, Thomas Upton and traded it to Charles Blaine for a flintlock rifle. Legend has it that Cobbs also killed the last Native American in the area near that same island (Andre, Web).
Some of the tombstones hold the name Cobb instead of Cobbs on them and some of the historical writings also refer to Fleming Cobbs as Cobb. All of those buried in the northeast corner of the cemetery are of the Cobbs family. The dates of birth range from the 1770s and the dates of death go to the 1970s, with thirteen family graves in all (Draper, Web).

Sources
Andre, Richard A. "Blaine Island." e-WV: The West Virginia Encyclopedia. 31 July 2013. Web. 13 November 2015. http://www.wvencyclopedia.org/articles/524 Draper, Bill. The Cobbs Cemetery. 2014. http://billdraper.net/html/body_cobb_cemetery.html Romano, Judy Bowen. Images of America: South Charleston. Arcadia Publishing: Charleston, South Carolina. 2011. Print.
Additional Information