Kelly Field Annex
Introduction
The Kelly Field Annex (formerly the Kelly Air Force Base) was one of 32 Air Service training camps established after the United States came into the first World War. It was established on March 27, 1917, and had a handful of different uses. It was used as a flying field, an aviation general supply depot, a primary flying school, a mechanics school, and a school for adjutants, supply officers, and engineers. As World War I continued on in Europe, the United States began to expand and build up its aviation forces in the military. Major Benjamin Foulois found 700 acres of level land with a sufficient water supply close to the Missouri-Pacific rail line, which was seven miles south of San Antonio in his long search for an army aviation training site. With Texas' Senator Morris Sheppard's aid, the site was acquired and cleared. Aviation operations here started the day before the United States declared war on Germany: April 5, 1917. The former Kelly Air Force Base was used for decades until it was shut down as an independent installation and its assets were overhauled by the 1995 Base Realignment and Closure Commission IV Commission.
Images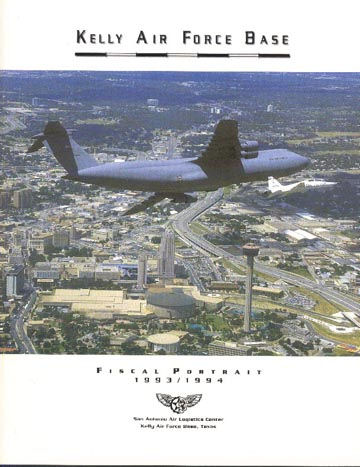 This B-58 was serviced by Kelly workers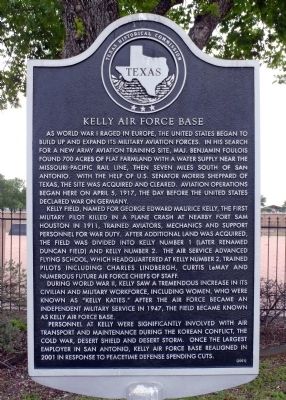 Memorial Park at the Kelly AFB Marker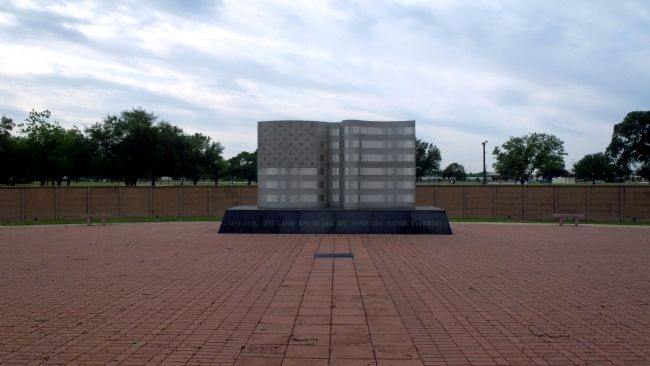 Aerial image of Kelly AFB in the 1920s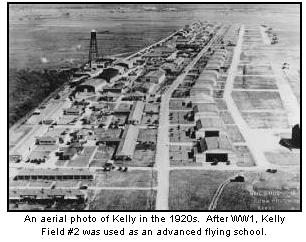 Backstory and Context
The Kelly Field Annex, which used to be known as the Kelly Air Force Base, is a United States Air Force facility found in San Antonio, Texas. Used as a training site and school for a variety of different aviation skills, this Air Force Base was in full swing for almost a century. Then, the former Kelly Air Force Base runway and land west of the runway became the Kelly Field Annex in 2001, and control of this smaller size facility was switched to the adjacent Lackland Air Force Base, which is in conjunction with part of the Joint Base San Antonio.
Kelly Field Annex was given its name to commemorate Lt. George Edward Maurice Kelly. Lt. Kelly was ordered to Fort Sam Houston near San Antonio after a course of training at the Curtiss Aviation School in Rockwell Field, California.
On May 10, 1911 while trying to land a plane in order to avoid injuring others via running into a tent, Kelly crashed and died.


The Kelly Field Annex currently supports flight operations of two tenant commands: the Air Force Reserve Command's 433rd Airlift Wing, operating the C-5 Galaxy, and the Texas Air National Guard's 149th Fighter Wing, operating the F-16 Fighting Falcon.
While Operation Just Cause was happening, Kelly functioned as a transit point for over 8,200 troops being deployed to Panama, and also as a reception base for approximately 250 incoming service members who were hurt. After that, the base moved over 10,000 short tons of material and 4,700 passengers. In addition, it sent out 17 million pounds of munitions to Southwest Asia for Operation Desert Storm. More currently, during the 1990s, Kelly supported US operations in Kosovo.
In 1992, a gigantic defense reorganization had changed ownership of the majority of Kelly's warehouse space from the Air Force to the new Defense Logistics Agency. In the next year, the Base Realignment and Closure Commission put Kelly and three other logistics centers on the list of installations which were to be closed. Local officials persuaded the commissioners to spare the base, but it was only spared temporarily.
Kelly Air Force Base officially closed in 1995. The Base Realignment and Closure Commission round of 1995 thought that the base's workload should be combined with that of other Air Force depots. At the same time McClellan Air Force Base located in Sacramento, California was also shut down. Without shifting all workloads, some were outsourced or made private by the Clinton administration. Pieces of the installation were shifted to Lackland Air Force Base, with a sizable amount turning into Port San Antonio. Before the closure, it was still a vital part of San Antonio, as it served as the host to Air Force One's backup airplane in 1998. The remaining 1,873 acres of land are operated by the Greater Kelly Development Authority as the Port San Antonio business park.
Sources
"Kelly Air Force Base," accessed November 14, 2015, http://www.hmdb.org/marker.asp?marker=65284.

"A Tribute to the San Antonio Logistics Center and Kelly AFB," accessed November 15, 2015, http://proft.50megs.com/kelly.html

William R. Evinger: Directory of Military Bases in the U.S., Oryx Press, Phoenix, Ariz., 1991, p. 147.
Additional Information