Crystal River Archaeological State Park
Introduction
The Crystal River Archaeological State Park is the site of one of the oldest continuously occupied sites in Florida. Beginning around 250 B.C., Native Americans inhabited the site for well over a thousand years until about 500 years ago. Over time, it developed into significant ceremonial complex covering 61 acres, featuring burial mounds, temple/platform mounds, a plaza, and a large midden (an old garbage pile). Archaeologists have recognized at least three cultural periods over its lifespan. They have estimated that between 1,200-1,500 people are buried in the mounds. They also estimate that 7,500 people traveled to the site each year to trade and to bury their dead. The site is also significant in that their is direct evidence interaction (through trade networks) with the Hopewelling cultures of the Ohio River Valley. There is some evidence of interaction with Mesoamerican cultures but it is likely that this was more indirect. The site is a National Historic Landmark and is also listed on the National Register of Historic Places.
Images
One of the mounds in the park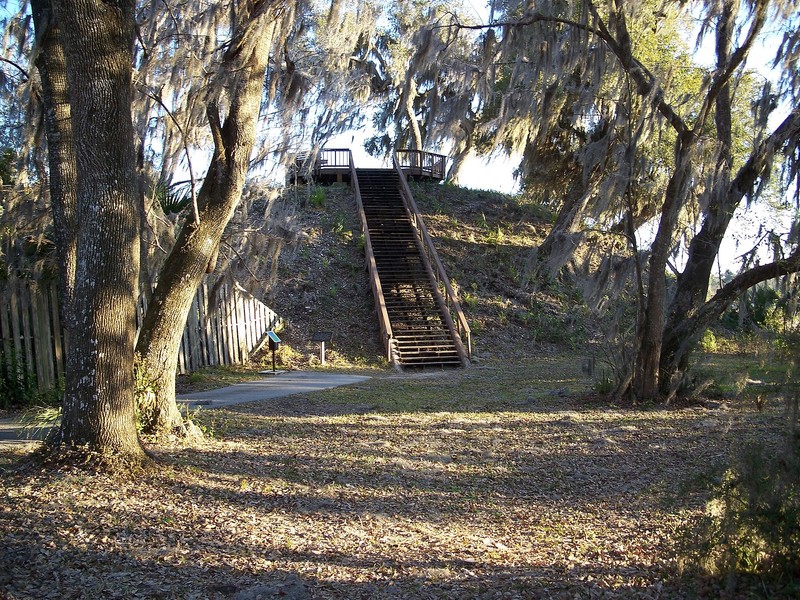 Backstory and Context
Excavations of the site were conducted during the the 20th century. These played an important role in the development of archaeological methods and theory. Archaeologists learned how to explain the relationship between the early mound building groups in the Gulf of Mexico coastal areas and the Hopewellian cultures of the Ohio River Valley. The excavations also helped clarify arguments for and against Mesoamerican contact.
Sources
https://www.floridastateparks.org/park/Crystal-River-Archaeological https://en.wikipedia.org/wiki/Crystal_River_Archaeological_State_Park Mark R. Barnes. "Crystal River Site," National Park Service - National Register of Historic Places. 9-29-70.
Additional Information