The Burying Point (Charter Street Cemetery)
Introduction
Charter Street Cemetery has been used as a burying ground from about 1637, making it the oldest cemetery in Salem. It is a part of the Charter Street Historic District, which was listed on the National Register of Historic Places in 1975, and also includes the Pickman House and Grimshawe House. Notable burials include Richard More, a passenger of the Mayflower, and four people involved in the Salem witch trials: John Hathorne, Bartholomew Gedney, Mary Corey, and Reverend Nicholas Noyes.
Images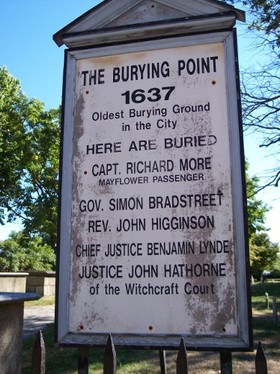 Headstone of Magistrate John Hathorne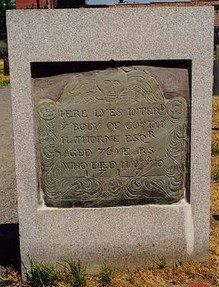 Backstory and Context
John Hathorne served as a magistrate, or interrogator, in many of the examinations of the Salem witch trials, but was not appointed to the Court of Oyer and Terminer. He is also the ancestor of Nathanial Hawthorne, author of The Scarlet Letter and The House of the Seven Gables. Hathorne died in 1717 at the age of 75.
Bartholomew Gedney was a Salem physician who was present at several of the Salem witch trials examinations and served on the Court of Oyer and Terminer. Gedney died in 1697.
Mary Corey was the second wife of Giles Corey and died in 1684, eight years before the start of the Salem witch trials. Giles Corey remarried, was accused of witchcraft in 1692, and was pressed to death for refusing to plead innocent or guilty. His third wife, Martha Corey, was also executed, though by hanging.
Reverend Nicholas Noyes was a minister of Salem during the witch trials. He was also an active persecutor of the accused witches in the examinations and officiated at the hangings of those accused of witchcraft. He died in 1717, but has an unmarked grave. Just before the execution of Sarah Good, Rev. Noyes asked her to confess. She responded, "You are a liar! I am no more a witch than you are a wizard, and if you take away my life God will give you blood to drink." Noyes died of a hemorrhage, choking on his own blood.
Additional Information