James A. Michener Art Museum
Introduction
The James A. Art Museum's collections and exhibitions can be described as diverse. The museum primarily showcases regional American Art. However, it is also committed to educating the public on a wide range of artists and their work.
Images
James A. Michener Art Museum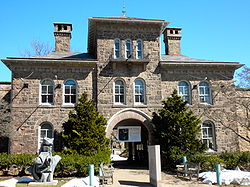 Backstory and Context
The building that houses the James A. Michener Art Museum today was originally known as the century long home of the Bucks County prison. The prison was established in 1885, and operated in the same building until 1985. That year the prison moved to a new location, and was renamed the Bucks County Correctional Facility. The original building was declared a historic landmark, and plans were drawn up to make it the home of a new museum.
After great renovations were completed 35,400 square foot location, the museum opened in 1988. The James A. Michener Art Museum is dedicated to the collection and research of American Art, with a regional focus on Bucks County. In addition to exhibitions at the museum, an online collections catalogue, museum publications, and the museum's library and archives are digitally available for public use.
The mission of James A. Michener Art Museum is as follows:
"The James A. Michener Art Museum collects, preserves, interprets and exhibits American art, and promotes the work of nationally and internationally known Bucks County artists of all eras and creative disciplines. The museum presents exhibitions that explore a variety of artistic expressions and offers diverse educational programs that develop a lifelong involvement in the arts."1
Sources
1 http://www.michenermuseum.org/about/mission.php http://www.michenermuseum.org/collections/ http://www.michenermuseum.org/about/history.php http://www.buckscounty.org/government/Corrections/History
Additional Information