Captain Lou Lenart Memorial
Introduction
The Captain Lou Lenart Memorial commemorates WWII fighter pilot Lou Lenart, who was born in 1921 in a small town in Hungary called Layos Lenovitz. The memorial is located on the property of the Proud Bird Restaurant, which also features other vintage aircraft on display. Lenart's family immigrated to America to escape anti-Semitism when Lou was ten years old. They settled in Wilkes-Barre, Pennsylvania, a small mining town, where Lou was the target of anti-Jewish taunts. At the age of seventeen, Lou Lenart joined the US Marines. He fought in WWII and volunteered to defend the newly created country of Israel in 1948.
Images
The memorial features a stone monument and a FG-1D Corsair plane, the plane that Lenart flew during the war (it is not clear if he actually flew this particular one).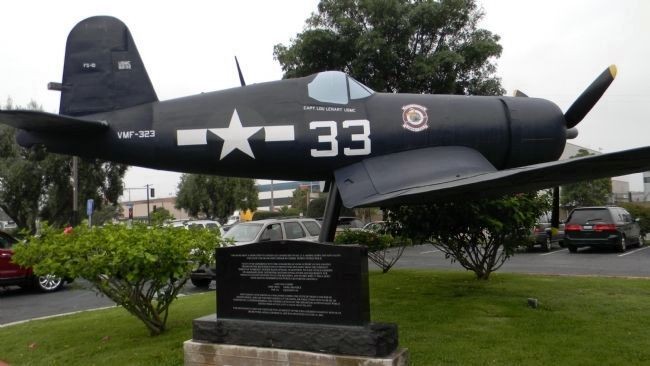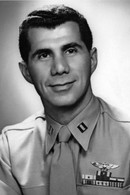 Backstory and Context
Lou Lenart spent eighteen months in infantry training before talking his way into flight school. He was thought dead after a collision while in a training flight. Lenart saw action in the Battle for Okinawa and other battles in the pacific. He was discharged at the end of World War 2 at the rank of captain. It wasn't until this time that he learned that fourteen relatives in Hungary were killed in Auschwitz.

After hearing this Lenart quickly joined the effort to smuggle war planes into the State of Israel in early 1948. When Israel declared Independence on May 14, 1948, The Israeli Air Force consisted of just four Czech versions of German Messerschmitt. On May 29, a large Egyptian force moved within sixteen miles of Tel-Aviv, Israel. The Israelis sent all of their aircraft to intercept the force with Lenart leading the squadron. Ezer Weizman, later president of Israel, was his wing man. The Egyptians were surprised to see Israeli aircraft because they were told they had none. The Egyptians quickly retreated and Lenart was said to be the "The Man who saved Tel-Aviv." Lou Lenart said it was the most important event of his life.

After the war he participated in transferring Iraqi Jews to Israel and served as a pilot for EI AI Airlines. He also served as a producer for six films. Screen writer Dan Gordon said, "If it hadn't been for Lou and his three comrades, Tel Avivians would be speaking Arabic today."


Sources
Dolsten, Josefin and JTA. "Lou Lenart, US pilot 'who saved Tel Aviv,' dies at 94." The Times of Israel. July 21, 2015. http://www.timesofisrael.com/lou-lenart-pilot-who-saved-tel-aviv-dies-at-94 Miller, Richard and Pfingsten, Bill (editor) "Capt. Lou Lenart, USMC (Ret.): FG-1D Corsair." The Historical Marker Database. September 9, 2013. http://www.hmdb.org/marker.asp?marker=68546
Additional Information