Matewan Flood Wall and 1977 Flood
Introduction
On April 2, 1977, rain began to pour onto the coalfields of West Virginia. Some places in this region received more than fifteen inches of rain. All of this rain ran down the steep, mountainous terrain and into the Tug Fork River that separates the state from Kentucky. Matewan is a small town situated on the banks of this river. The river quickly rose, essentially annihilating the town as a whole. Matewan is located in one of the poorest counties in the state, and recovery from millions of dollars in damage required a community effort and outside aid.
Images
High water in the streets of downtown Matewan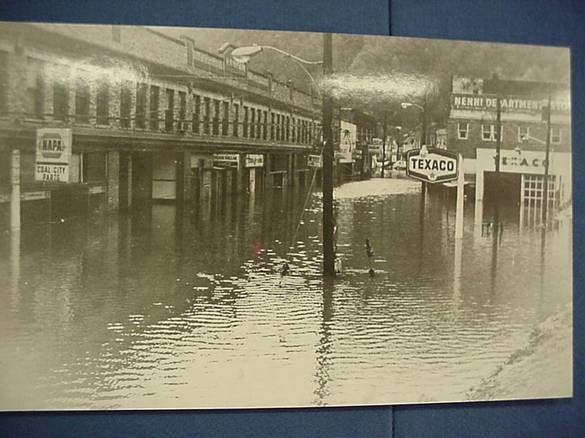 Clearly shows the raging flood waters that were able to destroy the town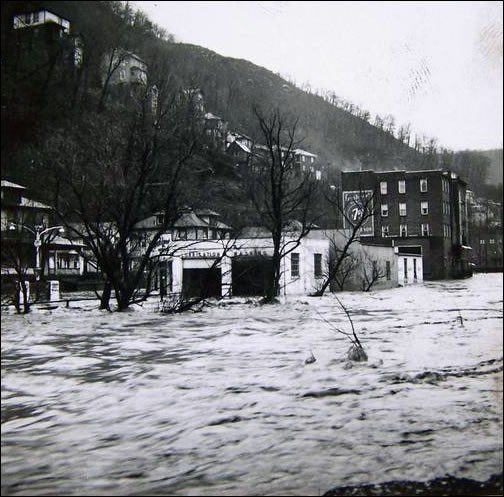 Another picture showing water in the streets of Matewan as it subsided and deposited debris.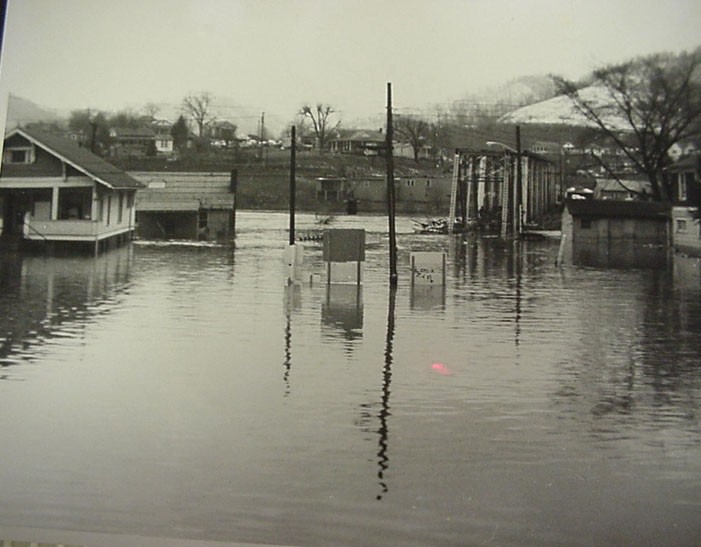 The flood wall surrounding the city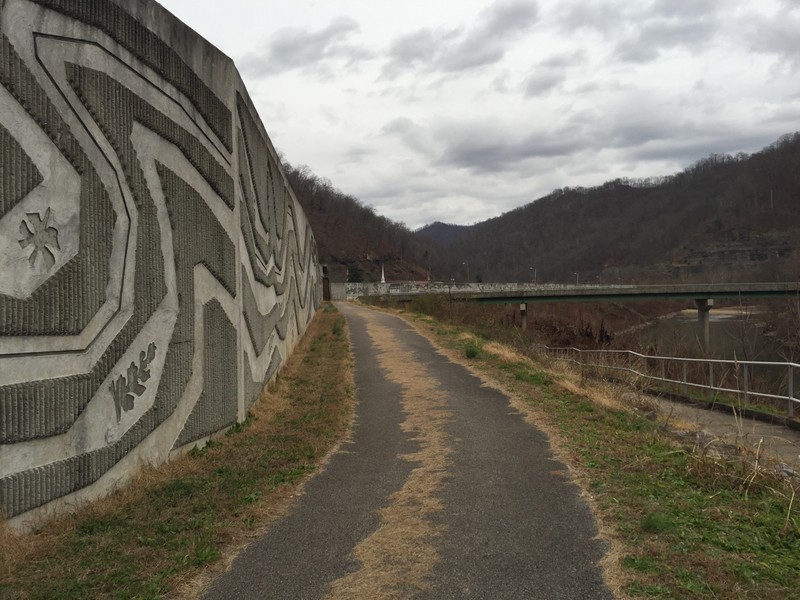 Backstory and Context
Between April 2nd and April 5th, 1977, Matewan and the surrounding area received nearly 30 inches of rain. The result of this rain was Southern West Virginia's largest flood in recorded history and the second largest flood in the state's recorded history. This flood left disastrous effects on public and private property, as raging waters covered towns with 20 feet of water for more than 150 miles along the Tug Fork River. However, Matewan probably was damaged more than any town along that stretch.

In 1970, Matewan's city limits held a population of only 651 people. It was a town that was no stranger to flooding, with frequent flooding being a common occurrence in the time leading up to the 1977 flood. In 1953 alone, being the months of February and March, four floods caused major damage to the town, and there were devastating floods which occurred in 1957 and 1963. All of this led to the 1974 comment from a representative from the US Army Corps of Engineers, which asserted that Matewan had the worst flooding problem in the entire United States. Despite this, Matewan remained relatively defenseless and extremely exposed to floods, and there was no protection against the 1977 flood.

Flood waters rose into the streets, businesses, and residences in Matewan, and the force of the current was more than enough to tear many of them apart. Those left standing were either damaged beyond repair, or needed complete renovation. One-third of the private dwellings were destroyed, leaving many people homeless and with few options. Almost all of the public services and utilities were wiped out. The water and sewage treatment plants were beyond recovery. The fire department and its trucks were destroyed by high waters. City hall, the community church, the medical clinic, and even the bridge to Kentucky were destroyed. The town was left completely void of electricity and clean water for two weeks.

The region around Matewan is stricken by high poverty rates, making it seem nearly impossible to rebuild almost 50 million dollars of damages. At the time, many homeowners and businesses were without sufficient insurance to cover for their losses. Though it is true that some businesses never recovered, many were able to find hope. This hope came through government grants and low-interest loans. In fact, the community as a whole would benefit from these things. Money from the Federal Disaster Assistance Fund was used to rebuild things like the water and sewage treatment plant, the bridge, and the medical clinic.

As community citizens volunteered their time in the clean-up effort, many local coal companies donated heavy equipment to remove debris and mud. This community effort allowed the town to be quickly cleaned and rebuilt. Still, they were faced with a problem. The flooding of the town had grown to an epidemic, and residents and government agencies called for measures of prevention. So, a plan was made to build a 2,350 foot long flood wall that would not be completed until 1997. Further bettering the community, it was made useful as a walking path and beautified by various engravings and inscriptions.

Another result of this flood was the exploration into things that cause the flooding. This search led many to point to mountaintop removal, a common form of coal mining in the region. This process greatly alters the land, and can lead to increased erosion and runoff. It is easy to see why people would believe it is the cause of flooding. However, many studies have gone into this topic and the answer is not clear. But, it is possible that mountaintop removal leads to increased flooding. It is clear that the 1977 flood would have happened even without these mines due to severe rains that flooded the local streams and rivers. Still, many experts, such as Phil Zinn, a hydrologist for the National Weather Service, believe that strip mining may have been a factor in the flooding of 1977.













Sources
West Virginia Flood. Living on Earth. May 17, 2002. Accessed December 12, 2016. http://loe.org/shows/segments.html?programID=02-P13-00020&segmentID=1.
McCoy, R. (n.d.). The Floods. Retrieved August 26, 2018, from http://matewan.com/History/floods.htm
Additional Information