Paul Bunyan Statue in Bangor, Maine
Introduction
The legendary Paul Bunyan is a staple in frontier folklore known for superhuman strength and skill as a lumberjack. This statue was created in 1959 by local artist J. Norman Martin as part of the celebration for Bangor's 125th anniversary.
Images
This is an image of the statue in Bangor, Maine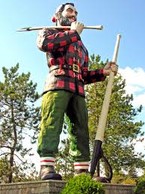 Backstory and Context
The statue was financed by New York based builders Messmoor and Damon. Lumberjacks working at the turn of the century told many tall tales. One of the most treasured of these myths were stories about the "giant" Paul Bunyan and Babe the Blue Ox. According to the legend, the pair traveled all throughout the United States. Bunyan's ax was so large that it created the Grand Canyon when Bunyan accidentally drug its head across the northern part of Arizona. As the tales were retold, lumber men added their own local flavor to the stories, claiming that Bunyan also created the Black Hills and other geographical features.
By 1914, the mythical "giant" became so well-known that his image was used to help sell products. Likewise, this iconic statue is often used to promote local businesses and tourism. Maine author Stephen King even brought the statue to life in the pages of his famous novel "It."
Bangor might not be the birthplace of the Paul Bunyan legend, but it claims to be the birthplace of the American lumber industry. The statue stands in front of the Bangor Civic Center in Bass Park to remind residents and visitors of the importance of the lumber industry to Maine's early commercial development.
The statue stands thirty one feet and weighs three thousand and seven hundred pounds, not including his ax. The statue has a metal frame and is covered in colorful fiberglass. The statue was built to be hurricane-proof and can withstand winds up to 110mph. The statue also includes a pedestal which contains a time capsule that is waiting to be opened on February 12, 2084.
Sources
http://www.roadsideamerica.com/story/10327 http://bangordailynews.com/2015/02/12/news/bangor/original-paul-bunyan-sculptor-wants-to-add-babe-the-blue-ox-to-bangor-landmark/ http://www.atlasobscura.com/places/paul-bunyan-statue-bangor http://bangorinfo.com/Focus/focus_paul_bunyan.html
Additional Information