Omaha Race Riot and Lynching of Will Brown, 1919
Introduction
On September 28, 1919, a mob of several thousand men, women, and children surrounded and stormed the Douglas County Courthouse in order to lynch Will Brown, an African American man who had been accused but not convicted of raping a white woman. The incident was the culmination of a summer filled with economic tension that often led to attacks against African American families who had arrived in the city during World War I. After months of investigation, the only arrests were related to the destruction of the courthouse even though thousands witnessed the slow and tortuous murder of Will Brown at the hands of dozens of the city's white residents.
Images
The mob poses with the charred remains of Will Brown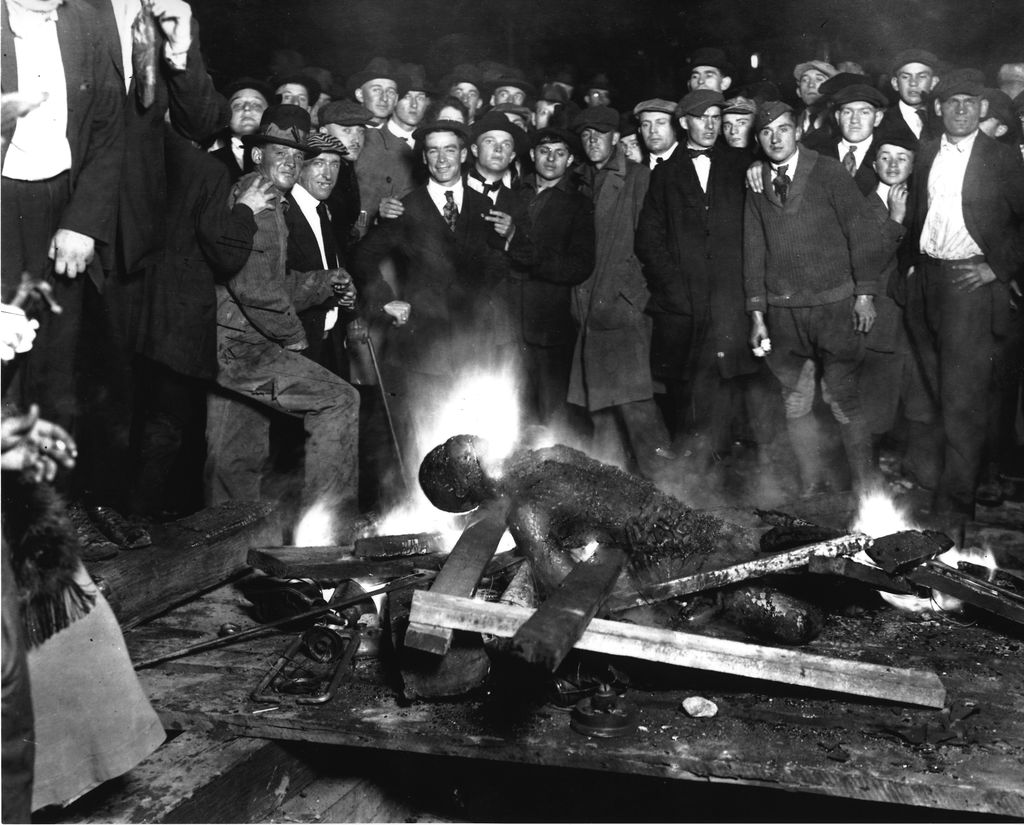 A mob of several thousand surrounded the courthouse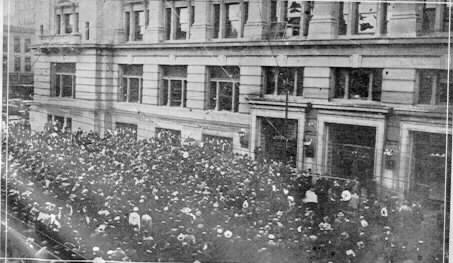 Photo of victim Will Brown, who maintained his innocence through the last few moments of his life.
Rioters on the south side of Douglas County Courthouse, Omaha, Nebraska, September 28, 1919.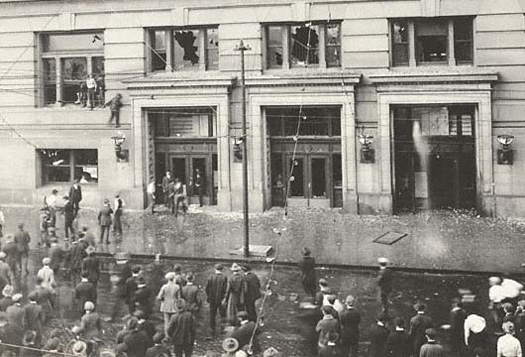 Backstory and Context
Omaha newspaper, "the Omaha Bee", published an article highlighting African-American men's rage against defenseless white women. One of the women featured was 19-year-old white woman, Agnes Loebeck. Who claimed that she had been assaulted by a Black man. She and her boyfriend identified Will Brown, a 40-year-old meatpacking worker with a muscle deformity as the assailant.
Brown was taken into custody, but not before a small angry mob caught word and approached the house demanding that he be brought over to them. The police were able to transport Brown safely to the courthouse, but only for a moment. On September 28, 1919, the small mob grew into thousands who marched downtown Omaha in attempts to seize Brown. The crowd's rowdiness escalated out of control as they fired upon the courthouse as well as set it on fire. Mayor Smith attempted to ease the crowd, yet only to his demise as he was tortured at the hands of the crowd. Mayor Smith, who was beaten over the head and hung by a lamppost, was soon rescued.
Like Smith, Brown ended up in the hands of the angry mob. Yet there was no cavalry for his pleas. He was beaten unconscious, dragged to a nearby lamppost and hung by his neck. While hung, Brown was shot at several times. Brown was then taken down, tied to the back of a car and dragged to the intersection of 17th and Dodge (the address posted). Finally, Brown's body was burned severely.
Brown maintained his innocence through the last few moments of his life.
Will Brown's death is considered one of the "largest spectacles of violence directed towards an individual" in the United States. After enduring brutal torture, Brown died at this location and observers posed for pictures next to his burning corpse.
Sources
Orville D. Menard, "Lest We Forget: The Lynching of Will Brown, Omaha's 1919 Race Riot, Nebraska History 91 (2010); Bertha W. Calloway and Alonzo Nelson Smith, Visions of Freedom on the Great Plains: An Illustrated History of African Americans in Nebraska (Marceline, Missouri: Walsworth Publishing Company, 1998) "Racial Tensions in Omaha, A Horrible Lynching." http://www.nebraskastudies.org/0700/stories/0701_0134.html
Additional Information