Spring Hill Pastry Shop
Introduction
Spring Hill Pastry Shop has been family owned and run for over 65 years in Charleston, WV since 1948. The bakery makes all items from scratch every single day. When they were first opened they made 12 dozen pastries a day. Currently, they make 150 dozen a day. The owner created the original 'hot dog' pastry that has since been a crowd favorite. Customers line the sidewalks to get to their pastries at the family friendly Spring Hill Pastry Shop.
Images
Panorama of the shop taken from the entrance.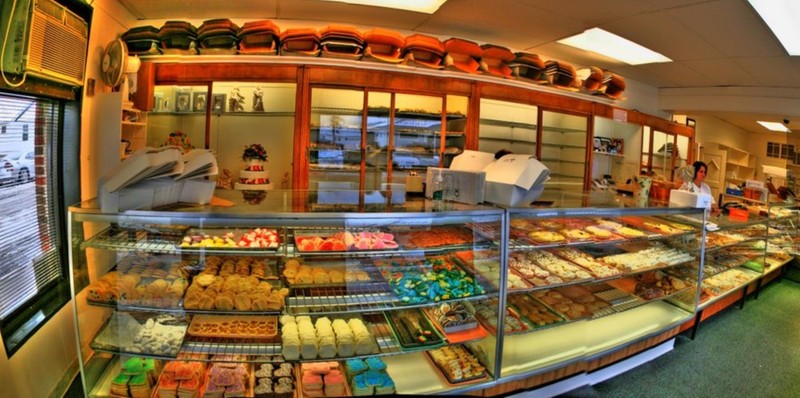 Street view of Spring Hill Pastry Shop.
Robin Williams (owner) and his family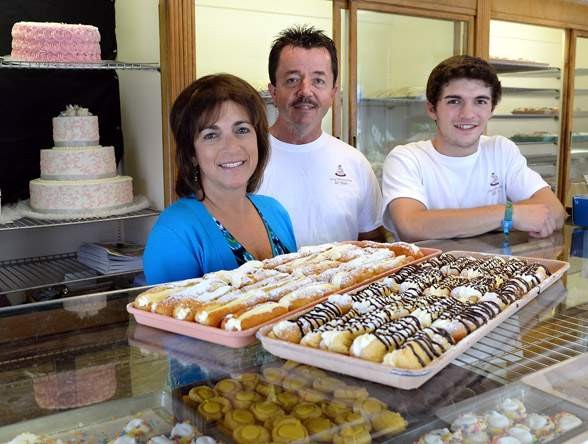 Backstory and Context
Spring Hill Pastry Shop opened for business in 1948 by James and Marie Williams at 600 Chestnut Street in South Charleston, where it is still located to this day. It is a family owned bakery and there are no short cuts here; everything is made from scratch daily. They are open Tuesday through Saturday, 8:00-5:30. The aroma of fresh baked goodies tickles your nose, the pastry cases tantalize your eyes, and the decadent bites of heaven wake up your taste buds. It will definitely be a multi-sensory experience you'll never forget!
We are all familiar with "hot dogs", but not the way Spring Hill Pastry Shop makes them. Instead of a bread dough, meat, mustard, ketchup, mayo, relish, chili and slaw, you get an eclair like donut bun filled with melt in your mouth fluffy cream filling, dusted with powered sugar, and drizzled with chocolate. Their famous "hot dogs" still, after 65 years, have still not lost their appeal. You have to call in and place an order early in the morning to get some before they sell out, they go that fast.
Spring Hill Pastry Shop also makes a variety of donuts, cookies, pies and cakes. They make Butter bread, pans of Parker House rolls, and French bread, again, you need to call ahead to make sure they have some or place an order early.
Getting married? Need a special cake for a special event? The shop specializes in making and decorating wedding, birthday, and specialty cakes. Call ahead and see what their cake of the week is: German Chocolate (to die for!), checkerboard, pineapple upside down cake, carrot, lemon, marble, chocolate, white, orange, rum, strawberry, etc. Then you can choose from various fillings, such as Bavarian cream, raspberry, strawberry, lemon and pineapple. The community loves Spring Hill Pastry Shop not only because of their variety and heavenly pastries, but because of the hometown feel the shop provides.
Interview with Robin Williams, the shop owner.
Interviewer: How long has your bakery been in business?
Williams: The shop's been here since 1948.
Interviewer: Would you mind giving us a brief history on how your shop started out?
Williams: My grandfather opened the shop in 1948 and he ran it until my father took over. I'm not sure the date on that. But he ran it, and I actually started working here in high school in 1974. My father was running it at that point and I worked like that until 1993 when he retired. And I took over the business in '93 and I've run it till then.
Interviewer: Did your grandfather have experience with making pastries?
Williams: He was a cook in the Navy and got out of the Navy and decided to open his own little bakery. And I'm not sure where he got the recipes from. You can get recipes like this from some of the main suppliers, the big companies. You can get recipes to get you started. They'll help you with recipes and get you started, teach you how to do things. That's probably how it happened in 1948.
Interviewer: How did the idea of creating the hot dog pastry come about?
Williams: Again, that was something my grandfather came up with. I can't tell you how. The icing that goes in those is a recipe that he made back then. He was just looking for something to put it in. We have regular donuts like everyone else, but he decided to roll these pieces of dough up to where they come out shaped like a hotdog bun and he could slice it and fill it with that icing. He really liked that icing. And as you can see, other people really liked it too, we sell a bazillion of them.
Interviewer: Do you know how many of the hot dog pastries you sell a week?
Williams: Okay, well I'm not sure how many he originally sold when he started doing them. Now when I got here in '74, I was a junior in high school, we made 12 dozen a day. Now we make about 150 dozen a day.
Interviewer: What would you say is Spring Hill Pastry Shop's reason for success?
Williams: I guess hard work. I still have the recipe book that my grandfather had, still have all the same recipes. Over the years a few things we've quit making them because, you know, people quit ordering them so we quit making them. And we've added a couple things, but for the most part, it's the things that he did in 1948, and we try to keep them exactly the same as we've always been. You know, like you said your parents have been coming here a long time. If they come here for one special thing, we don't want to change it, we don't want it to look any different, taste any different. If your family's been buying it for 20 years they want it exactly like that. We try to buy all the best ingredients we can and we keep a close eye on it. If you have any problems with anything you call me. If a cake's dry or something, I'll generally let you decide what we're going to do. I'll either make you another cake, or if the parties over and you can't use it, don't need any product, I'll refund your money. Just being a part of the community and that type of thing.
Sources
"Spring Hill Pastry Shop - Charleston, West Virginia." Zomato. Web. 8 Dec. 2015. "Spring Hill Pastry Shop Noticed By Google." WCHS. Web. 8 Dec. 2015. Web. 8 Dec. 2015. .
Additional Information