Columbine High School
Introduction
On April 20, 1999 two high school students killed 13 and wounded 20 others at Columbine High School. Eric Harris and Dylan Klebold were the killers who made this school shooting the worst in high school history of the United States. Because of this violent crime, a national debate on gun control and school safety was brought to the forefront. Located in Jefferson County, Colorado stands the same building in with this massacre occurred.
Images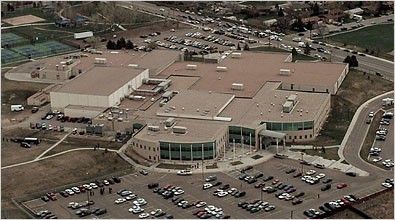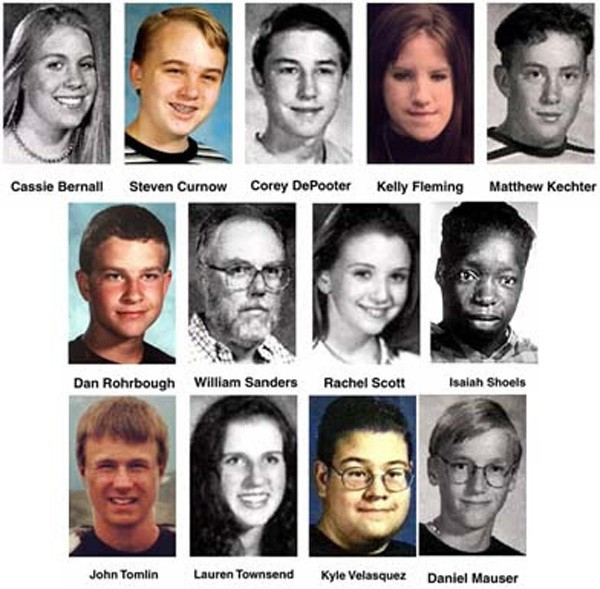 Backstory and Context
Columbine High School, located in Jefferson County, Colorado, was opened in the fall of 1973. There was no senior class the first year, so the first graduating class of the Columbine Rebels was in 1975. Columbine High School was a normal high school until the morning of April 20, 1999 when two teenage boys, Dylan Klebold (17) and Eric Harris (18) killed 12 students, 1 teacher, and wounded 20 others by bringing guns to school and who are responsible for the deadliest high school shooting in United States history.
Dylan Klebold was born in Lakewood, Colorado on September 11, 1981. In elementary school, Klebold was a member of Challenging High Intellectual Potential Students (CHIPS), a school program that was based and focused on gifted and intelligent children. He was also involved in sports as a child. In middle school is where he meet the other shooter, Eric Harris. The two boys became best friends. In high school, Klebold was involved in school plays, video productions, and the schools news program doing behind-the-scenes work for them.
Eric Harris was born in Wichita, Kansas on April 9, 1981. His father was in the Airforce which eventually placed them in Littleton, Colorado after his retirement. The first warning signs of Harris's violent behavior was his freshman year when he went to homecoming with a girl, she rejected him after the dance, and he staged an incredibly realistic, but fake suicide. He then later wrote "Ich bin Gott" in her yearbook which translates to "I am God". Following this event, he and Klebold both got a job at a pizzeria which strengthened their friendship and also met Mark Manes. Mark Manes sold Harris the gun that was used in the massacre. Manes served 6 years in prison.
Harris later ran a website with a violent shooting video game and also his personal thoughts about his family, students and faculty at his school. He began to post instructions on how to make explosives and began to single out students and athletes by making death threats. A parent of a student filed a complaint because their child was targeted on Harris's website. Because of the violence found on this website, authorities believe Harris was the leader of the massacre while Klebold just followed in his footsteps.
On January 30, 1998 the two were arrested for breaking into a van and stealing from it. They were placed in a juvenile center, but later released after undergoing anger management, community service, and counseling. In Harris's private journal, he wrote about how angry he was for being arrested and planned to get his revenge in the Columbine high school cafeteria. The two boys did a school project video together just months before the massacre occurred called "HItman for Hire". In his violent video, they talk about how if you bully a kid they will personally kill you. The video is linked below but contains strong language.
On the morning of April 20, 1999 is when the massacre at Columbine High School occurred. At approximately 11:10 am the two boys arrived to school in separate cars and walked into the cafeteria and placed duffel bags that contained bombs to explode at 11:17am and walked back to their cars. They had planned to kill much more than 13 individuals. Once the bombs failed to go off, the two boys began shooting outside of the school at 11:19 am. They then moved to the library, targeting athletes, Christians, and the "jocks". By 11:35, 13 victims had passed, while 20 others were wounded. At 12:08 the two shooters committed suicide by shooting themselves in the head.
The victims of this terrible tragedy include Cassie Bernall (17), Steven Curnow (14), Corey Depooter (17), Kelly Fleming (16), Matthew Kechter (16), Daniel Mauser (15), Daniel Rohrbough (15), William "Dave" Sanders (47), Rachell Scott (17), Isaiah Shoels (18), John Tomlin (16), Lauren Townsend (18), and Kyle Valaquez (16).
Although every victim is important, the story of Rachel Scott is the most well-known because she was the first victim on April 20. She was eating lunch outside when a shooter shot her from a far then approached her and killed her at close range. Her brother was in the library during the shooting but miraculously survived uninjured. The two people next two him were both shot and killed. After their daughters death, the Scott Family started a non-profit organization called Rachel's Challenge. Rachel's Challenge travels to different schools to challenge students to be friendly and compassionate towards others. They focus on bullying and encourage students to treat everyone with love. Because Harris and Klebold were bullied, the family of Rachel Scott wants to make sure a tragedy like Columbine never happens again. The challenges created by Rachel's Challenge are based on journal writings from Rachel. Rachel's Challenge is still active today.
On October 22, 2003 a home video of the two shooter was released and on February 26, 2004 Colorado Attorney General, Ken Salazar, released the investigate reports. Authorities also released hundreds of pages of documents and physical evidence.
On September 21, 2007 a memorial dedicated to those who were killed was opened to the public. It lays adjacent to the high school. Every year on April 20, the school is closed to remember and honor the lives of the victims and to remember the tragedy that shaped not only their community, but the United States.
Sources
http://www.history.com/topics/columnbine-high-school-shootings http://www.cnn.com/2013/09/18/us/columnbine-high-school-shootings-fast-facts/ http://criminalminds.wikia.com/wiki/Eric_Harris_and_Dylan_Klebold http://rachelschallenge.org/
Additional Information