Union Grove Schoolhouse
Introduction
This small, one-room schoolhouse was built in 1905, replacing an earlier one, the Wilson Academy, which was constructed in 1874. The Union Grove Schoolhouse is the last remaining school of its kind on its original site in Allegany County. It both served as a school for children in the area and a community center. The property later became a boys 4-H Club building in 1949. Over time, it deteriorated but was restored in 2010 and is now owned and operated by the Allegany County Historical Society, which bought the property in 2007. It is open during the summer.
Images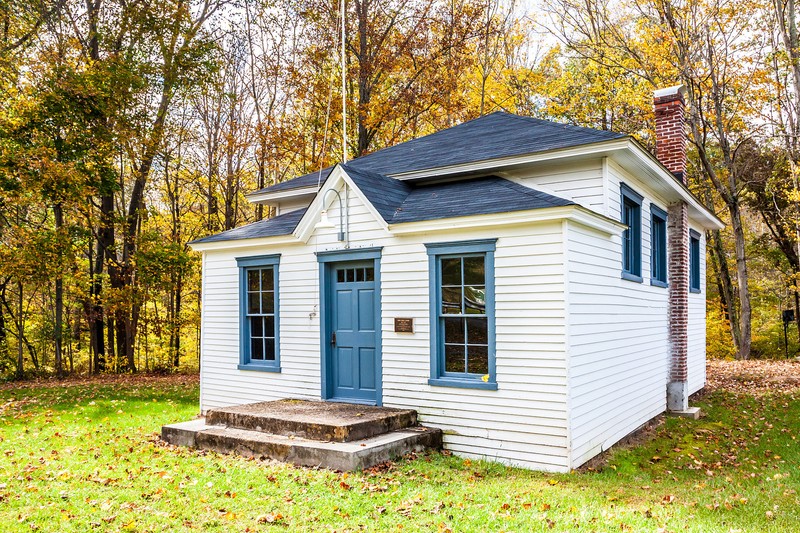 Children on a field trip at the schoolhouse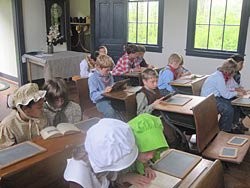 Backstory and Context
The Union Grove Schoolhouse was built as a replacement for the Wilson Academy which was near this site on Bedford Road. The Wilson Academy was built in 1874 and was in use from that time until the opening of Union Grove Schoolhouse in 1905. The building is the last, unaltered one-room schoolhouse in Allegany County. Sometime after its construction, the school's name was changed to Dicken School and in 1920 it became the Union Grove Academy.
The building was used as a schoolhouse until given to the Union Grove Community Club in 1928 and begun to be used as a community center for a variety of events. The property was given to the Union Grove 4-H Club in 1949. Though in use for many years while owned by the club, the building fell into disrepair and was largely unused for many years. It was owned by the club until purchased by the Allegany County Historical Society in 2007. The group restored the property in 2010 and continue to operate it today.
Today, the schoolhouse is open to the public only a few days out of the year. The building is available for field trips for young children. The Historical Society will help to educate children on what school looked like in the 1800s and early 1900s. Because the building is unaltered, it remains a great example of the education style of the period.
Sources
Union Grove One Room School House. Gordon-Roberts House. Accessed March 11, 2019. http://gordon-robertshouse.com/union-grove-school-house/.

Union Grove Schoolhouse. Department of Planning: Maryland Historical Trust. Accessed March 11, 2019. https://mht.maryland.gov/nr/NRDetail.aspx?NRID=547.


Additional Information