Robbers Cave State Park
Introduction
Famous as a hideout for outlaws, this small state park in the hills of southeast Oklahoma covers over eight thousand acres. The park includes a visitors center and many markers and exhibits dedicated to the history of the famous outlaws who evaded law enforcement by hiding in these woods. The park has many family-friendly amenities such as fishing hunting hiking horse trails camping, cave tours, and cliff climbing.
Images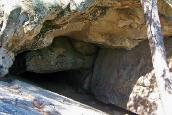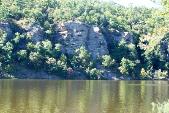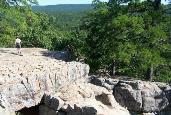 Backstory and Context
Robbers Cave State Park became a state park in 1935 due to the efforts of Carlton Weaver, a state legislator from nearby Wilburton. Following his election, Weaver spent several years securing legislation and sponsors who would build the park. His accomplishment meant so much to the local leader, Weaver requested that he be buried at the park. When Carlton Weaver died in 1943 he was buried right by the entrance of the park.
Archaeologists believe the park was popular in prehistoric times just as it is today but mostly for wild animals and the natural food supply for the early natives. In 900 AD, people showed up under the dominant Native American religious and ceremonial center at Spiro Mounds which had become a major influence through Oklahoma and other joining States until the Spiro eventually declined.

In the 1600s Robbers, Cave was hunting ground for the truth Osage Caddoan. It is also believed that French fur trappers passed through as well due to all the French names such as San Bois Mountains.
The State Park is most famous for outlaws like Belle Starr, who evaded law enforcement by hiding in the area. Jesse James, the leader of the James-Younger Gang, may have also hid out in this area after committing a stagecoach robbery near Hot Springs, Arkansas.
Additional Information