Vaughan-Smitherman Museum
Introduction
The Vaughan-Smitherman Museum is a local history museum featuring exhibits and numerous artifacts related to Selma. Constructed in 1847, it is housed in one of the city's most distinguished historic buildings and has served in many capacities during its lifetime. It was built by the Selma Fraternity Lodge 27 of the Free and Accepted Masons as a school for orphans called the Central Masonic Institute. It later was a Confederate hospital during the Civil War, a Freedman's Bureau Hospital (part of a government program to help freed slaves during Reconstruction), the Dallas County Courthouse, the Selma Military Institute, another hospital, a civic building, and the current Vaughan-Smitherman Museum. The building is listed on the National Register of Historic Places.
Images
The Vaughan-Smitherman Museum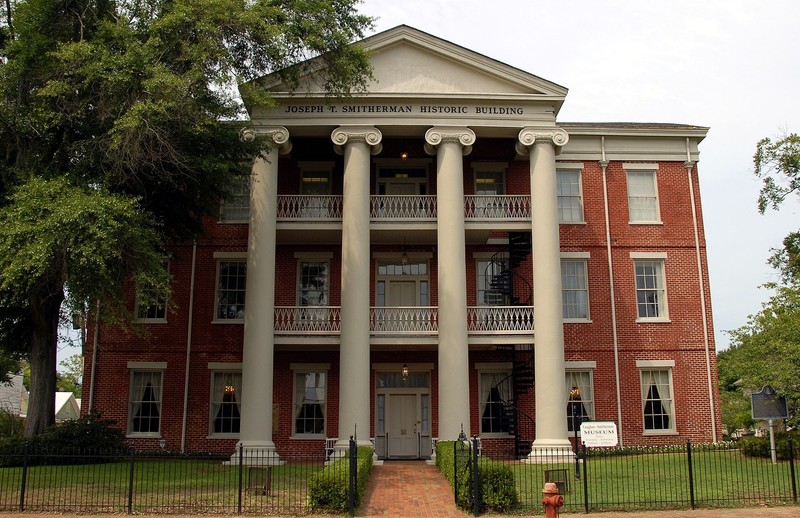 Backstory and Context
The name "Joseph T. Smitherman Historic Building" is engraved on the front facade of the building. Smitherman was Selma's mayor in the late 1960s who led the effort to buy the building so it could be come a civic center.
Sources
http://selmaalabama.com/images/selma/pdf/vaughan%20smitherman%20brochure.pdf W. Warner Floyd. "Dallas County Courthouse," National Park Service - National Register of Historic Places. 6-20-75.
Additional Information