G.W. Carver Interpretive Museum
Introduction
Located in a former Greyhound bus station, the George Washington Carver Interpretive Museum's mission is to educate all visitors about the contributions African Americans have made throughout the country's history. The original Greyhound station was built sometime in the 1940s, before 1948. In its original configuration, the building reflected the segregation period it was built in. The building was structured to have two entrances, two separate restrooms, separate drinking fountains, and waiting areas, much like other segregation period buildings. The museum was founded in 2000 by Dr. Francina Williams after being purchased by the African American Alpha Kappa Alpha Sorority Inc. The museum opened in 2002, now featuring several exhibits: the science-themed Discovery Zone; Designing the World We Live In; Black Scientists, Inventors and Explorers; Social Progress Heroes Timeline; and the Dr. Carver Room, which chronicles the life of the museum's namesake, George Washington Carver. Also, the museum has a mural of Dr. Carver painted by Wes Hardin, the artist who painted the other 11 murals of Dothan.
Images
G.W. Carver Interpretive Museum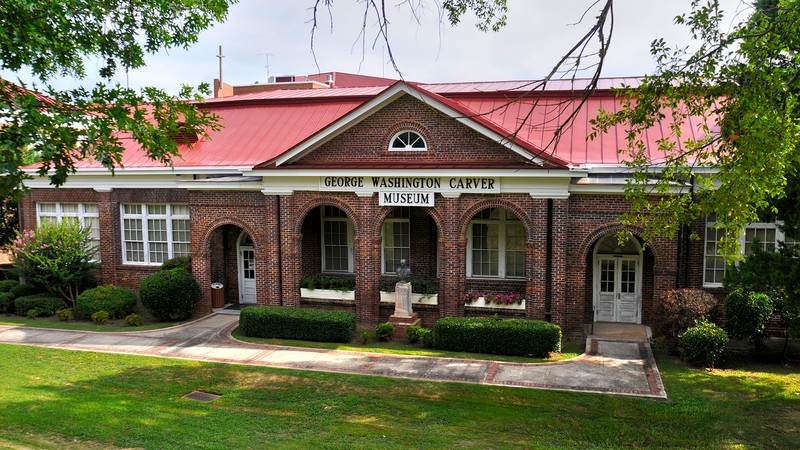 Sources
About Us, The Carver Museum. Accessed December 4th 2020. http://www.gwcarvermuseum.com/about.
Greer, Caroline. George Washington Carver Interpretive Museum, Encyclopedia of Alabama. September 12th 2019. Accessed December 4th 2020. http://www.encyclopediaofalabama.org/article/h-4132.
Note: the following source is/was a postcard featuring the Dothan Greyhound bus station, the seller lists the print date of the postcard as 1948, dating the bus station to at least before that year.
grinvideoproductions. Greyhound Bus Station - Dothan Alabama (1940's Roadside Linen Postcard) 110-D, Amazon. Accessed December 4th 2020. https://www.amazon.com/Greyhound-Bus-Station-Roadside-Postcard/dp/B07176P4WJ.
Additional Information