Camp Lawton (Magnolia Springs Park)
Introduction
In the fall of 1864 during the American Civil War, Camp Lawton was hastily built prisoner camp constructed by the Confederates to house Union soldiers. Forty-two acres in size, it was built with the purpose of transferring prisoners from the extremely overcrowded and infamous Camp Sumter in Andersonville. The plan was to hold 40,000 prisoners here but it was abandoned just six weeks after it opened because a Union force led by General Tecumseh Sherman was approaching on the well-known "Sherman's march to Savannah." The numbers of prisoners reached over 10,000 by November and they were transferred to other prisons though several hundred joined the Confederate Army. Hundreds, at least over 700, died at the camp, primarily from disease and the cold, autumn weather. The site is now the Magnolia Springs State Park and it was listed on the National Register of Historic Places in 1978.
Images
One of the prisoners at the camp created this and other watercolor paintings. No photographs of the camp exist.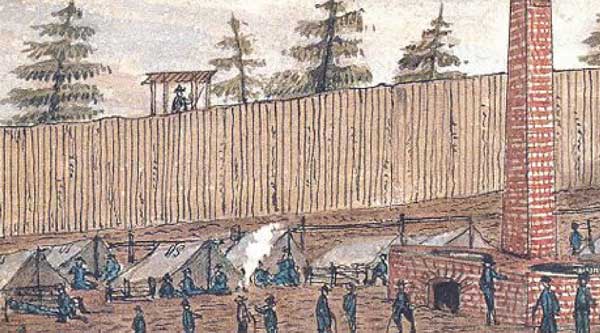 Backstory and Context
The camp was largely forgotten after the war which left it essentially undisturbed from looters who had plundered the camp in Andersonville. In 2010, a team from Georgia Southern University led an archaeological excavation and confirmed the camp's location and found 200 artifacts—personal items of the soldiers. Nothing remains of the wooden stockade but earthen breastworks are still visible.
Sources
http://gastateparks.org/MagnoliaSprings http://class.georgiasouthern.edu/camp-lawton/history https://en.wikipedia.org/wiki/Camp_Lawton_(Georgia)
Additional Information