Consolidated Mine
Introduction
Consolidated Mine is one of roughly 100 mines that were built near Dahlonega during the latter half of the 19th century. It is one of the largest built and holds the reputation of having one of the biggest quartz veins discovered, one that was 22 feet thick. The vein was one of the biggest in the world and contained gold. Work at the mine began in 1875 and continued, with brief interruption, until 1906.
Images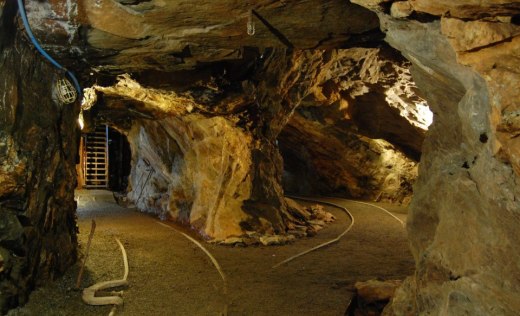 Backstory and Context
The Consolidated Mine is known to be the first attempt in the east at systematic, deep underground mining. One of the largest gold mining operations east of the Mississippi River, work on the mine began in 1875 and continued until 1906. In 1895, northern investors bought the 7000 acres of land surrounding the discovery site of the gold. This purchase consolidated the small mines in the area into the Dahlonega Consolidated Gold Mining Co.

After the mine closed in 1906, the tunnels were abandoned for 75 years until they were bought by a family from Kentucky. The family members were originally coal miners looking for a different line of work. There is still gold left on the property today, but the cost of reaching and extracting it is greater than the gold's worth.

Today, the mine is open for tours that take visitors underground into the mine itself. The lower levels are flooded, but tourists can still enter the mine and see the upper levels. Visitors can also do some of their own gold panning. The mine is listed on the National Register of Historic Places.

Sources
1. https://consolidatedgoldmine.com/history

2. Kenneth H. Thomas, Jr. "Consolidated Mine," National Register of Historic Places. 2-27-80.

3. Consolidated Mine. Wikipedia. Accessed May 29, 2019. https://en.wikipedia.org/wiki/Consolidated_Mine.


Additional Information