The Old Confederate Military Road
Introduction
The Old Military Road stretched about 130 miles from Niblett's Bluff to Alexandria. About 58 miles of it existed in modern day Beauregard Parish. Calcasieu Parish had 18 miles, Allen Parish had over one mile, Vernon had 17 miles and the remaining miles were in Rapides Parish. Another perspective of the road is that 18 miles went through Ward One, 12-1/2 miles in Ward Five, 11 miles in Ward Four, 3/4 miles in Ward Three, 1-3/4 miles in Ward Eight and 14 miles in Ward 7
Images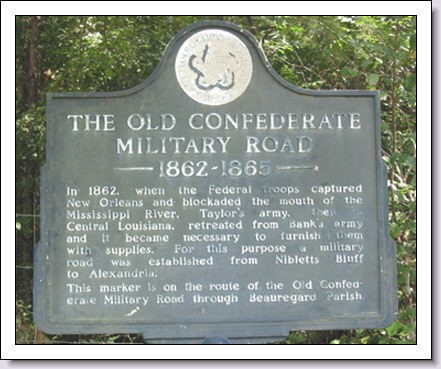 Backstory and Context
A large majority of the people of what is now Beauregard Parish were opposed to the secession of Louisiana from the Federal Union, but when the act was passed in the convention, as loyal citizens, a large majority enlisted in the service and served until the close of the war. Quite a few lost their lives in that struggle and many more were wounded and carried their battle scars to their graves.
During the war, about 1862, when the Federal troops captured New Orleans and blockaded the mouth of the Mississippi River, Taylor's army was in Central Louisiana at the time, retreating from Baknes' army. It became necessary to furnish Taylor's army with provisions and ammunition. For this purpose a military road was hastily cut out from Nibletts Bluff (the head of deep water navigation at that time) to Alexandria. The Confederate Government assigned the following men to build it: Rev. William Perkins of Big Woods; Alexander Frazar of Merryville; and W. J. Slaydon of near Singer. They were in charge of completing the road from Nibletts Bluff to Sugartown. Another crew was to take charge from there on.
Ordered to be constructed by Confederate General Taylor, the "Old Military Road" began at Nibletts Bluff, a well established supply point. It continued across present day Beauregard Parish diagonally, starting near the southwest corner and exiting the parish less than a mile south of its northeast corner.
On its way through the parish it passed near, practically every resident known to live anywhere near a route to Sugartown at least twenty years before the Civil War. The work was done mostly by soldiers. What few slave owners lived near the road furnished their male slaves to help in the work. They improved slopes on fords, moved some standing and fallen timber in order to straighten curves and crosslaid marshy places to withstand the heavier traffic. Generally the road followed a route that had been used many years.
Sources
http://www.beauregardtourism.com/historical-sites.html https://www.lutheransonline.com/servlet/CpsServlet/dbpage=page&GID=20100595095835793401111555&PG=20100595611761606401111555
Additional Information