John F. Kennedy Hyannis Museum
Introduction
The John F. Kennedy Hyannis Museum celebrates the life and legacy of President John F. Kennedy, his family, and his deep connection to Cape Cod. As such, there is less of an emphasis on his tenure as President. Rather, the museum offers multimedia exhibits that examine his and his family's upbringing and how life on Cape Cod shaped them. In addition, the museum holds various events such as a speaker series and also offers educational programs for people of all ages.
Images
John F. Kennedy Hyannis Museum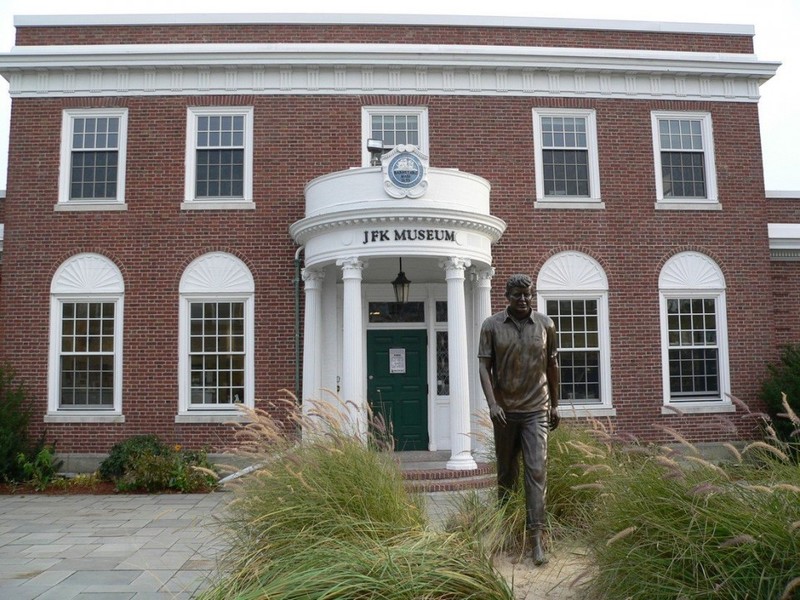 Closer image of statue of John F. Kennedy outside of the museum.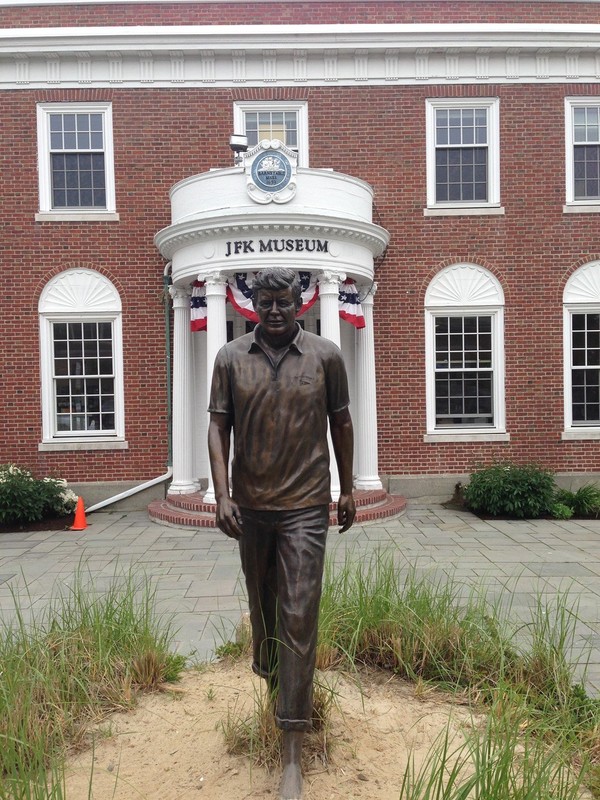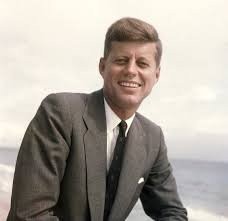 John F. Kennedy sailing wife his family and friends off Hyannis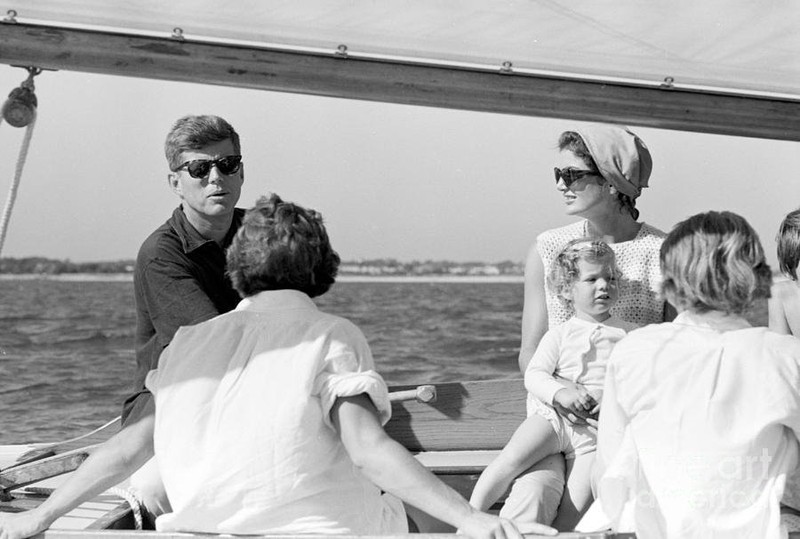 Backstory and Context
The John F. Kennedy Museum in Hyannis, Massachusetts highlights the former President's life and his connections to Cape Cod. Kennedy was the nation's leader for only a short time; however, that time was filled with revolution and social and political change – his leadership and personality had a great influence on people throughout the world.
John F. Kennedy was one of the most charismatic Presidents that the nation has ever known. People loved him and saw him not just as their leader, but a source of inspiration. Born into one of America's wealthiest families, he received an elite education before he joined the Navy. He was put in command of a Patrol Torpedo (P.T.) boat. On August 1, 1943 while stationed in the South Pacific, the boat was struck by a Japanese destroyer and several of his men had to be rescued. Kennedy was awarded the Navy and Marine Corps Medal for heroism after the incident. Upon his return to the U.S., he began his storied political career. First, he was elected to the U.S. Congress (1946) and later the Senate (1952) before being elected as the country's 35th President at the age of 43 (1960). Kennedy was the youngest man to be elected President, as well as the first Roman Catholic. He was the epitome of patriotism, citizenship, and public service. During Kennedy's term, revolutions for freedom and equal rights persevered.
Kennedy's legacy, family, and connection to Cape Cod are preserved by the John F. Kennedy Museum Foundation. The exhibits provide visitors with a glimpse into Kennedy's days spent vacationing on the Cape with his family and playing football with his friends from his navy days. One of Kennedy's favorite leisure activities was sailing on the open water surrounding Cape Cod.
There are photographs on display which cover some of his high school career until his death in 1963. In addition to the photographs, there are several videos for visitors to the museum to enjoy. They can learn more by watching a video narrated by Walter Cronkite, during which he tells the story of Kennedy's pastimes on the Cape. Other videos show JFK's friends telling stories of growing up with the man who would become one of the nation's greatest presidents.
The museum's goal is to: …"relate Cape Cod's role as a place that inspired and enabled leaders to give back to our nation and our neighborhoods. The museum foundation will serve to preserve our 'civic memories' and plant the seed of curiosity and learning in all generations. Through the stories of the Kennedy Family and the history of Cape Cod, we will celebrate our civic life, and motivate the next generation of engaged citizens."
Ticket prices range from $12 to $6 per person. Children under the age of 5 are admitted free.
Sources
The Foundation. John F. Kennedy Hyannis Museum. Accessed July 22, 2018. https://jfkhyannismuseum.org/the-foundation/.

John F. Kennedy Hyannis Museum. Go Boston Card. Accessed July 22, 2018. https://www.smartdestinations.com/boston-attractions-and-tours/jfk-hyannis-cape-cod-baseball-hall-of....

John F. Kennedy. History.com. . Accessed August 03, 2018. https://www.history.com/topics/us-presidents/john-f-kennedy.

John F. Kennedy and PT 109. John F. Kennedy Presidential Library and Museum. . Accessed August 11, 2018. https://www.jfklibrary.org/JFK/JFK-in-History/John-F-Kennedy-and-PT109.aspx.

Additional Information