Mary Lindley Murray Monument
Introduction
Mary Lindley Murray is best known for stalling the British troops under General Howe by inviting the officers into her Long Island home for tea during the American Revolution. The delay allowed the escape of 5,000 American troops under General Israel Putnam, who were outnumbered two to one by the British forces who intended to destroy them. A monument dedicated to her stands in the Murray Hill neighborhood of New York City, in the median of Park Avenue near 37th Street.
Images
Mary Lindley Murray (image from City Realty)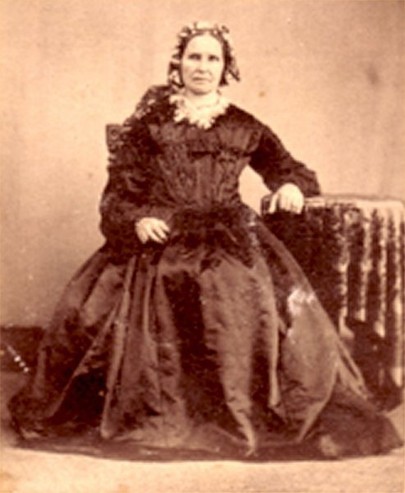 "Mrs. Robert Murray entertaining British officers while Putnam escapes," by E.A. Abbey (image from Ephemeral New York)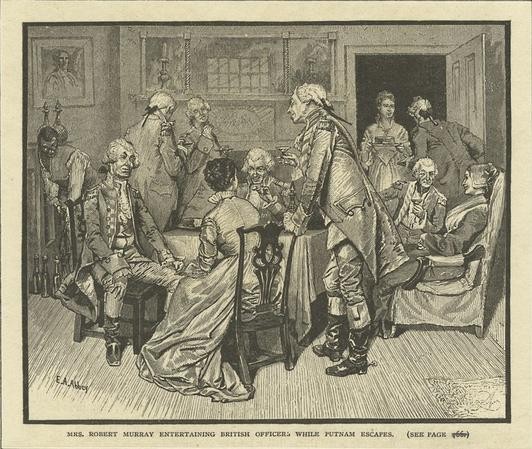 Mary Lindley Murray historic marker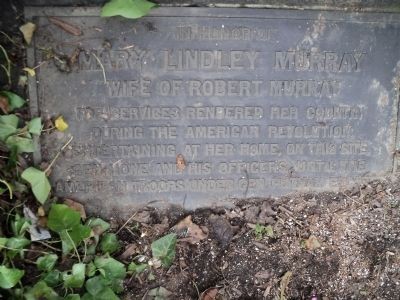 Mary Lindley Murray historic marker, located in the median of Park Avenue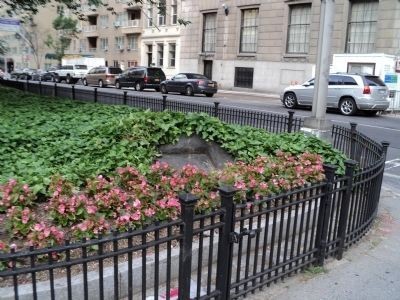 Backstory and Context
Mary Lindley was the daughter of Quaker and Blacksmith Thomas Lindley, who immigrated from Ireland in 1719 and settled in Pennsylvania. He joined in a business venture to form Durham Furnace, a Quaker-owned forge which proved prominent and prosperous. Thomas Lindley became a Justice of the Peace and member of the Pennsylvania Assembly in Lancaster County. Mary Lindley met miller Robert Murray in Lancaster County, and Murray converted from Presbyterian to Quaker in order to marry her in 1744. Their son, Lindley Murray, was born the next year (he would later become a prominent author of the nineteenth century).
Robert Murray's family were also Irish immigrants, who had come to America in 1732. Murray had been operating a mill since his teenage years, and with his connections to the Quaker and political communities through Mary's father, he began trading flour and wheat exports with the West Indies. After the couple moved to New York City in 1753, Murray became one of the most powerful and wealthy merchants in the city. The two-story great house at his 29-acre estate, Inclenberg (Dutch for beautiful hill), was built around 1762. The house looked over Kip's Bay and the East River.
General Israel Putnam and 5,000 troops were sent to New York City by General George Washington in September of 1776, following the American defeat at the Battle of Long Island in August. British General William Howe and his troops landed in Kip's Bay on September 15, intending to rout Putnam's troops, who were outnumbered roughly two to one. Although Robert Murray supported and traded with the British, even after the beginning of the American Revolution, Mary had family serving in Washington's army, and sympathized with the Revolutionaries. Aware that Putnam's retreating troops were less than a mile from her home, Mary stalled the British by inviting them in for tea. She and her daughters kept Howe's company entertained while a maid kept watch over the continuing retreat from an upstairs window.
Mary Lindley Murray's motivations, some historians have suggested, may have had less to do with patriotism and more to do with ensuring her family's social position with both the Patriots and the British. However, a journal entry from September 20, 1776, by a surgeon named James Thacher with the Continental Army, notes the event, which may indicate genuine support of the Revolution on Mary's part.

Historic Marker Inscriptions
:
[Marker 1]
In 1776 the Murray mansion stood at this location at Murray Hill. General William Howe used this site to observe his troops during their invasion of Manhattan. Mrs. Murray detained Howe and his officers long enough for the American troops to safely retreat.
[Marker 2]
In honor of
Mary Lindley Murray

wife of Robert Murray

for services rendered her country during the American Revolution, entertaining at her home, on this site, Gen. Howe and his officers, until the American troops under Gen. Putnam escaped.
Sources
Diece, Albrey. "Mary Lindley Murray." National Women's History Museum. Accessed Web, 5/18/17. https://www.nwhm.org/education-resources/biography/biographies/mary-lindley-murray/.

"Mary Lindley Murray." History of American Women. Accessed Web, 5/18/17. http://www.womenhistoryblog.com/2010/07/mary-lindley-murray.html.

"Mary Lindley Murray." The Historical Marker Database. Accessed Web, 5/18/17. http://www.hmdb.org/Marker.asp?Marker=42792.


Additional Information