Taborian Hall
Introduction
Taborian Hall is located at 800 West 9th Street, and is the last remaining original structure in the historic West 9th District, once the heart of the Black business district in Little Rock. Construction on the building began in 1916 and was completed in 1918. It was designed and built by local African American contractor Simeon Johnson, to serve as home for the Knights and Daughters of Tabor, an African American fraternal insurance company. It was originally known as Taborian Temple; the name changed in the 1950s when it became the Dreamland Ballroom, a popular entertainment venue in segregated Little Rock. The building currently houses Arkansas Flag and Banner, but a foundation is raising funds for restoration of the Dreamland Ballroom.
Images
Taborian Hall in its heyday. Courtesy of Dreamland Ballroom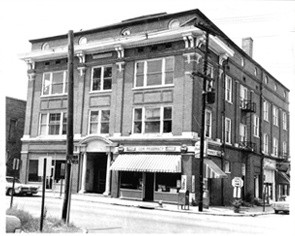 Taborian Hall today as Arkansas Flag and Banner. Courtesy of Encyclopedia of Arkansas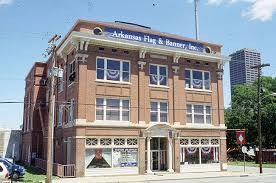 Backstory and Context
Taborian Hall has served multiple purposes in the history of Little Rock's African American community. Its construction cost one million dollars and it was heralded as the pride and joy of Little Rock's African American community.1 In addition to its original purpose as home for the Knights and Daughters of Tabor, the first floor served as the informal club for African American soldiers stationed at Camp Pike in North Little Rock.2 It also served as home to many Black business, including the Gem Pharmacy and offices for Black doctors and lawyers.

In the 1930s, the Dreamland Grill was converted into the Dreamland Ballroom, which was located on the third floor of the building. The ballroom was used for dances, concerts, social gatherings, and basketball games for local Black high schools.3 During World War II, the USO bought Taborian Hall and used it as a club for African American soldiers stationed at North Little Rock's Camp Robinson and the Stuttgart Army Airfield. It was during this period that the USO brought stars such as Nat King Cole, Duke Ellington and others to perform, this led to Taborian Hall's reputation as the venue for Black stars to visit while in Little Rock.4

In the 1950s, the building once again housed clubs such as Twin City Club, the Waiters Club, and Club Morocco.5 By the 1970s, Taborian Hall was on a downward spiral that led to it being vacant for several years. It was placed on the National Historic Register in 1982, and in 1991 Kerry McCoy purchased the vacant building as the new home for her business, Arkansas Flag and Banner.6 McCoy is currently working to raise money to restore Dreamland Ballroom on the third floor of Taborian Hall.


Sources
1. http://onlyinark.com/arkansas-women-bloggers/historic-taborian-hall-the-heart-of-arkansas-flag-and-banner/entry-detail.aspx 2.http://www.encyclopediaofarkansas.net/encyclopedia/entry-detail.aspx?entryID=6984 3.http://www.encyclopediaofarkansas.net/encyclopedia/entry-detail.aspx?entryID=6984 4.http://www.encyclopediaofarkansas.net/encyclopedia/entry-detail.aspx?entryID=6984 5.http://www.encyclopediaofarkansas.net/encyclopedia/entry-detail.aspx?entryID=6984 6.http://www.dreamlandballroom.com/history.html
Additional Information