Old Wheeling Hospital
Introduction
As it stands today, Wheeling Hospital has more than 150 years of history behind it. The first Wheeling Hospital was chartered on March 12, 1850. It was the first hospital chartered in western Virginia, making it the oldest medical institution in present day West Virginia. During its history, the hospital expanded and moved to different locations throughout Wheeling until it settled on its current location in 1975. Commonly referred to as the "Mother Hospital of West Virginia" because of its early founding, Wheeling Hospital has brought innovative programs and medical care to the region since its founding.
Images
The original Wheeling Hospital Located at 110 15th Street, Wheeling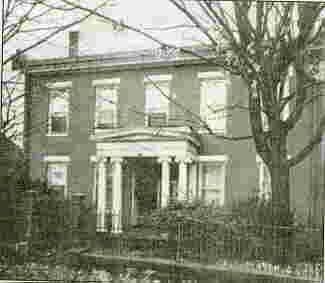 Postcard of the hospital in North Wheeling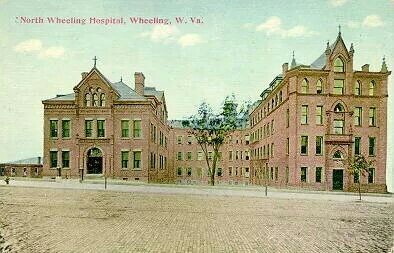 mage of the demolition of the old hospital in North Wheeling in 1997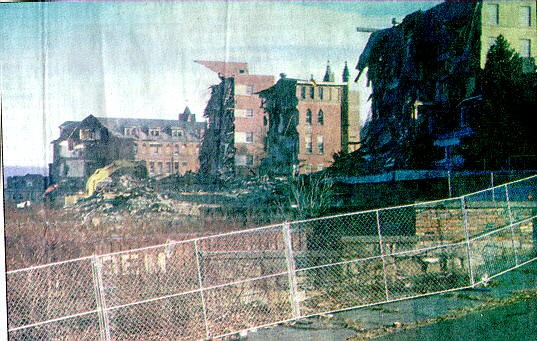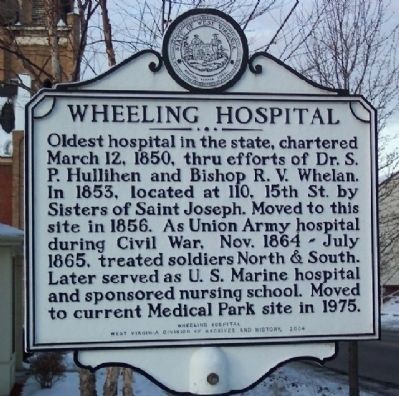 Wheeling Hospital today, located off Interstate 70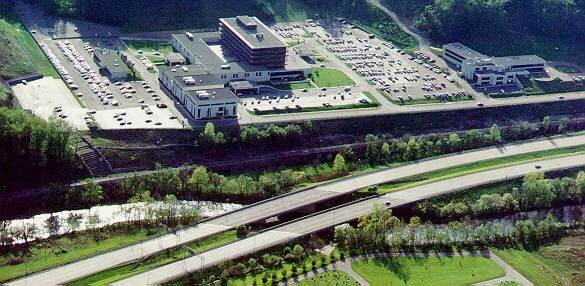 Backstory and Context
By the 1850s, the city of Wheeling was thriving and doctors and dentist offices, drug retailers, and a county medical society emerged to care for the health of Wheeling's citizens. In 1845, Dr. Simon Hullihen opened his infirmary in Wheeling. When he was no longer able to care for the amount of patients coming to him, the increase largely due to more industrial accidents at the time, Dr. Hullihen founded Old Wheeling Hospital in partnership with Dr. John Frissell, Dr. M.M. Houston, and Catholic Bishop Richard Whelan (1). At the time of its formation, Wheeling Hospital was the only medical facility between Pittsburg and Cincinnati. In 1853, Bishop Whelan brought in the Sisters of Saint Joseph to help care for the patients. At this first hospital, patients paid 97 cents per day for accommodation and care (2). The Sisters also took care of local orphans at the hospital. Wheeling Hospital moved to its location in North Wheeling at the old Michael Sweeny mansion in 1856, it would remain here for 119 years.
During the Civil War, the federal government took over the hospital as a U.S. Army General Hospital. The Sisters became army nurses and would treat injured Union and Confederate soldiers (3). After the war, the hospital continued to expand and a nursing school was established in 1900. During World War II, the hospital prepared nurses and doctors for the war effort through a Cadet Nurses Corps unit. Wheeling Hospital opened many new departments in the last half of the 20th Century including physical therapy and outpatient departments. The hospital also set up West Virginia's first intensive care unit and coronary care unit. Wheeling Hospital was the first institution in western Virginia to offer nursing services to patients. This history continues to inspire the hospital's nursing school today. 
After growing out of their facility in North Wheeling, the hospital moved to its present location. The new hospital was dedicated on Sunday, June 1, 1975. Here, the region's first cardiac catheterization laboratory was opened in 1978, which allowed the region's first open heart surgery possible in 1994. Wheeling Hospital is now an umbrella organization with two hospitals, two clinics, a continuous care and wellness center, and four outpatient centers (4). Wheeling Hospital has massively expanded since its origins in 1850, and today offers healthcare to the northern panhandle of West Virginia and Eastern Ohio. 
Sources
1) Howe, Barbara J., and Margaret A. Brennan. "The Sisters Of St. Joseph In Wheeling, West Virginia, During The Civil War." U.S. Catholic Historian 31.1 (2013): 21-49. America: History and Life with Full Text. Web. 12 Mar. 2016. 2) https://wheelinghospital.org/about/history.aspx 3) Brennan, Margaret "Wheeling Hospital." e-WV: The West Virginia Encyclopedia. 12 March 2014. Web. 14 February 2016. 4) https://wheelinghospital.org/facilities/
Image Sources
"Wheeling Hospital." The Historical Marker Database. Accessed October 6, 2020. https://www.hmdb.org/m.asp?m=16255.

Additional Information