Rubin Museum of Art
Introduction
Founded by Shelley and Donald Rubin and opened on October 2, 2004, The Rubin Museum of Art specializes in the art and culture of Himalayan Asia, India, and neighboring regions. The Rubin contains five gallery floors, two of which are dedicated to the permanent collection of 2,500 Himalayan art objects, and three of which house special exhibitions of pan-Asian art ranging from ancient to contemporary times. The museum also features a theater, education center, shop, and restaurant.
Images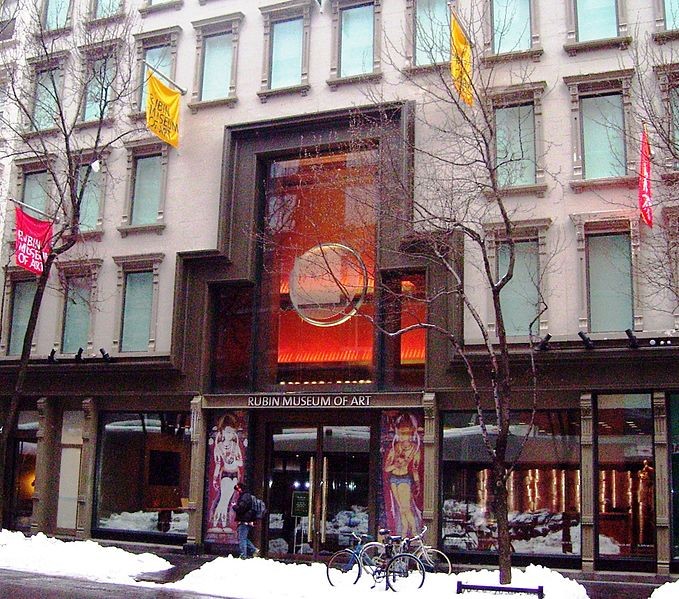 Staircase designed by Andrée Putman.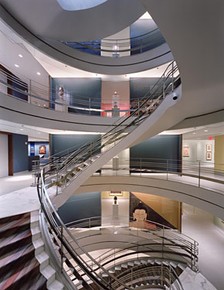 Sacred Spaces exhibition.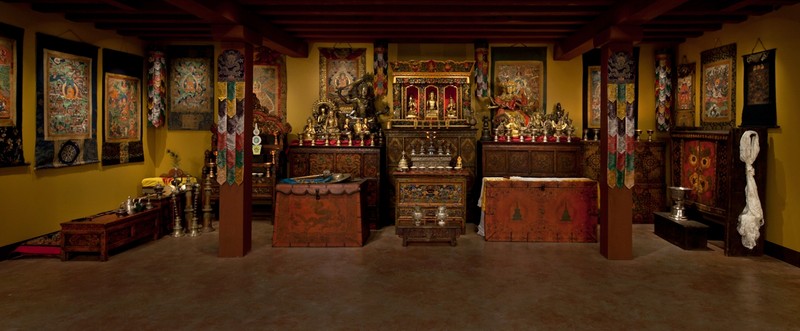 Backstory and Context
Private collectors of Himalayan art since 1974, Donald and Shelley Rubin decided to turn their collection into a museum in the late 1990s. They purchased a building originally occupied by Barneys New York, a bankrupt fashion department store. The Rubin Museum renovation of the building was designed by Beyer Blinder Belle and maintains a six-story spiral staircase designed by Andrée Putman. Museum architects Celia Imrey and Tim Culbert were commissioned to design the galleries, while the graphic elements are the work of Milton Glaser. The Rubin Museum officially opened in 2004. Galleries include works from the Tibetan plateau, Nepal, Bhutan, India, Pakistan, Afghanistan, China, and Mongolia, spanning 1,500 years. One of the permanent exhibitions is the Gateway to Himalayan Art, which provides context and examples of symbols which are repeated throughout the artwork of the region; a Tibetan Buddhist Shrine with 130 paintings, sculptures, textiles, and ritual objects is part of this exhibit. Another permanent exhibition is Masterworks: Jewels of the Collection, with works from the Himalayas and culturally related areas spanning 1,000 years. Having lost much of his family to the Holocaust, Donald Rubin is drawn to the Buddhist themes of overcoming violence. He explains that the museum's collection is arranged more by theme than time and place, with an emphasis on Buddhist art's personal and emotional impact over strict adherence to scholarly structure.
 Forty-five minute exhibition highlight tours, included with the price of admission, are offered daily at 1:00 and 3:00 p.m., with evening tours available on Wednesdays and Fridays, when the galleries are open late. Audio tours are available through iTunes and GooglePlay stores, as well as audio guide devices at the admissions desk. Private tours are available for groups. The Rubin Museum also functions as a cultural center, offering workshops, classes, themed tours, on-stage conversations, film screenings, concerts, and adult sleepover nights. Some examples of museum programming include meditation and dance workshops, the Artists on Art series, jazz and spiral music concerts, and film screenings on topics ranging from Mount Everest to Hiroshima.
Sources
Esplund, Lance. Paradise on Earth at the Rubin Museum, The Sun. June 19th 2008. Accessed October 17th 2020. https://www.nysun.com/arts/paradise-on-earth-at-the-rubin-museum/80274/.
Powell, Michael. In New York, Himalayan Art with a Lofty Mission, Washington Post. October 17th 2004. Accessed October 17th 2020. https://www.washingtonpost.com/wp-dyn/articles/A35165-2004Oct15.html.
The Rubin Museum of Art Fact Sheet, The Rubin. January 1st 2015. Accessed October 17th 2020. https://rubinmuseum.org/images/content/THE_RUBIN_MUSEUM_OF_ART_fact_sheet_2015.pdf.
Rubin Museum of Art, NYC Arts. Accessed October 17th 2020. https://www.nyc-arts.org/organizations/292/rubin-museum-of-art.
About the Museum, The Rubin. Accessed October 17th 2020. https://rubinmuseum.org/about.
Image Sources
Beyond, Ken. "Rubin Museum of Art." 2011. Wikimedia. Accessed October 17, 2020. https://commons.wikimedia.org/wiki/File:Rubin_Museum_of_Art.jpg.

The Rubin. Accessed October 17, 2020. https://rubinmuseum.org/blog/journey-spiral-staircase-curatorial-director-jorrit-britschgi.

The Rubin. Accessed October 17, 2020. https://rubinmuseum.org/events/exhibitions/sacred-spaces-the-road-to.

Additional Information