North Carolina Maritime Museum, Southport
Introduction
Opened in 2007, the North Carolina Maritime Museum, Southport is one of the museum's three branches (the other two are in Hatteras and Beaufort). This museum features many exhibits chronicling the history of the Cape Fear region. Topics include Native American history and culture, early explorers, the fishing industry, the Civil War and WWI and II, boatbuilding, lighthouse and lightships, and of course maritime history. The branch hosts numerous events throughout the year including lectures and many children's programs.
Images
The North Carolina Maritime Museum, Southport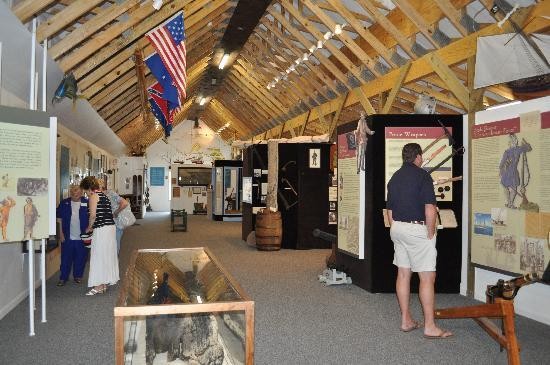 Backstory and Context
The NC Maritime at Southport is at the intersection of the Cape Fear River and the Atlantic Ocean. The museum shares stories of the Cape Fear region and its people.

The North Carolina Maritime Museum has been voted one of the best attractions in Southport by both newcomers and locals. Visitors can learn so much about the history and culture of the region. There is a Megalodon Prehistoric shark tooth display there. You can also see a 2,000 year old canoe once used by the Cape Fear Regions Siouan speaking people. Archaeologists think that it may have been made at about the time that Christ walked the Earth, the craft is 54 feet long.

Also, the museum holds the only periscope on public view in North Carolina. It is a 33- foot, Type 14 periscope, that came from the USS Dolphin , a nuclear research vessel used for deep-water tasks. It is now up and running, giving visitors a hands on experience. The museum and it's workers also shares stories and knowledge about pirates, blockade running, and riverfront archaeology.
Sources
http://ncmaritimemuseums.com/museums-about/

Pirate Ships to Pilot Boats.... Explore Southern History. Accessed April 29, 2017. http://www.exploresouthernhistory.com/southportmaritime.html.

Photo Credit: www.google.com


Additional Information