Calvary Cemetery
Introduction
Named after the location described in the New Testament where Jesus was crucified, Calvary Cemetery in Queens, New York, has the largest number of burial sites in the entire country. More than three million interments are in the burial ground, the earliest of which dates back to 1848. Since then, the cemetery has grown to a total area of more than three hundred and sixty acres. It also includes a monument dedicated to Civil War veterans and a chapel.
Images
Overview of calvary cemetery (http://untappedcities.com/)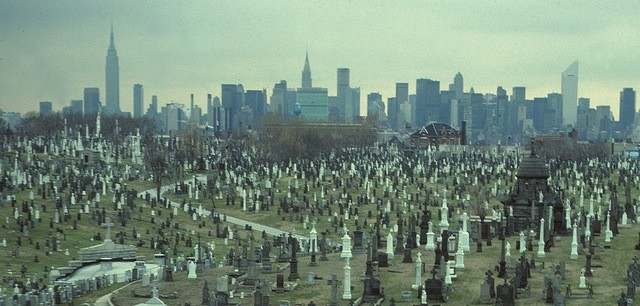 The chapel (http://untappedcities.com/)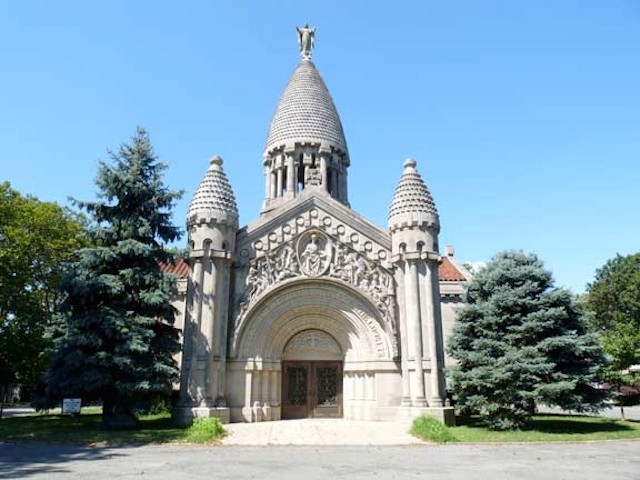 Map of calvary cemetery (http://www.calvarycemeteryqueens.com/)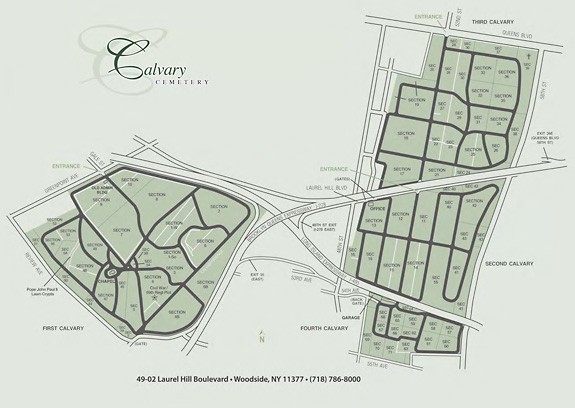 Grave of Esther Ennis (http://theoccultsection.com/)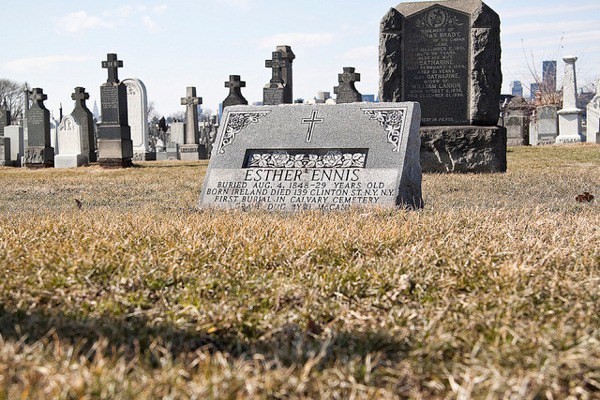 Civil War monument (http://www.nycgovparks.org/)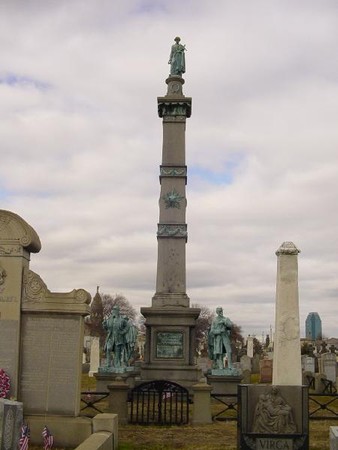 Backstory and Context
In 1817, St. Patrick's Cathedral operated a cemetery on Mulberry Street, which was rapidly filling up. The trustees of the cathedral purchased a large plot of seventy-one acres in Maspeth, Queens, from John McMenoy and John McNolte on October 29th, 1845. The cemetery was consecrated by John Hughes, first Archbishop of the Archdiocese of New York, in August 1848. Graves were sold for between three and seven dollars, depending on the age of those being buried. This cemetery filled rapidly as well, especially during the mid-1850s when a cholera outbreak occurred in the city. In one week alone in 1854 more than two hundred people were buried in Calvary Cemetery.
In 1863, New York City acquired the cemetery from St. Patrick's Cathedral and started using the land for Civil War veterans, including those from the Roman Catholic Irish Brigade. A total of twenty-one Union soldiers are buried in the cemetery, the last of which died in 1909. In 1866, a monument was erected in dedication to these Civil War veterans, featuring a fifty-foot high granite obelisk adorned with bronze garlands and flags, and topped with a bronze statue of a figure representing peace. Four other life-size bronze statues of Civil War soldiers surround the monument, and there were once four cannons and bronze eagles on each corner of the monument, but these were removed during restorations in 1929.
Some notable burials include Esther Ennis, the first burial in the cemetery, who is said to have died of "a broken heart" on August 4th, 1848, and Annie More, who was the first immigrant to be processed through Ellis Island. Mafia don Giuseppe "Joe the Boss" Masseria, leader of the infamous Genovese crime family, was also buried here after being shot in the Nuova Villa Tammaro restaurant on Coney Island in 1931.
The cemetery is separated into four divisions, each respectively dedicated to St. Callixtus, St. Agnes, St. Sebastian and St. Domitilla – the patron saints of the catacombs in Rome. Other sights include a limestone chapel built in 1895, which was designed by Beaux-Arts architect Raymond Almiral who designed several churches for the Roman Catholic communities of Brooklyn and Queens. This chapel serves as a burial crypt for some of New York City's parish priests and is decorated with bas relief carvings and a statue of the Sacred Heart of Jesus.
Sources
"Calvary Cemetery." Find A Grave. Accessed Web, 6/28/17. https://www.findagrave.com/cgi-bin/fg.cgi?page=cr&CRid=64107.

"Soldiers Monument." NYC Parks. Accessed Web, 6/28/17. https://www.nycgovparks.org/parks/calvary-monument/monuments/1467.

"Calvary Veterans Park." NYC Parks. Accessed Web, 6/28/17. https://www.nycgovparks.org/parks/calvary-monument/history.

"About Us." Friends Of Calvary Cemetery. Accessed Web, 6/28/17. http://www.friendsofcalvarycemetery.org/about-us/.

Stroming, Jason. "The Mysterious Case of Esther Ennis." The Occult Section. 2/27/14. Accessed Web, 6/28/17. http://www.theoccultsection.com/2014/02/27/the-mysterious-case-of-esther-ennis/.

Trapnell, Kelli. "NYC's City of the Dead: Calvary Cemetery in Queens." Untapped Cities. 5/30/13. Accessed Web, 6/28/17. http://untappedcities.com/2013/05/30/nycs-city-of-the-dead-calvary-cemetery-in-queens/.


Additional Information