Trans-Allegheny Lunatic Asylum (West Virginia Hospital for the Insane/Weston State Hospital)
Introduction
Trans-Allegheny Lunatic Asylum (TALA), was a psychiatric facility that operated from 1864-1994 and served patients exhibiting atypical behaviors. Over the years, the institution was also known as West Virginia Hospital for the Insane/Weston State Hospital. The main building, which was constructed from 1858-1881, was designed by Richard Andrews and features an eclectic blending of revival styles. The general layout and furnishing of the hospital was guided by Dr. Thomas Kirkbride, who felt mental health patients needed housing that provided therapeutic features such as many windows for sunlight and access to fresh air. Moreover, this hospital was designed to be self-sustained by those working at the asylum and patients alike; working in the garden would be a positive mental and physical stimulator for the patients. Despite the lofty goals of the institution, it was plagued by overcrowding and underfunding. Conditions quickly deteriorated and by the middle of the twentieth century the environment for patients was deplorable. Experimental therapies and brutal medical procedures exacerbated issues. Due to the shift in mental health care from the asylum to more community-based efforts and because of the overall deterioration of the building, the hospital was closed in the 90's. Today, a new owner has reopened the hospital, advertising a living historical monument where heritage tours and even haunted ghost tours are offered to the public.
Images
A man stands in front of Trans-Allegheny Lunatic Asylum ca. 1900, shortly after its completion.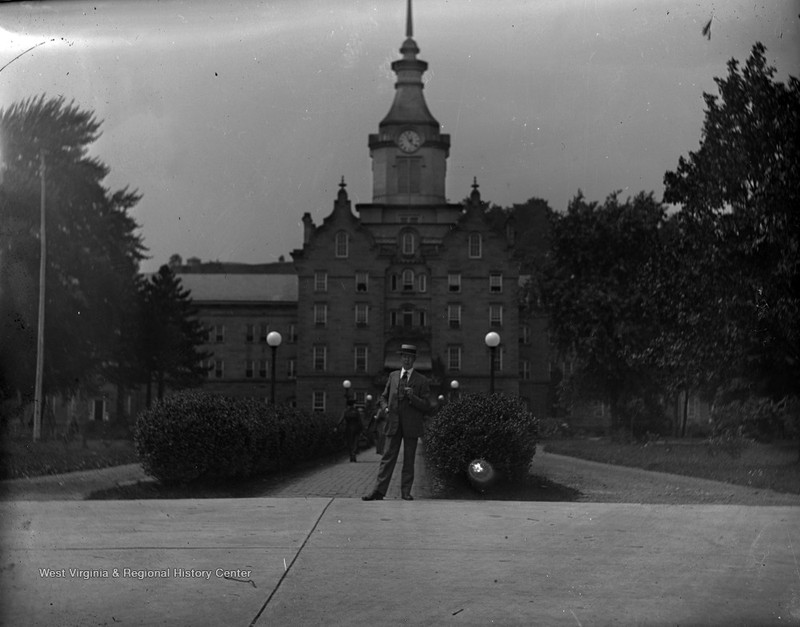 Undated photo of the gates to the institution.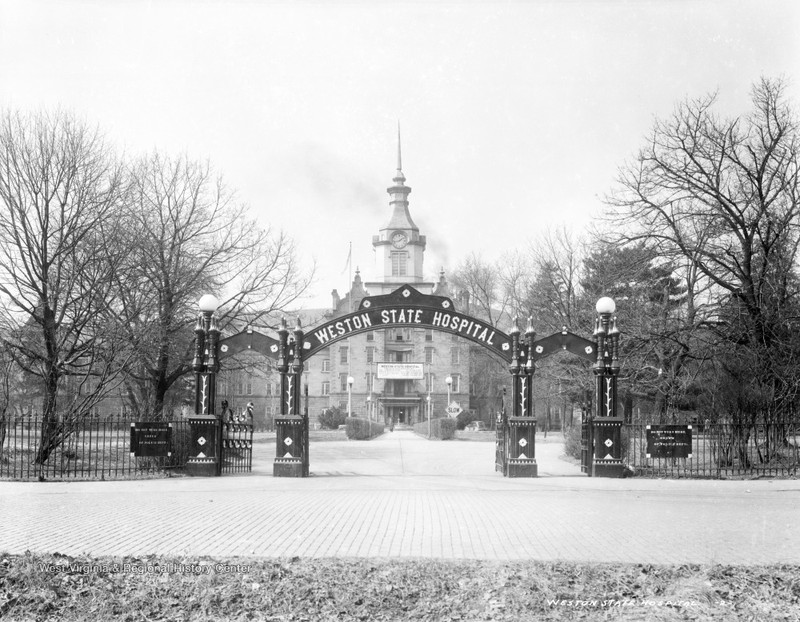 Dr. Kirkbride intended the long profile and sprawling grounds of TALA to be beneficial to mental health.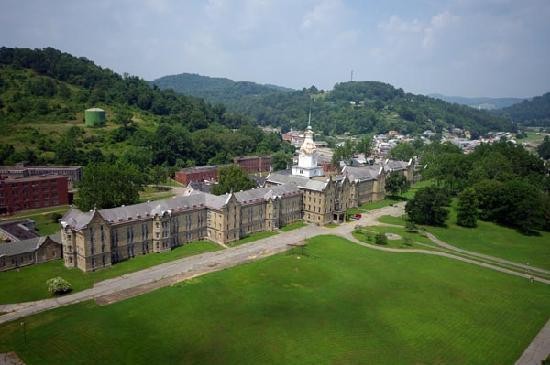 Abandoned medical equipment can be found scattered throughout the buildings.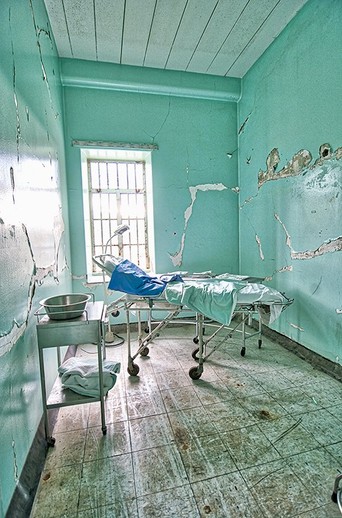 The buildings are now in a state of severe disrepair, though conservation efforts are ongoing.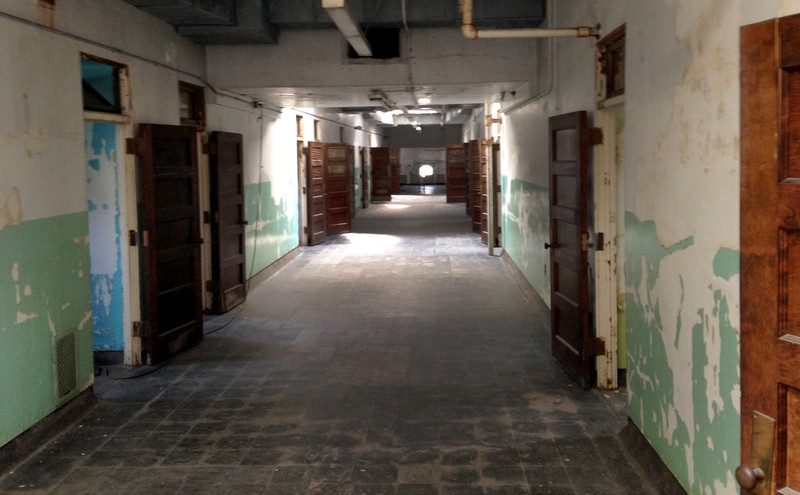 Backstory and Context
The history of the Trans-Allegheny Lunatic Asylum (TALA) predates the existence of West Virginia as a state. In the early 1850s, the Virginia General Assembly authorized funds for a new mental institution. This was largely due to changing public attitudes towards mental health and disabilities. Previously, persons exhibiting atypical behavior were harshly shunned or badly mistreated as inhuman. Dorothea Dix is single handedly credited with changing the way persons with mental health issues are treated. After visiting a jail in 1841, Dix was appalled by seeing mentally ill inmates naked and chained to the wall, with no heat, ventilation, or sanitary provisions. She began a crusade to improve conditions for the mentally ill, eventually opening the first modern mental institutions in the United States. For many of these compounds, she collaborated with Dr. Thomas Kirkbride. Dr. Kirkbride shared Dix's vision of more humane treatment for the mentally ill. His system of "moral treatment" involved moving the mentally ill from crowded prisons to rural compounds. These compounds were self-sufficient and featured architecturally beautiful buildings with long wings and bountiful windows. The Virginia General Assembly consulted with Dr. Kirkbride on the plans for TALA, which was to be the first public health institution in Virginia west of the Appalachian Mountains. Richard Snowden Andrews, a Baltimore based architect, was selected to design the institution.
Ground was broken for TALA's construction in 1858. Blue sandstone was quarried from Mt. Clare in nearby Harrison County. The labor force was composed of people ranging from African-American convicts to skilled stonemasons who travelled from Germany and Ireland. By the outbreak of the Civil War in 1861, $98,000 had already been spent on the project, with $27,000 more allocated. However, when the Virginian government demanded the remaining $27,000 be returned to Richmond, the pro-Union secessionist factions in western Virginia set out to stop this. The Seventh Ohio Infantry arrived in Weston in late June of 1861, ostensibly to arrest Confederate sympathizers. However, the real purpose of the mission was to requisition the funds, which were being held at the Weston Branch of the Exchange Bank of Virginia. The soldiers forced banker Robert McClandish to open the vault before removing the $27,000 and bringing it to Wheeling. The new West Virginia government used the funds to resume construction of the asylum in 1863, renaming it to West Virginia Hospital for the Insane (WVHI). Though the partially completed buildings changed hands between Union and Confederate forces throughout the Civil War, patients were admitted to the institution beginning in 1864.
Construction continued on WVHI through the early 1880s. For this reason, Weston avoided the depression that plagued many smaller American towns following the Civil War as there were always plenty of employment opportunities. The buildings at WVHI were executed according to Andrews' original plans whenever possible, though the scale had to be reduced. Despite this, the site features one of the largest hand-cut stone masonry buildings in the United States. This main building is composed of a central block with long wards stretching an astonishing 1,300 feet from end to end. The central block is four and a half stories tall while the two wards are each three stories. A variety of architectural revival styles freely mingle on the building's façade, including Tudor, Jacobean, Gothic, and Baroque. The entire site rests on hundreds of acres, with sources ranging from 269 up to 666 acres of total space. This space was carefully landscaped and tailored to keeping WVHI self-sufficient. Auxiliary buildings at the time construction was completed included a laundry building, power house, morgue, stables, greenhouses, and separate kitchen and ward facilities for patients of color. The supplementary buildings on the site remained in constant flux for over one hundred years as new ones were built and old ones demolished.
WVHI was initially constructed with a capacity of 250 patients. When construction officially completed in 1881, the institution already held over 700 patients. By 1938, this number had expanded to 1661, over six times the intended capacity. Lack of funding and a focus on maintenance rather than rehabilitation exacerbated overcrowding. In 1949, the Charleston Gazette sent an investigative crew to write a story on the conditions in Weston State Hospital (WSH) — the name was changed from WVHI in 1913. Though they expected squalor, what the reporters witnessed shocked them. In each room intended for a single patient, six or seven patients shared the space where they slept on the floor in freezing conditions. The understaffed buildings were coated in so much grime that daylight failed to reach the interiors. The most troublesome patients were locked in cages in common areas. Experimental treatments and brutal "therapies" were commonplace. Walter Freeman, infamous inventor and advocate of ice pick lobotomies, performed many operations at WSH in the 1950s. These lobotomies left patients unable to perform basic functions such as eating or using the bathroom, if the surgery did not outright kill them. The Charleston Gazette's piece on WSH advocated for the 2,400 patients — almost ten times intended occupancy — but did little to enact change. It was not until the 1980s that conditions finally began to improve at WSH. More facilities devoted to treating mental illness were opened in West Virginia and changes to mental health treatment lowered the number of people committed to institutions. In 1994, a new mental health facility was built in Weston, and WSH closed for good.
The hospital also has a history with suffragists in the form of Harriet Jones, who was assistant superintendent of TALA between 1888 and 1892. Born in 1856, Harriet Jones was a woman of firsts in West Virginia, becoming the first female physician and first female to serve in the West Virginia state legislature. In the legislature one of Jone's main goals was women's suffrage in her state. Jones was keenly interested in the aid of women as she ran a hospital for women for twenty years and helped to provide homes for delinquent young girls. In early July of 1915 Jones allowed fellow suffragettes Ella Yost and Gale Ebbhart to stay with her before all attending the Equal Suffrage Convention. Of Jone's advocacy, she gave a speech entitled Religious Point of View of Women's Suffrage. 
For several years, WSH and its grounds languished. In 1999, widespread damage to the interior of the building was caused by a group of paintball players, including at least twenty law enforcement officers. In response, the Weston Hospital Revitalization Committee was formed in 2000 to preserve the building and find a sympathetic new tenant. Proposals to convert the institution into a hotel, golf course, and prison all failed to solidify. Three small museums dedicated to military history, toys, and mental health briefly occupied the main building, but closed in 2004 due to fire code violations. In 2007, the complex was put up for auction by the West Virginia Department of Health and Human Resources. Joe Jordan paid $1.5 million for the hospital and grounds. Jordan restored the name of the complex to TALA and began offering tours. Unsurprisingly, the site is a major attraction for ghost hunters and other paranormal investigators. Though many visitors come to investigate possible spiritual activity, history, architecture, and mental health are also major aspects of tours. The funds from tours and events maintain the facilities for future generations. 
Sources
About WHRC, Weston Hospital Revitalization Committee. Accessed December 22nd 2020. http://www.westonlandmark.com/about_whrc.htm.
Bethel, Betsy. Haunted Hospital: Former W.Va. Mental Asylum Offers Historical and Ghost Tours, The Intelligencer. October 7th 2018. Accessed December 22nd 2020. https://www.theintelligencer.net/life/features/2018/10/haunted-hospital-former-w-va-mental-asylum-offers-historical-and-ghost-tours/.
Cahal, Sherman. Trans-Allegheny Lunatic Asylum, Abandoned. October 7th 2019. Accessed December 22nd 2020. https://abandonedonline.net/location/trans-allegheny-lunatic-asylum/.
Chambers, S Allen. Weston State Hospital (Trans-Allegheny Lunatic Asylum, West Virginia Hospital for the Insane), Archipedia. Accessed December 22nd 2020. https://sah-archipedia.org/buildings/WV-01-LW1.
Gaddy, Kristina. A Brief History of the Trans-Allegheny Lunatic Asylum, Culture Trip. February 1st 2018. Accessed December 22nd 2020. https://theculturetrip.com/north-america/usa/west-virginia/articles/brief-history-trans-allegheny-lunatic-asylum/.
History, Trans-Allegheny Lunatic Asylum. Accessed December 22nd 2020. http://trans-alleghenylunaticasylum.com/main/history.html.
Hurd, Henry Mills. The Institutional Care of the Insane in the United States and Canada. Volume 3. Baltimore, MD. Johns Hopkins Press, 1916.
Pitts, Carolyn. Weston Hospital Main Building, National Register of Historic Places. January 10th 1990. Accessed December 22nd 2020. https://npgallery.nps.gov/NRHP/GetAsset/NHLS/78002805_text.
Serena, Katie. The Horrifying History Of The Trans-Allegheny Lunatic Asylum, All That's Interesting. February 2nd 2018. Accessed December 22nd 2020. https://allthatsinteresting.com/trans-allegheny-lunatic-asylum.
Swick, Gerald D. Weston State Hospital, The West Virginia Encyclopedia. May 29th 2018. Accessed December 22nd 2020. https://www.wvencyclopedia.org/articles/1148.
Weiser-Alexander, Kathy. Trans-Allegheny Lunatic Asylum, Weston, West Virginia, Legends of America. November 1st 2018. Accessed December 22nd 2020. https://www.legendsofamerica.com/trans-allegheny-lunatic-asylum/.
Weston State Hospital, Architecture of the State. Accessed December 22nd 2020. http://arch.thomas-
industriesinc.com/Bldg_WestonState.htm.
Weston State Hospital, Kirkbride Buildings. Accessed December 22nd 2020. http://www.kirkbridebuildings.com/buildings/weston/.
"About People ." The Wheeling Intelligencer (Wheeling, WV) June 29th 1915. , 9-9.
"Bruecton Mills." West Virginia Argus (Kingwood, WV) September 28th 1916. , 3-3.
Image Sources
"Man in Front of Trans-Allegheny Lunatic Asylum, Weston, W. Va." Ca. 1900. West Virginia & Regional History Center. Accessed December 22, 2020. https://wvhistoryonview.org/catalog/048260.

Gravely and Moore Studio. "Weston State Hospital, Weston, W. Va." West Virginia & Regional History Center. Accessed December 22, 2020. https://wvhistoryonview.org/catalog/052395.

TripAdvisor. Accessed December 22, 2020. https://www.tripadvisor.com/LocationPhotoDirectLink-g59638-d1049077-i41641676-Trans_Allegheny_Lunatic_Asylum-Weston_West_Virginia.html.

Kashino, Marisa M. 2018. Washingtonian. Accessed December 22, 2020. https://www.washingtonian.com/2018/10/25/i-spent-the-night-in-a-haunted-trans-allegheny-lunatic-asylum-and-i-still-cant-explain-what-i-saw/.

The Washington Post. Accessed December 22, 2020. https://www.google.com/url?sa=i&url=https%3A%2F%2Fwww.washingtonpost.com%2Flifestyle%2Ftravel%2Fin-west-virginia-a-moving-respectful-tour-of-the-trans-allegheny-lunatic-asylum%2F2018%2F05%2F24%2F03d476e6-5937-11e8-858f-12becb4d6067_story.html&psig=AOvVaw39tNsY8kfio_8VfWZ6bwsi&ust=1608746413518000&source=images&cd=vfe&ved=0CA0QjhxqFwoTCIj8q8-V4u0CFQAAAAAdAAAAABAX.

Additional Information