Omaha Central High School
Introduction
The oldest high school in the city, Omaha Central began in 1859, operating courses as Omaha High School within the capitol building in the era when Nebraska was a territory and Omaha was its capitol. This building was constructed in 1900. Several additions were planned and completed in the school's first twelve years, mirroring the rapid growth of the city and the trend towards high school completion that began in the late 19th century. Like many high schools, Omaha High added a gymnasium to its building in 1930 to support its growing athletic program. In 1968, a controversy related to the school's basketball program became a source of racial tension that reflected the state of the nation in the latter years of the Civil Rights Movement.
Images
Dillard (second from the left) sits next to Marquiss in their first round match against North Platte in the state basketball tournament. (Omaha-World Herald)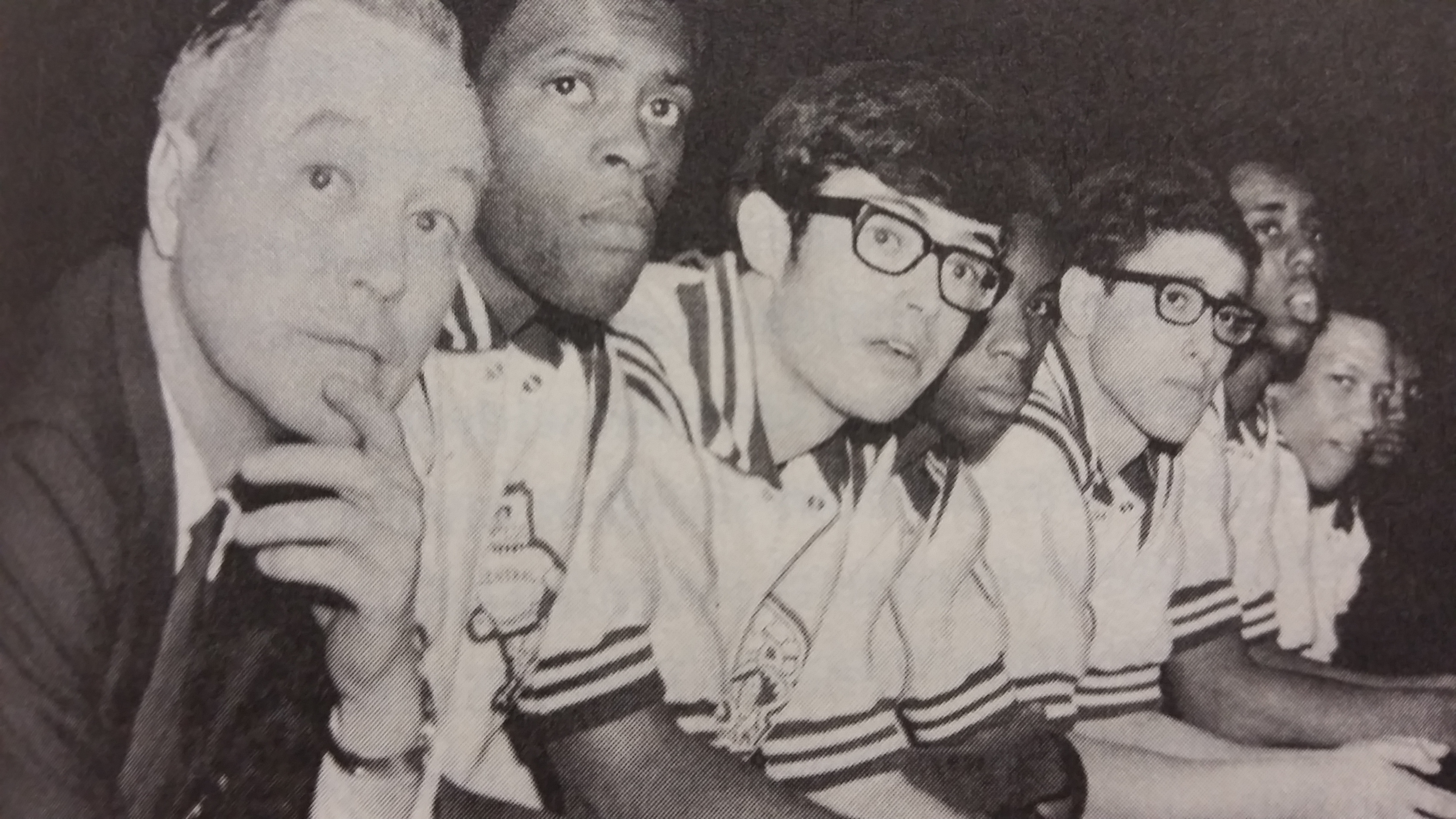 Cover of the book "The Rhythm Boys of Omaha Central: High School Basketball at the '68 Racial Divide" written by Steve Marantz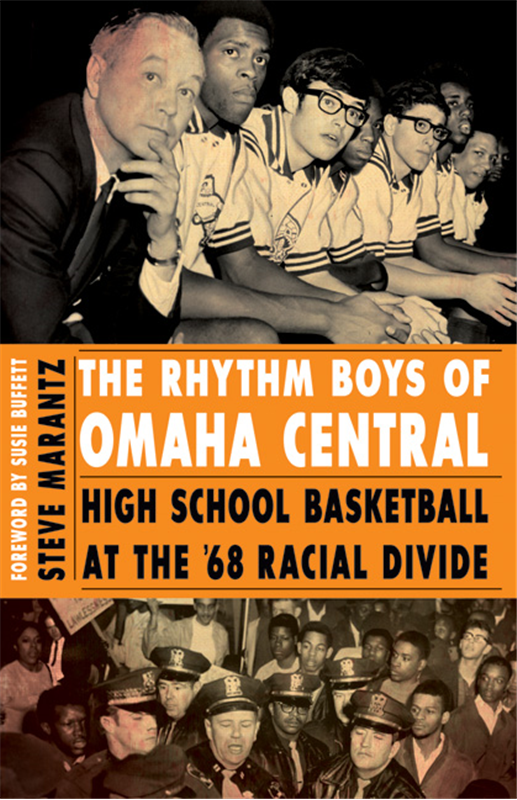 Central High School's main entrance on the south side of the school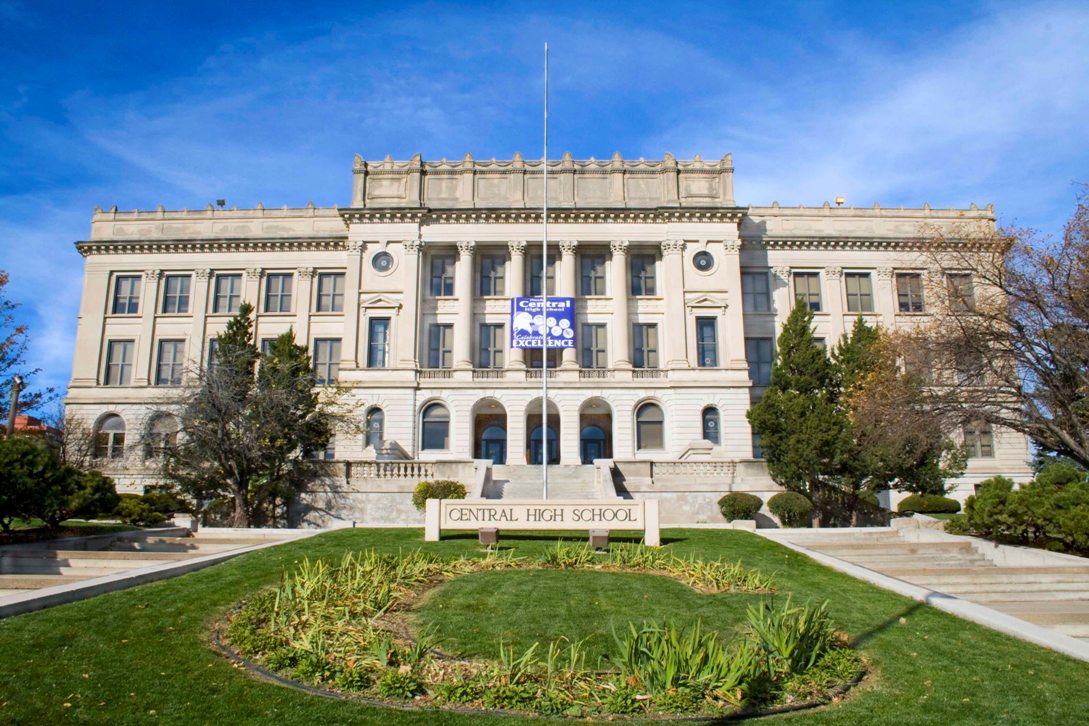 Backstory and Context
In 1968, the state high school basketball championship in Nebraska became ensnared in the broader politics of civil rights and protest politics of the era when Omaha Central's star player, Dwaine Dillard, was arrested and suspended during the state playoffs for his role in a turbulent demonstration outside a George Wallace rally at the Omaha Civic Auditorium. Dillard's team, dubbed "The Rhythm Boys of Omaha Central," are still considered by many to be one of the greatest high school basketball teams in state history.
In March 1968, Omaha Central and Lincoln Northeast met in the final game of the Nebraska state basketball championship. Days prior, George C. Wallace came to Omaha to campaign for president. His rhetoric of "segregation now, segregation tomorrow, segregation forever" clashed with many different people, both Black and white. The "Rhythm Boys," as they were called, were the one of the first high school basketball teams in Nebraska whose starting line-up were all Black. This is about their story of racial tension in 1968 and the events leading up to the 1968 basketball championship.
_____
In December of 1967, J. Arthur Nelson announced his retirement in the school newspaper. Nelson, the long principle of Omaha Central and supporter of institutional racism, couldn't handle the change that the 1960s were bringing, specifically the counterculture and hippie culture. A young African American student by the name of Dwaine Rufus Dillard started to embrace the counterculture, rather than run away from it like Nelson. Dillard, a 6 foot 7 inch athletic machine, was a key peace to Omaha Central's basketball team. Dillard enrolled at Omaha Central in 1965 and his presence on the basketball team was immediately felt. He helped Central reach the quarterfinals that year, only to be beaten by Boys Town on a last second shot. In the summer of 1967, the "Black power" movement took root in sports and greatly affected many African American athletes, such as Muhammad Ali and Bill Russel. Many writers, including Jack Olson, saw that Black high school athletes "came from broken homes and poverty, and were encouraged to compete despite academic needs that went unaddressed"
(Marantz, pg. 44)
. Other people, including Central's head basketball coach Warren Marquiss, believed that these stereotypes were unacceptable and wrong. After the summer in 1967, the school year started as usual with Coach Marquiss, deciding to come back to coach for his 19th year. In December, during a holiday tournament, Marquiss decided, after much deliberation, to make all five of his Black athletes into the starting lineup. The starting five were Willie Frazier, Phil Griffin, Dwaine Dillard, Roy Hunter, and John Biddle.
Omaha Central ran a 12 game win streak to start the season, usually blowing out their opponents by double-digits. One particular game, against Archbishop Rummel, was fuel by racial slurs hurled at the Central players. Dillard and his teammates were all too smart to see that Omaha was no different than the presidential candidate George Wallace's segregated state of Alabama. Many of the schools in Omaha they played were predominantly white and segregated. Even Omaha itself was segregated with African Americans usually setting in the Northern part of the city. In February 1968, Omaha Central (13-1) played Creighton Prep (14-1) in a match that many were eager to watch. Though both teams struggled early, it was Central that came on top of the match 61-48 largely due to several fast break points and all of Central's five starers played the entire thirty-two minutes. It was because of this name that Don Lee gave the starting five the title of "The Rhythm Boys."The nickname easily reflected the close-relationship the players so much that the nickname was used by Willie Frazier, though some people saw the nickname as demeaning and stereotypical. "The Rhythm Boys" reflected the players' smooth-transition buckets and their overall style within the game.
In March, Central easy won the district playoffs, blowing out Omaha Bryan in the first round and Omaha Benson in the district final. By this time, the taboo of interracial dating was hitting Central. The parents of students who were in interracial relationships told their kids that they should stop because "society wouldn't forgive them." When George Wallace game to Omaha, he was the symbol of the evil-system of suppression the Black community saw. Protestors, Dillard and other Central students, had gone to Wallace's speech at Creighton University to protest. It was during his speech that someone called the police to escort the protestors out due to them being "too noisy." This led to a chain reaction as many were maced and beaten by the police. Even a riot broke out as a reaction to what happened at the auditorium and a sixteen year old Black boy was shot and killed by a white officer when he found the boy looting. The next day, many Central students protested going to school when they heard of the murder. While some did relent and go to school, many didn't. Inside the school, Dillard was a huge factor in leading the protest. He would walk into a library, put his fist in the air, and say "Black power." Many other Black students would then follow him. By the end of the day, many Black and white students had collided with each other in small skirmishes and many others decided to leave earlier that day due to the rising situation. Though it seemed that the basketball championship was irrelevant, that would soon change in the upcoming days. Sports in the 1960s were a flashpoint of politics because there are Black players, who are fighting for equal rights and white players, some of which are trying to stop the Civil Rights Movement, being put together on a court in a physical game. Dwaine Dillard was arrested on March 5 for suspicion of possession of Molotov cocktails. Dillard provided an explanation saying that he was playing basketball with a friend when another friend drove by and offered them a ride home. Little did Dillard know was that that car was under suspicion of being in a vicinity of a fire earlier that night. Principle Nelson let Coach Marquiss have the decision to keep Dillard no the team or not. Marquiss decided to keep Dillard on the team but didn't decide to play him or not. While this is going on, news of Dillard's arrest had spread nationally, making the news and headlining evening newspapers. School officials decided to move the tournament to Lincoln due to all of the threats to safety. In their first game against North Platte, Marquiss decided to not let Dillard play due to his violation of staying out too late. This decision angered Frazier, who tried to boycott not playing in the game with the other players on the team. This boycott was short-lived and they did play in the first-round game and easily won in a 70-51 blowout. Their second game against Boys Town was much closer, with Central winning 51-47 in overtime. In the finals, it was Central up against Lincoln Northeast. Both offenses had a tough time starting while defense ruled the court. At halftime, Central led Northeast 19-18, only three points came from Dillard. At the start of the second half, it was Northeast's offense that out played Central's. Northeast eventually upset the number one seeded Central 54-50. After the eventful week, life (to some degree) when back to normal. Some relationships were straight to some degree, especially some interracial relationships. Charges against Dillard for possession of explosives were dropped due to insufficient evidence, though he was expelled from Central in April due to intolerable behavior. Dillard eventually grew up to be a somewhat bitter drunk, who resented playing basketball because he knew he could've gone farther in his career. He died at the age of 59 in 2008.
Sources
Marantz, Steve. The Rhythm Boys of Omaha Central: High School Basketball at the '68 Racial Divide. Lincoln: U of Nebraska, 2011.
Additional Information