Lynching of Leo Frank (1915) Historical Marker
Introduction
This historical marker is located near the site of the lynching of Leo Frank, a Jewish factory superintendent who was accused of murdering thirteen-year-old Mary Phagan. Frank was found guilty and sentenced to death in a controversial trial that demonstrated anti-Semitism. Recognizing the sensational nature of the trial that likely resulted in a false conviction, the governor of Georgia decided to intervene by commuting his sentence to life in prison. A mob carefully planned to kidnap Frank and lynch him and on August 16th, they cut telephone wires and forced their way into the prison in Milledgeville. After capturing Leo Frank, they drove him to this location and lynched him. The mob also planned to attack the governor, who fled for his life and did not return to the area for a decade. A key witness whose testimony led to Frank's confession recanted in 1982. Today, plaques describing the lynching have been erected at the location as a reminder to the cruel injustices faced by Jewish people in the South.
Images
Plaques located at 1200 Roswell Road, Marietta GA, a few yards away from the actual lynching site.

This marker was dedicated in 2008 by the Georgia Historical Society and the Jewish American Society for Historic Preservation.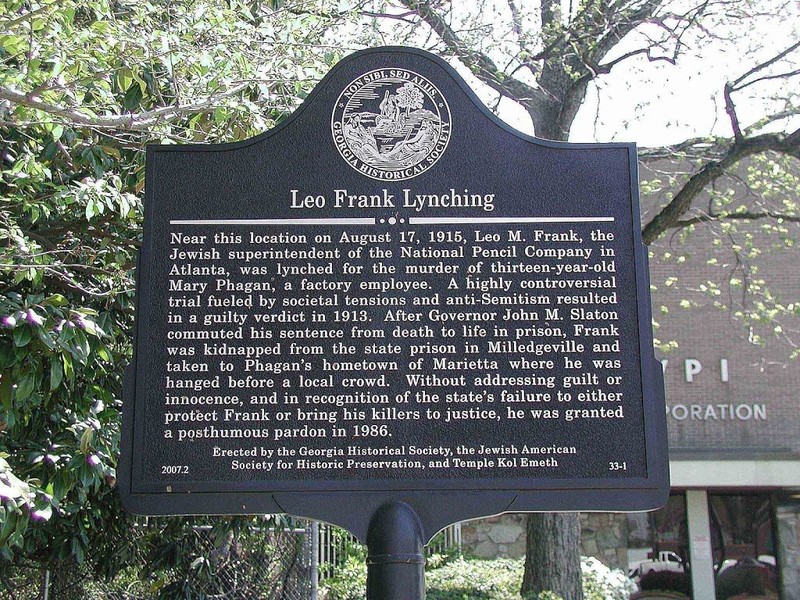 Backstory and Context
Over the span of five months in the spring and summer of 1913, a series of events occurred in Georgia which led to the lynching of Leo Frank. Most sources claim that the lynching was mainly due to severe anti-Semitism in the South and that Frank was placed on trial for a crime that he did not commit.

Frank was born in Texas in 1884 but was soon moved to Brooklyn, New York with his parents. In 1906, Frank graduated with a degree in mechanical engineering from Cornell University. He later spent nine months apprenticing in Europe, after which he moved to Atlanta, Georgia where he would become supervisor of the National Pencil Factory. In April 1913, after Frank had a been supervisor of the factory for about five years, thirteen-year-old Mary Phagan was fired from her job due to a late shipment of an essential part. On April 26th, Phagan was brutally murdered after picking up her $1.20 check from the factory.

Over the course of a few days, multiple men were arrested under suspicion of having committed this horrific crime, including Newt Lee, a Black watchman who found Phagan's bloodied body at the scene. Lee was repeatedly questioned and almost the victim of a lynch mob himself before police prevented the mob from killing him. Over the following month, the questioning continued. A fingerprint expert presented evidence that cleared Lee. With the public demanding the capture of the perpetrator, and with many locals assuming the guilt of Leo Frank, the Jewish supervisor was indicted by a grand jury for the murder of Mary Phagan.

Two months later, on July 28, 1913, Frank's trial began. The trial lasted for 25 days, and ultimately, Leo Frank was sentenced to death by hanging. Frank's attorney's requested an appeal, but the Fulton County Superior Court and the US Supreme Court denied these requests. Frank's attorney appealed to the governor who personally led an exhaustive investigation that included 10,000 documents and led him to believe in Frank's innocence. The governor did not commute Frank, but instead commuted his sentence to life in prison and anticipated his innocence would be established through another appeal.

On June 21, 1915, Frank was taken to Georgia State Penitentiary after serving time in the Fulton County Prison. One month later, and nearly two full years after Phagan was found murdered, approximately 30 men kidnapped Frank from the state prison and drove him back to Marietta, near Phagan's childhood home, where he was hanged and then beaten by angry members of the crowd. No one was identified for participating in this lynching and the governor fled Georgia with his family a few days after the lynching.

Sources
Brasch, Ben. Cobb's Leo Frank memorial site is getting a national lynching marker. Atlanta Journal-Constitution. August 23, 2018. Accessed August 26, 2018. https://www.ajc.com/news/local/cobb-leo-frank-memorial-site-getting-national-lynching-marker/96k1XwZfAcQb5h95oJy5aM/.


Additional Information