Mystery Hole
Introduction
The Mystery Hole is located in Fayette County, WV approximately 15 miles from the New River Gorge Bridge. The Mystery Hole was originally constructed, owned and operated by Donald Wilson, a Union Carbide retiree and Navy veteran. He opened the Mystery Hole in 1973 and ran it until his death in 1998.
Images
Volkswagon Beetle Crash View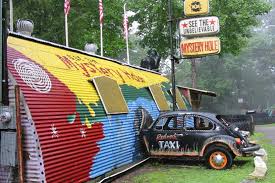 Backstory and Context
The Mystery Hole is quite a site. It is excessively garnished with a variety of objects. There is a gorilla that sits on the roof and a Volkswagen Beetle that has found its way into the side of the building. There are several flags that fly high above the scene of the Beetle crash.
Mystery Hole is a roadside attraction that brought visitors from Rt. 60 who were traveling to or from Hawks Nest to see the laws of gravity defied! It harkens back to the days of roadside kitsch, when strange and unusual attractions vied for tourist dollars.
There are strange things that happen at the Mystery Hole, and the only way to find out is to go visit since no electronics or cameras are allowed inside.With only a few roadside attractions left to enjoy today, the Mystery Hole is one of those, thanks to Sandy and Will Morrison. They bought the Mystery Hole in 1999 after the death of the original owner, Donald Wilson, and have been open for business ever since. No cameras or electronics of any kind are allowed in the Mystery Hole. This ensures that the mystery of the Mystery Hole remains mysterious.
There are two examples of oddities that occur in the Mystery Hole that are featured on their website; sit in a chair on a wall without falling off and watch a ball roll up hill. If you want to experience the laws of gravity being defied then the Mystery Hole is the place to visit. The only way to find out more about the Mystery Hole is to experience it yourself. Join the many others who have left confused and unsure about what they have just seen and experienced. In an article titled "11 of The Weirdest Places in West Virginia," the Mystery Hole is listed as the number 10 spot.
Sources
Wilson, Rick "The Mystery Hole." e-WV: The West Virginia Encyclopedia. 20 October 2010. Web. 05 May 2015. The Mystery Hole. Accessed May 1, 2015. http://www.mysteryhole.com/.
Additional Information