Alexandria Academy
Introduction
George Washington and other residents of Alexandria endowed the Alexandria Academy as a subscription school that would also provide free education for as many poor and orphaned children as might be accommodated on the schools upper floor. The majority of students paid modest tuition and the school was open to boys and girls alike. Years later, the academy hosted a school for African Americans. However, the organization discontinued their support for Black education in 1847 in response to a special law passed by the state of Virginia that forbid teaching African Americans to read-even those who were not enslaved. During the Civil War, the building became home to a small hospital and a s school for African Americans.
Images
Alexandria Academy postcard ca 1940.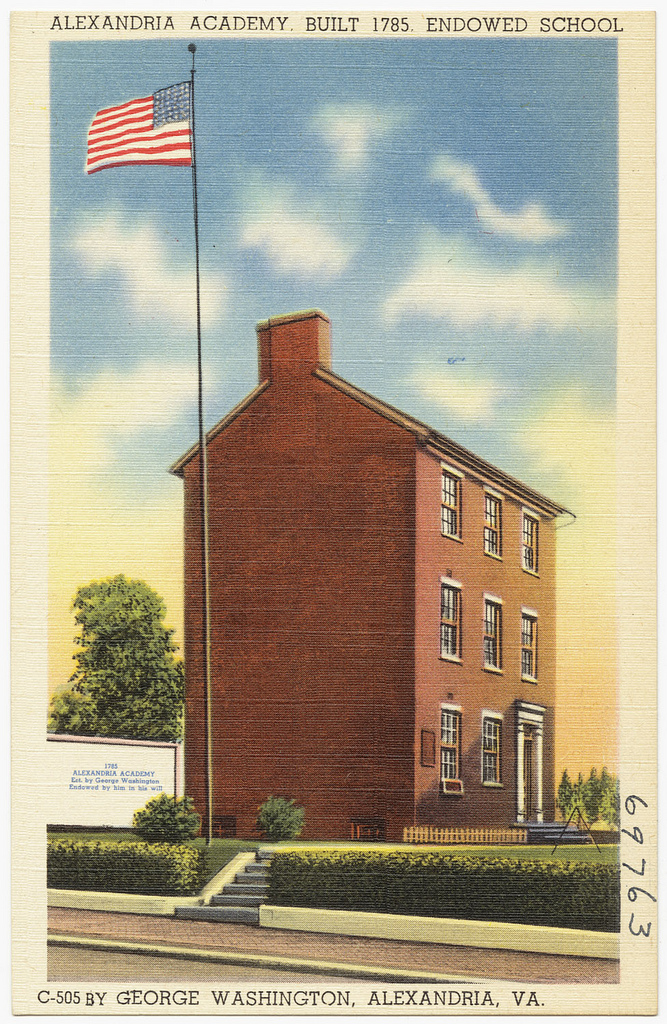 Backstory and Context
The Alexandria Academy is a three-story brick building. The original plan for the building was to operate three different kinds of teaching methodologies. On the first floor, students who were able to afford tuition were instructed in grammar, arithmetic, and physical sciences. A floor above, tuition-paying students learned Latin and classical Greek. The third floor held the Free School, which provided basic skills as well as some of the more advanced lessons that were taught on the other floors.
George Washington took great interest in the Free School and contributed 50 pounds each year- an amount that covered expenses for about twenty students. Washington was involved with the free school during his entire lifetime, and left four thousand dollars to it in his will. In 1812, the Free School moved to a new location. In its place, the academy operated a school for African Americans. At that time, Alexandria was part of the District of Columbia. After the city became part of Virginia in 1846, however, state laws barring the education of both freed and enslaved African Americans required that the classroom for Black students be discontinued.
During the Civil War, the building hosted both a school and hospital for former slaves, offering free tuition for those who could not afford to pay. The Alexandria Academy was absorbed by the Alexandria Public School System in 1884. The building was used for both educational and administrative purposes until 1995. In that year, the Historic Alexandria Foundation purchased and restored the building. As a result, the building still plays a role in the education of all Alexandrians, as the building used by many of the city's cultural and educational institutions.
Sources
"African American Historic Resources of Alexandria, Virginia." National Park Service. "National Register of Historic Places, Multiple Property Documentation Form, 1992. William Serverian, "Alexandria Academy" George Washington's Mount Vernon website, http://www.mountvernon.org/digital-encyclopedia/article/alexandria-academy/ Virginia Foundation for the Humanities, "Alexandria Academy," African American Historic Sites Database, accessed June 20, 2016.
Additional Information