Reconciliation Statue
Introduction
The Atlantic slave trade followed a triangular pattern with ships transporting luxury items from Europe to Africa for sale to African merchants who sold captured slaves to the European traders. These same ships transported slaves to the Americas where they were sold to planters. The ships then loaded their cargo holds with goods from the Americas that were sold to traders in Europe. In 2007, three Reconciliation Statues were erected in Richmond, Liverpool (UK) and the West-African Republic of Benin. Together, these three statues recall the horrors of the slave trade.
Images
The three wooden benches symbolize the triangular routes of the slave trade, while the embracing figures represent a commitment to healing racial wounds.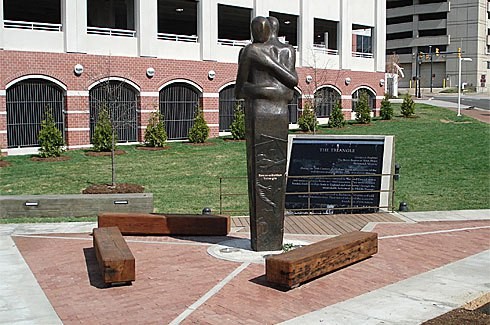 Sister statues are erected in Richmond, Liverpool, and Benin.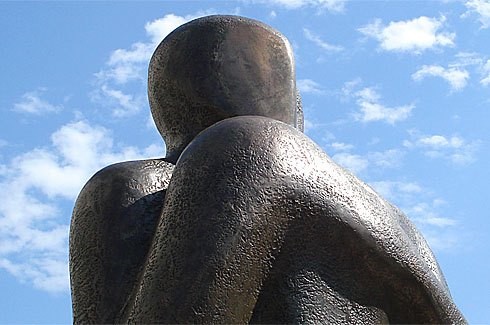 Backstory and Context
The objective of this trans-Atlantic effort was to commemorate the people who were captured and taken to the American colonies were they were sold as slaves. The statues depict the inhuman conditions of the slave ships and the many who did not survive the trip between West Africa and the Americas. This part of the triangular journey is commonly referred to as the "Middle Passage."
In 2007, three statues designed by artist Stephen Broadbent were unveiled at three ports that were part of the slave trade triangle. Each of the statues are 15-foot tall bronze sculptures that portray two people embracing. The design is meant to symbolize a commitment to forging new relationships between nations based on a recognition of shared humanity. Three wood benches surround the sculptures, a symbol of the triangular route of the slave trade.
Richmond's Reconciliation Statue is located near the city's former slave market. Its inscription reads:
"Liverpool, England, The Benin Region of West Africa, Richmond, Virginia
During the 18th Century, these three places reflected on of the well-known triangles in the trade of enslaved Africans.
Men, women and children were captured in West and Central Africa and transported from Benin and other countries. They were chained, herded, loaded on ships built in England and transported through the unspeakable horrors of the Middle Passage.
They were imported and exported in Richmond, Virginia and sold in other American cities. Their forced labor laid the economic foundation of this nation."
Sources
Initiatives of Change: Reconciliation Statue. http://us.iofc.org/reconciliation-iofc-statue Images courtesy of https://rotj.wordpress.com/2010/01/16/richmond-slavery-reconciliation-statue/
Additional Information