Earvin "Magic" Johnson Statue
Introduction
The Earvin "Magic" Johnson Statue resides outside of the Breslin Student Events Center at Michigan State University. Dedicated on November 1, 2003, this impressive statue is in honor of one of Michigan State's greatest Spartans. Before Magic Johnson's historic NBA career, he led the Spartans to a national championship in 1979. The statue stands tall above visitors of the center, reminding them of the legacy of Magic Johnson. It honors not only Johnson's basketball career at Michigan State, but his charitable contributions to the city of East Lansing where it resides.
Images
Earvin "Magic" Johnson in front of the statue.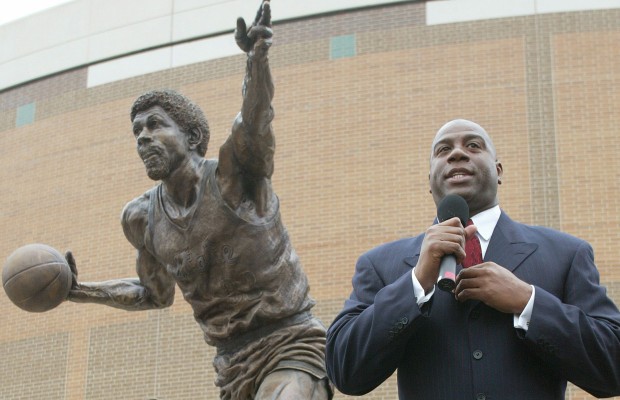 The Earvin "Magic" Johnson Statue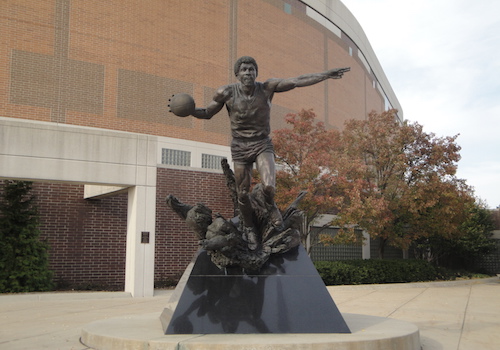 Backstory and Context
One of the all-time greatest college and NBA players, Earvin "Magic" Johnson was born on August 14, 1959 in Lansing Michigan. He began an impressive basketball career at Everett High School, then moved on to Michigan State University. While at Michigan State University, Johnson had remarkable success, leading the Spartans to a Big Ten Conference title and a National Championship in 1979.

After two years at Michigan State University, Johnson moved on to join the Los Angeles Lakers in 1979. While with the Lakers, he earned multiple Most Valuable Player (MVP) awards and championship titles. His most memorable performance was the 1987 season where he earned his best statistics and defeated the rival Boston Celtics and Larry Bird in the championship.

In 1991 Johnson announced he was HIV positive. Since then he has become a source of inspiration for many people living with that disease. In 2002, Johnson was inducted into the Basketball Hall of Fame. On November 1, 2003, the Earvin "Magic" Johnson Statue was unveiled at Michigan State University. The statue serves as a monument to Johnson's collegiate, professional, and philanthropic contributions to society. On October 15, 2015, the statue was vandalized by rival Michigan University students prior to a matchup. It has since been restored and stands tall and proud.
Sources
Foss, Mike. 2015. Michigan fans vandalize Michigan State's Magic Johnson statue. October 15. http://ftw.usatoday.com/2015/10/michigan-fans-vandalize-michigan-states-magic-johnson-statue.
Editors, Biography.com, ed. n.d. Magic Johnson Biography. Accessed May 14, 2016. http://www.biography.com/people/magic-johnson-9356150. 2003.
"Michigan State Dedicates Magic Johnson Statue." MSUSpartans.com. November 1, 2003. http://www.msuspartans.com/sports/m-baskbl/spec-rel/110203aaa.html.
Additional Information