Congdon Street Baptist Church
Introduction
Congdon Street Baptist Church is the oldest church in Rhode Island created by the African American community. The people who created this church envisioned a place for people of color to be able to come and worship. It was also created for a secular school for the Black children of Providence to attend. Congdon Street baptist church was established by the a small group of African American Rhode Islanders and white sympathizers. Keeping this church proved to be a hostile challenge.
Images
Congdon Street Baptist Church. The oldest African American church in Rhode Island.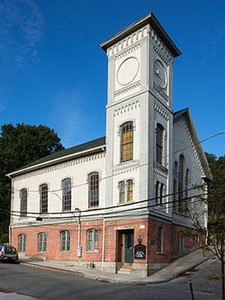 Gathering of church services.
Backstory and Context
As the oldest church in the state of Rhode Island, this church has seen its fair of rough days. Because of the separation of the Black and white communities during this time, the majority of white people frowned upon anything that involved African Americans. There were many attempts to destroy Congdon Street Baptist Church.
On March 9, 1819 a group of people gathered in Providence's Firth Baptist Meeting House to fight for the rights to create the church. Twelve men pleaded their case to a man known by the name of Moses Brown. Brown decided to buy the land and by 1820, the structure was completed. The church was interdenominational, relating to more than one religious denomination. It was then named African Union Meeting House.
Between the years of 1863 and 1870 the church was tore down by disapproving members of the white community. During this time, the Black community was left with no place to worship. The owner of an adjacent lot, George Hale, offered to switch places with the church in 1869 in disagreeance with the heinous actions of the men who demolished the church. The church agreed to the switch in 1871. The new church was finished by 1875. After the switch, it was then that the church got its name Congdon Street Baptist Church.
Despite all the trials and hardship this church has experienced, it is still standing today. Its doors have been open for roughly 197 years. Over the years it has served as grounds for a place of worship and as a school community for the African American community. Church services are being held every Wednesdays and Sundays.
Sources
Congdon Street Baptist Church (1819- ) | The Black Past: Remembered and Reclaimed http://www.Blackpast.org/aah/congdon-street-baptist-church-1819 Congdon Street Baptist Church (official webpage) http://www.csbchurch.org/
Additional Information