Silkwood Inn
Introduction
The Silkwood Inn remains the oldest structure in the small town of Mulkeytown. This historic building was completed in 1827 and has been preserved by members of the local Mulkeytown Historical Society. These volunteers offer a variety of open houses and programs that interpret this building and its role as a landmark of the state's frontier history.
Images
Tours of the historic building must be made in advance with the Mulkeytown Historical Society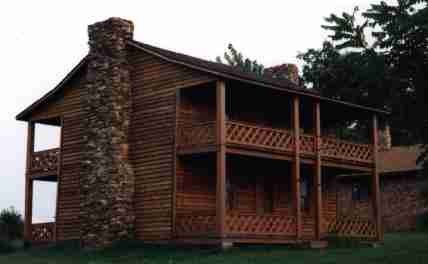 Backstory and Context
The inn was built in 1827 by a pioneer named Brazilla Silkwood right after he moved to Illinois, which in that time was still seen by people in the Eastern United States as the wild frontier. Silkwood was a rather shrewd businessman, at least when it came to location. He set up the inn along the Old Shawneetown-Kaskaskia trail, a road that served as a vital link for people traveling from the Ohio river to Kaskaskia, the capital of Illinois in the early 19th century. The inn's prime location not only helped Silkwood make a living, but also created a stopping point for weary travelers to rest, thereby making the Old Shawneetown-Kaskaskia trail a much for accommodating road to travel on.

Travelers looking to go to Kaskaskia weren't the only ones that treasured the inn though. Silkwood is reported to have been something of an early abolitionist and, during a business trip to Georgia, he met a young slave girl named Priscilla. After he went back home, Priscilla was sold to a Cherokee man. Later, when the Cherokee were forced off their land and sent on the Trail of Tears, Priscilla had to go with them. As the Trail of Tears made its way across Southern Illinois, Silkwood met Priscilla again. This time he bought her, freed her, and adopted her, taking her back home to be a part of his family. Priscilla spent the rest of her life in Mulkeytown and is buried next to Silkwood and his wife. Now we get into the legend. Supposedly, Priscilla loved the hollyhocks that grew on the property she was enslaved at in Georgia. When she was sold, she took some of the hollyhock seeds so she that could grow some wherever she went. When she finally ended up in Mulkeytown, she planted the seeds by the front porch. This story must have some truth to it, because a southern breed of hollyhocks do, in fact, bloom in front of the Silkwood Inn every summer.

The Silkwood Inn is now home to the Mulkeytown Historical Society. It is open the third Saturday. Tours of the historic inn are held by appointment only.
Sources
Sickler, Linda. "Inn's Future Seems Assured." Southern Illinoisan, 26 September 1993. Drury, John. "Home of the Quadroom Girl." Old Illinois Houses. The University of Chicago Press, 1977.
Additional Information