Portland Art Museum
Introduction
The Portland Art Museum was founded in 1892 and is the oldest museum in the Pacific Northwest. Comprised of two buildings, one of which was a masonic temple, the museum contains more than 42,000 objects displayed throughout 112,000 square feet of gallery space. The museum is best known for its diverse collection of graphic art, English silver, and Native American works. It boasts a membership base of more than 23,000 individuals and annually has more than 350,000 visitors.
Images
Established in 1892, the Portland Art Museum is the oldest museum in the Pacific Northwest. This building, the former masonic temple the museum bought in 1992, is listed on the National Register of Historic Places.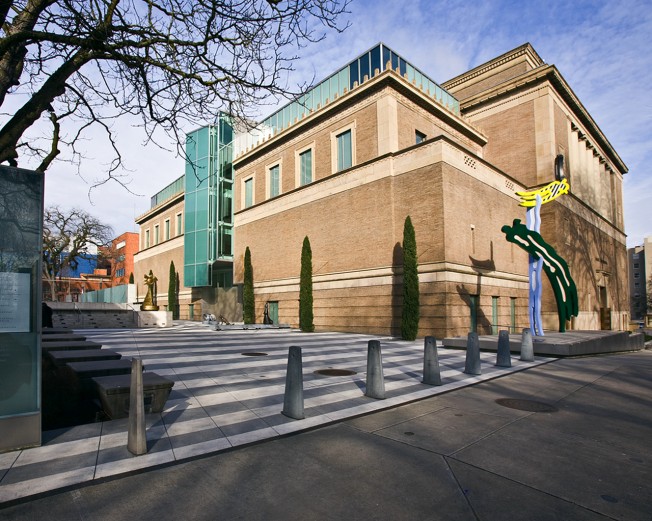 "People of the River: Native Arts of the Oregon Territory" by Bill Mercer-- Please see the link below for more information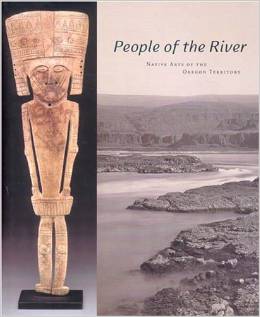 Backstory and Context
The museum acquired its first collection with support from politician and local businessman Henry Corbett. The plaster casts of Greek and Roman sculptures cost approximately $10,000 and were selected by influential couple Winslow B. Ayer and wife while traveling in Europe. The collection was displayed at the original location of the Portland Art Museum at SW 7th and Stark Streets and quickly began to draw large crowds from the Portland area and beyond.

The collections continued to grow during the following years and by 1905 the Portland Art Museum was in need of a larger space. The SW 5th and Taylor location provided the museum with its own space and by 1908 an original piece of artwork was added to the collection. The museum played a key role in introducing northwesterners to modern art.

The museum moved once again to its current location at 1219 SW Park Avenue in late 1932. The building was designed by architect Pietro Belluschi. Additions were added over time to allow for its growing collection and expanding needs. It was added to the National Register of Historic Places in 1974. The building was refurbished in the early 1990s allowing it to host different and bigger traveling exhibitions.

For many years the museum was known as the Portland Art Association and for a while the Oregon Art Institute. It was in 1992 that it officially became the Portland Art Museum.


Sources
Hartwig, Paul. "Portland Art Museum." National Register of Historic Places, National Parks Service (accessed June 6, 2016). http://npgallery.nps.gov/nrhp/GetAsset?assetID=99e6b9c8-a79f-4794-bd06-bf1beb124bb0.

Munro, Sarah. "Portland Art Association." The Oregon Encyclopedia (accessed, June 6, 2016).
http://www.oregonencyclopedia.org/articles/portland_art_association/#.V1XPa75QAWB.

Portland Art Museum website (accessed June 6, 2016). http://www.portlandartmuseum.org/page.aspx?pid=410.

Additional Information