Chinese Cemetery of Los Angeles
Introduction
The Chinese cemetery of Los Angeles contains the oldest Chinese-American structure in the state, a shrine erected in 1888 that still exists to this day. During the first half of the 19th century, Chinese immigrants faced much discrimination and were not permitted to buy graveyard plots in the country. The Chinese community of Los Angeles was therefore not allowed to bury their friends and family in the local Evergreen cemetery up to 1877 when they were finally granted a nine-acre area of land to be used as a graveyard. Known as "Potters Field", this burial ground was quickly filled with Chinese-Americans, some of whom worked on the first transcontinental railroads, who had traveled to the country looking for jobs.
Images
The original shrine as it looked in 1890s (www.chssc.org)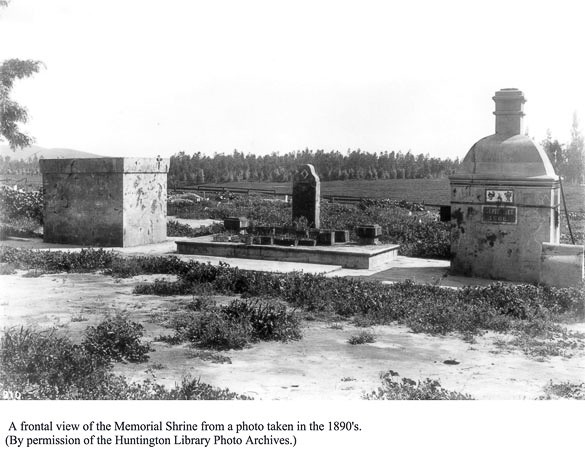 Chinese Cemetery Shrine dedication plaque from 1990 (www.hmdb.org)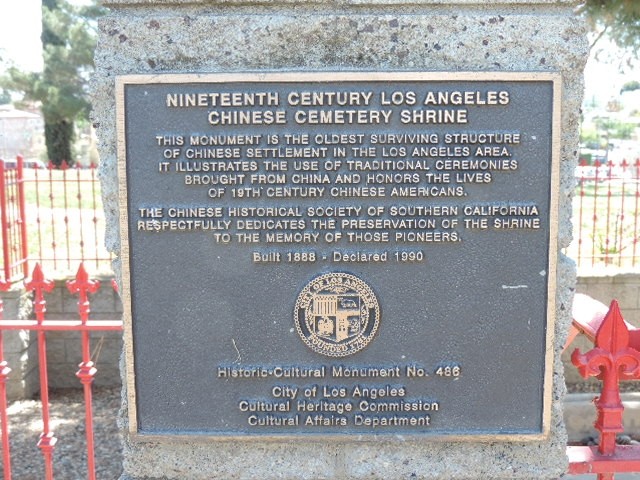 Chinese Cemetery Shrine rededication plaque from 2010 (www.chssc.org)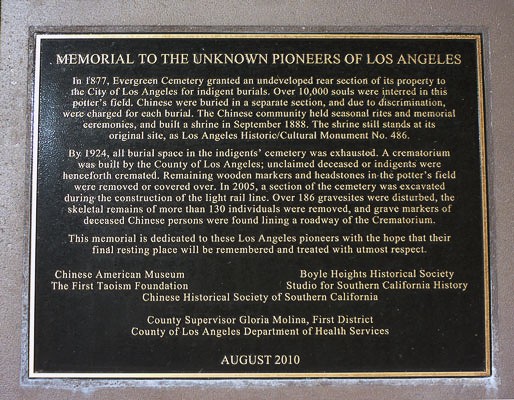 Backstory and Context
It is unclear who built the shrine in 1888, but historical photographs show that the 1,000 square foot shrine was composed of a central altar flanked by two burners and a stele inscribed with Chinese characters. The cemetery remained in use until around 1965, when the land was purchased by Evergreen Cemetery. It was then covered with over eight feet of fresh soil, in order to provide fresh ground for burials. Although many of the old gravestones were removed, the 1888 shrine was left intact and it acquired designation on the National Register of Historic Places in 1990. The site was sold to the Chinese Historical Society in 1992, and they initiated a series of conservation projects to restore the shrine and surrounding landscape. However, the precise location of the early Chinese graves was lost for the next decade.
In 2005, shortly after construction personnel working on the Gold Line Eastside Extension discovered human remains near the Evergreen Cemetery, the area was excavated by archaeologists who recovered the remains of over one hundred people of Asian descent. Many artifacts were found indicating that these were members of Los Angeles' earliest Chinese communities, including rice bowls, jade jewelry, opium pipes, and some gravestones. It is believed that this was a previously unrecorded extension to the Chinese that had been buried by the 1965 developments. In 2010 the lives of Los Angeles' Chinese immigrants and their contribution to the city's heritage was recognized with a memorial wall built in the Evergreen cemetery. The human remains recovered in 2005 were then reburied with full ceremony.
Sources
"Bringing up the dead." The Standard. March 25, 2006. Archived on The Internet Archive: Wayback Machine. https://web.archive.org/web/20121009212408/http:/www.thestandard.com.hk/news_detail.asp?we_cat=11&ar...
Ching, Ching Ni. "The site where Chinese laborers were interred, their graves later forgotten, gets a memorial." March 09, 2010. http://articles.latimes.com/2010/mar/09/local/la-me-chinese-burial9-2010mar09.
Cogstone Resource Management, Inc. "The Historic Los Angeles Cemetery Report." August 2006. http://media.metro.net/images/hlac_report_exec.pdf
"19th Century Chinese Memorial Shrine Preservation Project." Internet Archive: Wayback Machine. Accessed February 20, 2016. https://web.archive.org/web/20130902152853/http:/chssc.org/history/shrinefull.html
"19th Century Chinese Memorial Shrine." Chinese Historical Society of Southern China. Accessed February 20, 2016. http://www.chssc.org/History/19thCenturyShrine.
Additional Information