David B. Gamble House
Introduction
Constructed in 1908, the David B. Gamble House is one of the finest and earliest examples of the Arts and Crafts Movement. Its namesake, David B. Gamble (1847-1923), was a second-generation member of the consumer goods company Proctor and Gamble. The house shows influence from traditional Japanese aesthetics and a certain California spaciousness born of available land and a permissive climate. The house is a National Historic Landmark and also listed on the National Register of Historic Places.
Images
The Gamble House was built in 1908 and is a great example of Arts and Crafts style architecture.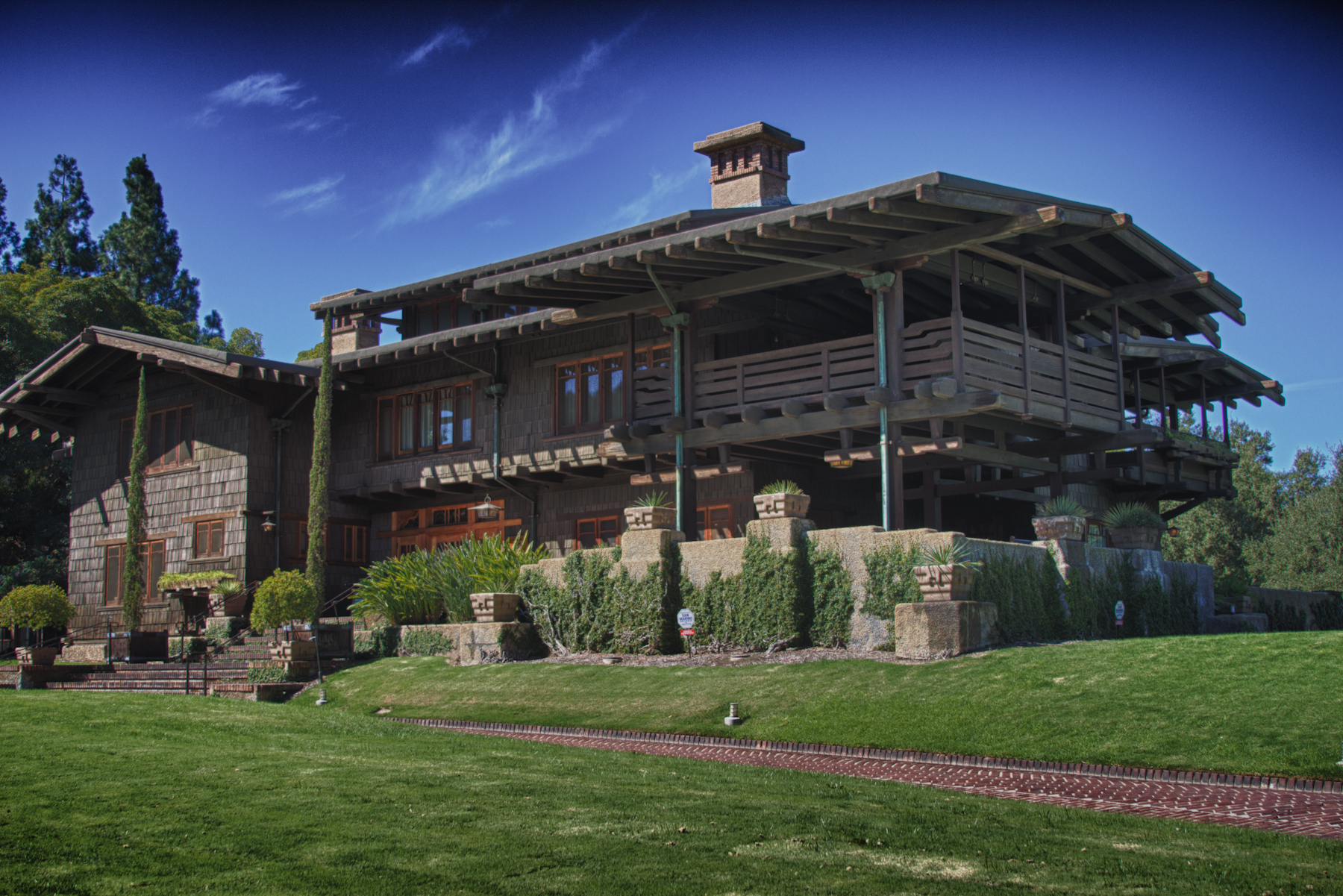 Backstory and Context
The Arts and Crafts Movement, an international movement, focused on the use of natural materials, attention to detail, aesthetics, and craftsmanship. In California, the Arts and Crafts Movement under the Greene Brothers [
Charles Sumner Greene (1869–1957); Henry Mather Greene (1870–1954)]
represented a distinctive style that was heavily influenced by Asian design. It reached its peak with the bungalow style, an architectural form characterized by broad overhanging eaves, articulated woodwork, and an open plan.

David and his wife lived in Cincinnati, Ohio where Proctor and Gamble was (and still is) headquartered. They traveled regularly to Pasadena during the winter and stayed in hotels. Finally, in 1907 they decided to buy property and build a winter residence. The Greene Brothers designed the house next door for John Cole and it seems that David and his wife were impressed by what they saw and eventually hired the brothers to design their home as well. Charles and Henry Greene, who, along with contemporaries like Frank Lloyd Wright, considered the Victorian style to be too ornate.
Both David and his wife died in the 1920s, but the house remained in the family until 1966 when the family deeded it to the City of Pasadena and the University of Southern California School of Architecture. In the 1980s, the house was used as Doc Brown's house in the film
Back to the Future
.
Sources
"The Gambles in Pasadena." Gamble House. Accessed March 17, 2013. http://gamblehouse.org/the-gambles-in-pasadena.

Pitts, Carolyn. "David Berry Gamble House." National Register of Historic Places, National Park Service. September 3, 1971. http://focus.nps.gov/GetAsset?assetID=e66a1db0-c5db-493e-9c11-667aaabc9196.
Additional Information