RLC Adobe (1844) - An Introduction
Introduction
Constructed by Indigenous laborers as the headquarters for John Temple's cattle ranch in 1844, Rancho Los Cerritos' adobe is one of the few remaining examples of Monterey Colonial style architecture in Southern California. Renovated in 1930-31, the adobe also incorporates key elements of Mission Revival style architecture. Built at the top of a hill so that water would run away from the structure, Temple's adobe features a grand two-story main house with a sweeping veranda, an indoor staircase, glass windows, and wooden floors. The adjacent work wings originally had dirt floors, barred windows, and exterior passageways between rooms. The structure's thick adobe walls – about 2' wide in the wings and closer to 3' wide on the lower level of the main house – provided natural air conditioning. The structure's flat wooden roof was sealed with brea (tar) to prevent leaks. The adobe was modernized by Llewellyn Bixby Sr.'s architect Kenneth Wing (1930-31), who replaced the roof with red clay tiles, created covered passageways, and coated the adobe walls with stucco. Plumbing, electricity, heating, seismic retrofitting, landscaping, and the sunporch were added at that time too. The renovation did not hide or obscure the adobe's hand-crafted nature, nor even remove the bars from the sunporch windows (now interior space). DIRECTIONS: As you proceed into to the courtyard, be sure to watch your step on the brick walkways, which date to the 1930s. Navigate this area in a counter-clockwise direction. If you require assistance, please ask for more accessible alternatives that do not require stairs.
Images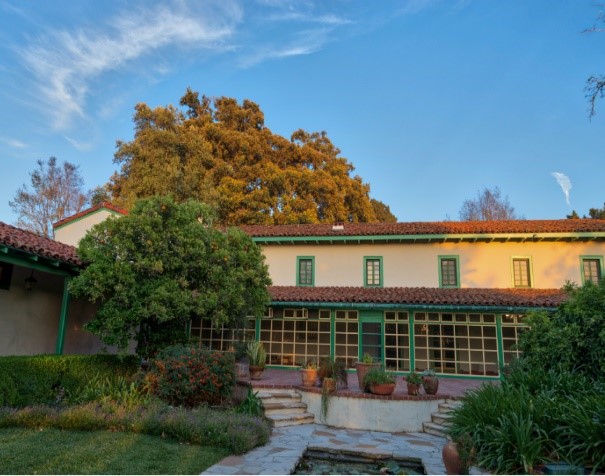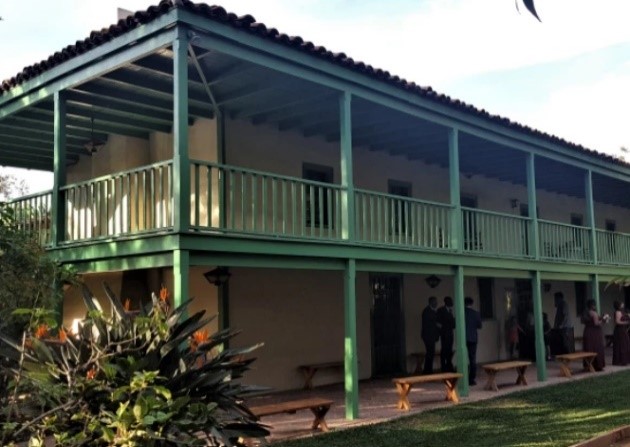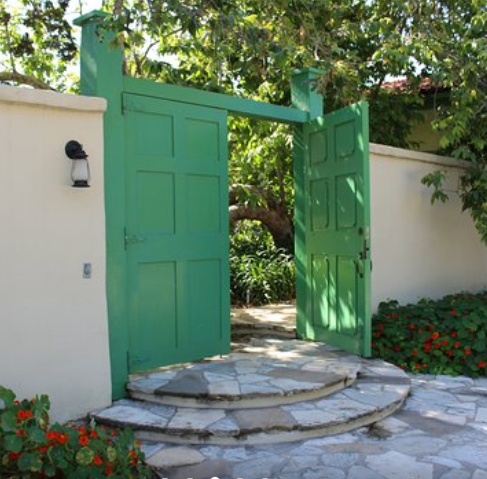 Backstory and Context
The Los Angeles basin, including the area that is now known as Long Beach, was originally inhabited by the Tongva, indigenous hunter-gatherers who lived in numerous villages throughout this region for thousands of years prior to Spanish arrival. Tongva territory extended about thirty miles in every direction from modern-day Long Beach: along the coast from Malibu to Dana Point, inland to Puente Hills, and across the ocean to the Channel Islands. Known for their basket-weaving and canoe-making skills, the Tongva made use of the abundant flora and fauna that are native to this region. They also traded with neighboring villages and tribes for useful items like soapstone and obsidian.
When the Spanish began settling Alta California in 1769, they established religious communities (missions), military forts (presidios), and small towns (pueblos) along the coast. Of course, the land they "settled" was not empty. The Spanish enticed or coerced the coastal Natives to serve as laborers in the Mission economy, which was primarily based on cattle ranching and agriculture. To survive, the "neophytes" (Natives living at the Spanish missions) had to develop new skills, while also learning a new language and having new religious practices, customs, and foodways imposed upon them.
Starting in the 1780s, the Spanish began granting large tracts of land to private citizens who pledged to become cattle ranchers, including a soldier named Manuel Nieto (1784) who received 300,000 acres in modern-day Los Angeles and Orange counties. Nieto's land abutted that of the Mission San Gabriel, so his grant was reduced to about 167,000 acres. His descendants eventually sold 27,000 acres of that land, known as Rancho Los Cerritos, to John Temple (1843) for $3,000. Temple continued the cattle ranching tradition and hired Native workers to build an adobe home. The men who built Temple's adobe were most likely Tongva (or, as the Spanish called them, Gabrielinos), who had learned to build with adobe and work as vaqueros at Mission San Gabriel. The whereabouts of Temple's personal and business records is not known, so how much Temple paid his employees (or the conditions of their employment) at RLC is not known.
To construct this building, Native laborers made more than 20,000 mud bricks by combining adobe soil with water, sand, and straw. The bricks were left to cure in the sun for several weeks before they were transported up the hill, mortared and plastered into place with still more adobe mud. Finally, the walls were sealed with whitewash to prevent rain damage. It took the workers at least two dry seasons to construct this 10,000-square-foot adobe. 
Upon retirement, Temple sold the large adobe house and 27,000 acres of land to Flint, Bixby & Co (1866), a sheep ranching operation, for $20,000 in gold. The new owners had come to California from Maine during the Gold Rush, but they transitioned to sheep ranching a few years later. Their first sheep ranch was located near the modern-day town of Hollister; their second ranch was located here at Rancho Los Cerritos. Initially tapped as ranch manager, Jotham Bixby soon purchased a half interest in RLC (1869). With the influx of people to Southern California in the 1880s, the Bixbys shifted from ranching to land development. This adobe was rented to a succession of tenants, and the Bixbys sold or leased most of their ranch land. Their sheep ranching operations moved further inland, to Arizona.
Sarah Bixby-Smith was a frequent visitor to Rancho Los Cerritos as a young girl in the 1870s, when her uncle Jotham Bixby's family lived in this adobe. As an adult, she became a professional writer. Her memoire and poems vividly recount myriad details about daily life in this area when tens of thousands of sheep roamed the pasture lands and today's urban environment was still decades away. Bixby-Smith's writings also include personal anecdotes gleaned from her parents and extended family, as well as diaries, letters, and other sources, about how her father's generation brought sheep to California and how her pioneering family flourished in the Golden State during the latter half of the nineteenth century.
Shortly after the Virginia Country Club relocated next door (1921) and Sarah Bixby-Smith's Adobe Days was published (1925), Temple's crumbling adobe house was renovated by Llewellyn Bixby Sr. (1930-31) – an active member of the country club and the younger brother of Bixby-Smith. Bixby Sr. hired architect Kenneth Wing to install plumbing, heating, electricity, and seismic retrofitting in the house, to add a stucco coat over the adobe and new roof atop the building, and to reset the upper veranda. He also hired landscape architect Ralph Cornell to landscape the remaining 4.7 acres, including the adobe's inner courtyard. Shortly after Bixby Sr. died (1942), his widow moved to downtown Long Beach. About a decade later (1954-55), she leased and then sold Rancho Los Cerritos to the City of Long Beach for half its market value, so that it would serve as a reminder of the region's ranching history.
Additional Information