RLC Adobe - The Courtyard
Introduction
John Temple's Monterey Colonial style adobe (1844), which drew inspiration from Thomas Larkin's home (1830s), was constructed around this interior courtyard. The work wings (to the left and right of the courtyard gates) included a foreman's room, a bunk room, and dining room for the ranch workers, plus a Blacksmith's shop and storage rooms for wood, food, extra furniture, and tools. The main house (opposite the gates) had a parlor and dining room downstairs and several bedrooms upstairs, accessible by an indoor staircase. The gates could be locked at night to provide security. This space was a work area during the nineteenth century; it was not landscaped until the 1930s. DIRECTIONS: Please proceed to your right and continue in a counter-clockwise direction as you explore the exhibit rooms on the ground floor. For virtual access to the rooms on the second level see link below.
Images
Temple's Adobe from newspaper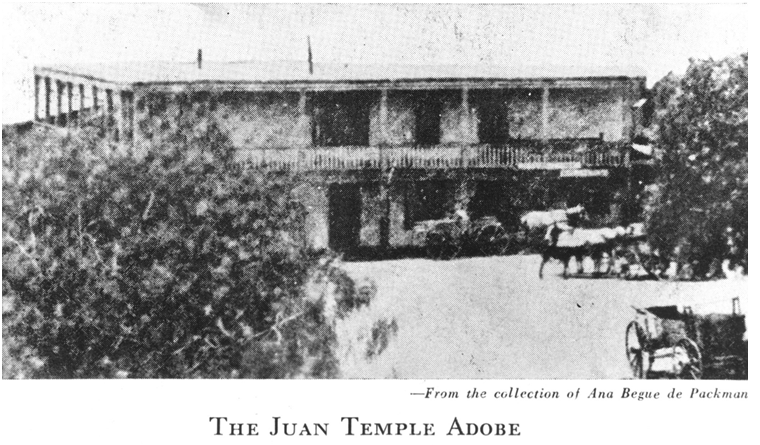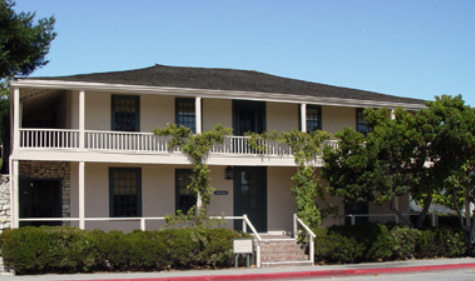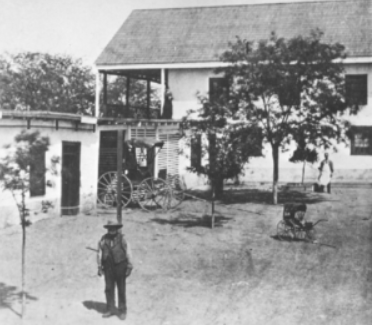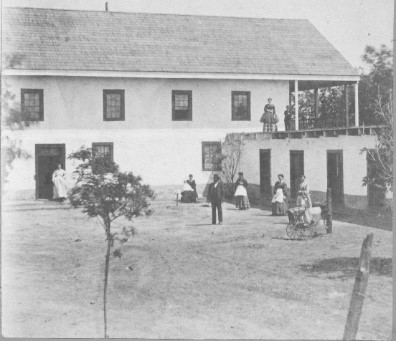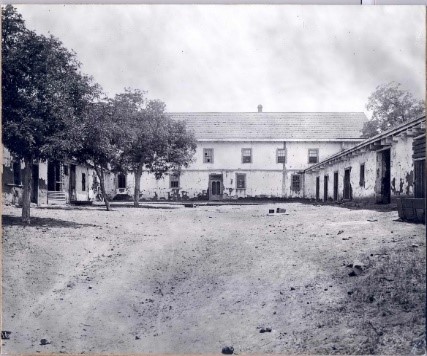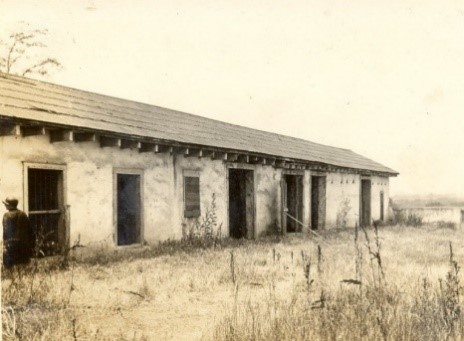 Backstory and Context
A typical adobe home in Spanish/Mexican Alta California was a two-room, single-story structure built on a packed earth foundation (looking something like the RLC Visitor Center). Such an adobe had one room for sleeping and another for dining and recreational activities. Each room had a door for access and a window for light, but the rooms were not commonly connected through interior passageways and the windows were not often enclosed with glass. Thick adobe walls provided stability as well as natural air conditioning, and the structure had to be maintained with whitewash to prevent water damage. Additions could be made over time as a family's needs and resources grew.  Temple's adobe, in contrast, included at least twenty rooms!
Monterey Colonial style architecture was popularized during California's Mexican period (1820s-1840s) by prominent immigrants who sought to combine Spanish Colonial building methods with New England style architectural features. A Monterey Colonial style adobe typically features a second story, a wrap-around porch on each level, and a low-pitch wood roof. Mission Revival style architecture became fashionable at the turn of the twentieth century (1890s-1920s) as architects drew inspiration from California's romanticized colonial past – and especially its chain of 21 Spanish missions. While examples vary in perspective and materials, Mission Revival buildings are characterized by unadorned white adobe-like walls, red tile roofs, courtyards, and covered walkways. 
Additional Information