Bernheimer Residence and Gardens, 1920s-1950s
Introduction
After his brother's death in 1924, the German millionaire and collector of Asian art, Adolph Bernheimer, retired to Pacific Palisades. Here he commissioned New York architect Franklin Small to build a Sino-Japanese style mansion and gardens, reminiscent of the home he left behind in Hollywood. This house contained Adolph's oriental collection, and would become one of the most visited tourist attractions in the Los Angeles area during the 1920s and 1930s. The area is now home to the Pacific Gardens Apartments.
Images
Women in doorway of Bernheimer residence (www.library.ucla.edu)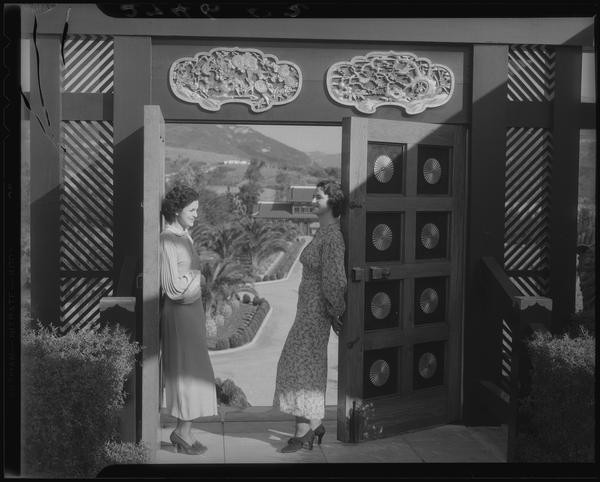 View overlooking the Santa Monica Bay (www.image-archeology.com)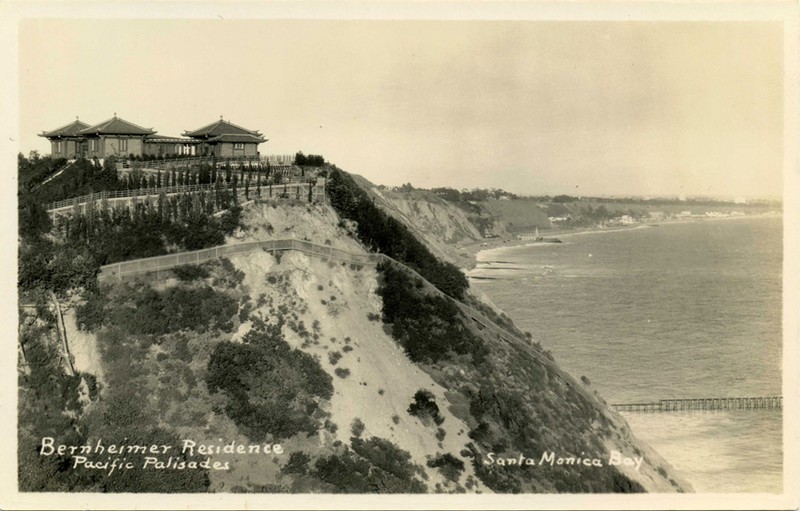 Present-day view of the location (www.library.ucla.edu)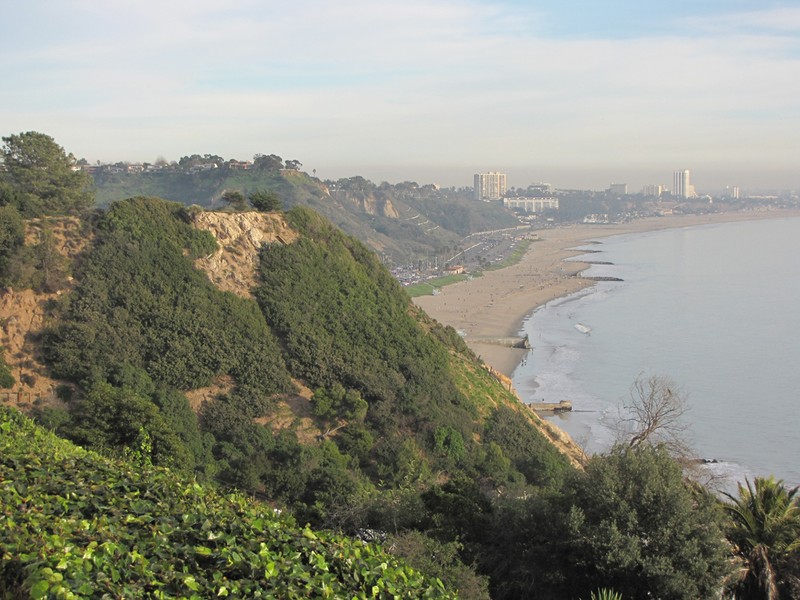 Bernheimer residence and gardens, with miniature landscapes on the pond's islands (www.library.ucla.edu)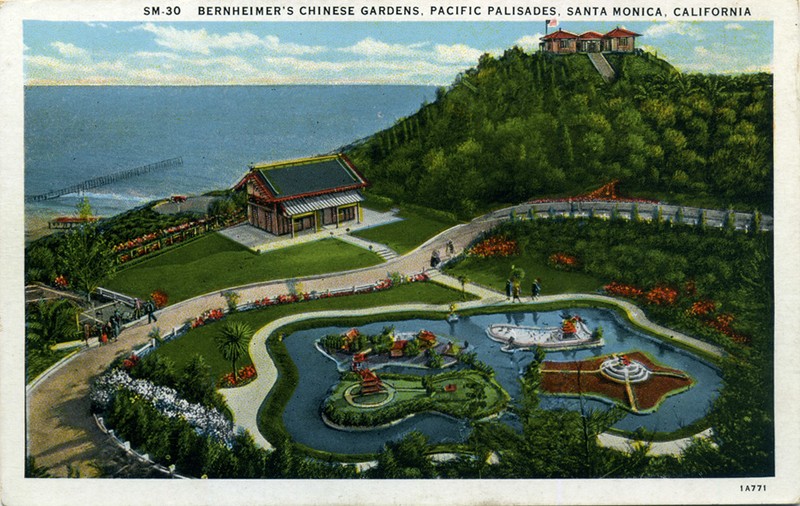 Statue of Ten Jin (www.library.ucla.edu)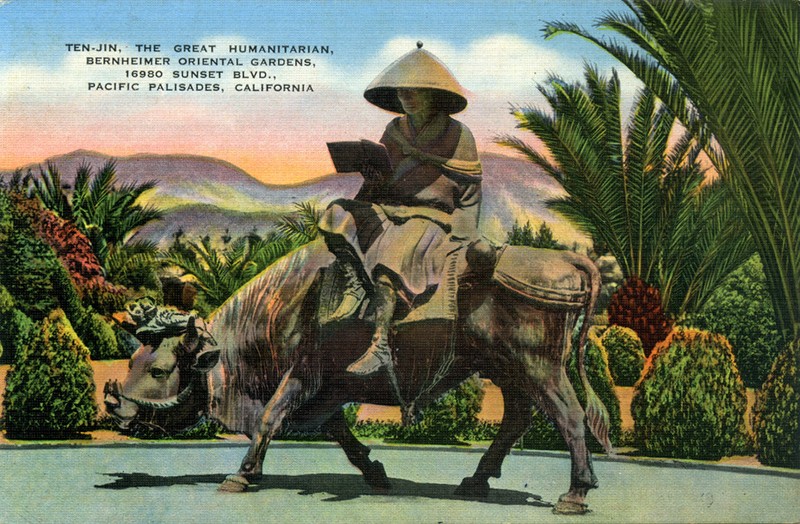 Backstory and Context
Bernheimer came from a family-run silk and cotton business, Bear Mill Manufacturing Company, that were based in New York and through which he made his millions. Over a period of fifty years he traveled across China, Korea, and Japan with his brother, Eugene, and during this time amassed a staggering collection of art and artifacts. The house and gardens flourished as a tourist attraction during the 1920s and 1930s; up to five thousand people would visit each week.. Visitors entered through a Japanese gatehouse, where they paid 10¢ to explore the gardens, and an additional 25¢ if they wished to view the oriental artifacts and furnishings in the house.
The main residence was located on a high bluff overlooking the Santa Monica Bay, a location that had previously been a mule camp and sacred site of the Chumash Native Americans. It consisted of four square tower-rooms connected by shaded colonnaded walkways. The teak walls were painted Black, and decorated with mauve and gold designs. Concentric fences surrounded the residence, giving it the appearance of a refined Japanese fortress. Visitors entered via a large tori gate flanked by two stone lions.
A wide pathway, lined with flowerbeds, led from the house to the eight acres of gardens. Adolph was an active horticulturist, and both Californian and exotic, Asian plants could be found. The gardens featured a number of Japanese pavilions, a waterfall, and a lake containing koi fish and islands with miniature Japanese landscapes and cityscapes, complete with figurines engaging in battle. An enormous staff of gardeners was employed by Bernheimer to keep the place in order. Stone, bronze, and iron statues dotted the grounds. There were chickens, swans, turtles, elephants, and Buddhist figures. Two of the most remarkable statues were of the Chinese Daoist philosopher, Laozi, and the Japanese scholar and humanitarian deity, Ten Jin, with a conical hat riding on a sacred ox (the latter can now be found at the Dabney Garden at Caltech).
During the 1940s the popularity and integrity of the residence and gardens diminished. Despite flying the American flag from the tallest point of the landscape, the German origins of Adolph and his obsession with Japanese culture made him the target of xenophobic accusations of treasonous behavior. He was accused of smuggling German spies into the country, and of sending signals from the mansion to German planes flying overhead. The weak earth of the bluff on which the complex was built began slipping into the Pacific Ocean, and attempts to prevent further weathering were too late to save the Oriental buildings. Adolph died in Pacific Palisades in 1944, and a few years later the house and gardens were vacated. His collection was sold in 1951, and all of the structures and gardens were flattened soon after.
Today there is almost no evidence of the structures having been there – a rocky crack, overgrown with trees, some pieces of concrete, and one or two unusual plants that stand out from the local flora. However, one can stand in the current-day apartment complex between present-day Sunset Boulevard and Pacific Coast Highway, and imagine a Japanese paradise surrounding them.
Sources
"Adolph L. Bernheimer." Find a Grave. February 23, 2016. http://www.findagrave.com/cgi-bin/fg.cgi?page=gr&GRid=118198897. Meares, Hadley. "Yamashiro: A Feudal Fortress in the Hollywood Hills." KCET. May 22, 2015. http://www.kcet.org/socal/departures/columnns/lost-landmarks/yamashiro-a-feudal-fortress-in-the-hollywood-hills.html. Rasmussen, Cecelia. "A Tourist Mecca That Geology Helped Obliterate." Los Angeles Times. October 22, 2000. http://articles.latimes.com/2000/oct/22/local/me-40325.
Additional Information