Gesu Catholic Church
Introduction
This salmon-pink cathedral that towers over the streets of downtown Miami is the Gesu Catholic Church, the oldest church in South Florida. The building itself is from the 1920s, but the church and the influence of Catholicism in Florida goes back even farther in time. Since its genesis, which is owed to the Fathers of the Society of Jesus, the Gesu Catholic Church has been a centerpiece for the catholic community in the city of Miami. It is now on the National Register of Historic Places.
Images
Exterior of Gesu Catholic Church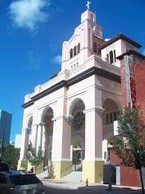 Backstory and Context
The Gesu Catholic Church was founded in April 1896. It was originally a building made of wood erected on land donated by Henry Flager, the founder of Standard Oil. The ever-growing catholic church was relocated to its present location and a new building, the present structure, was built in 1921. In addition to being a church, the Sisters of St. Joseph have run an elementary and high school out of the building for more than 75 years. The church also helped Central American and Cuban refugees by offering food, clothing, medical care, employment, shelter, and education between the years of 1959 to 1982.

In 1961, the church became home Belén Jesuit Preparatory School. Exiled Cuban priests opened the school for Cuban refugee children to receive a Catholic education. A year and a half later, the school outgrew the walls of the church and moved to another location. It still operates in Miami today as an all-male Catholic school.
Today, the church happily accepts visitors who are interested in its history. The church pastor still performs mass and various sacraments, and the church is available for weddings. Visitors to the church should call beforehand to ask about good times to tour the historic building.
Sources
"History of Gesù Catholic Church." Gesu Church. Accessed July 9, 2016. http://gesuchurch.org/about-us/history/
Additional Information