Alfred I. DuPont Building
Introduction
The Alfred I. DuPont building was one of Miami's first skyscrapers and was added to the US National Register of Historic Places on January 4, 1989. It was built in 1939 and is 260 feet tall, with 21 floors. The building's construction symbolized Miami's recovery following the Great Depression, as it was the first skyscraper built after the economic boom of the late 1920s. The building was named after the owner of the Florida National Bank, an important tenant in the building during its early years.
Images
Alfred I. DuPont building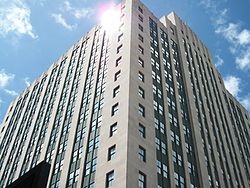 Interior of the Alfred I. DuPont building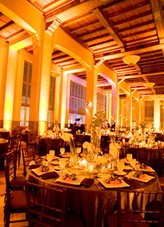 Historical elevators in the Alfred I. DuPont building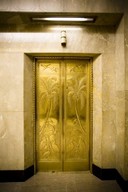 Streamline Moderne book-learn more about this book and architectural style by clicking the link below.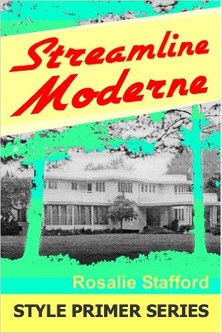 Backstory and Context
The DuPont building is Miami's only Art Deco skyscraper and was built in the style of Depression Moderne architecture. Moderne style is a later form of the Art Deco style that came into existence during the thirties. Due to the Great Depression, industrial designers began to favor streamlined design over the ornamental design of earlier Art Deco work. Industrial design refers to the process of designing products for mass production.
Characteristics of the Streamline Moderne style include horizontal orientation, glass brick walls, porthole windows, chrome hardware, horizontal grooves or lines in walls, and smooth exterior walls, often made of stucco. Although Streamline Moderne is sometimes included within the Art Deco style, the most influential and innovative designers of the movement disliked Art Deco, considering it decadent and falsely posing as modern. This group included Raymond Loewy, Walter Dorwin Teague, Gilbert Rohde, and Norman Bel Geddes.
The DuPont building's interior includes motifs inspired by Seminole Indian design and designs inspired by local flora and fauna. The building has served many purposes over the years, including the Fleet Headquarters for the 7th Naval District during World War II. During this time, it began being called the "USS Neversink." Since 2001, the space has been used as a special events venue. The building underwent a two-year restoration project that was completed in 2005.
Sources
"The Venue." The Historic Alfred I. DuPont Building. Accessed December 1, 2015. http://www.thedupontbuilding.com/php/gallery_the_venue.php?idg=38&idp=290 Austin, Tom. "Architecture Focus: The Alfred I. duPont Building." Accessed July 9, 2016. http://oceandrive.com/vaulting-ambition "Alfred I. Dupont Building Designation Report." Historic Preservation of Miami. Accessed July 9, 2016. http://www.historicpreservationmiami.com/pdfs/dupont%20building.pdf
Additional Information