Battle of Ivy Mountain
Introduction
On November 8, 1861, Confederate Colonel John S. Williams confronted Union troops briefly during his retreat back to Virginia that was necessary because of the Confederates lack of ammunition. During this day, Union troops under the command of Brigadier-General William Nelson chased after the Rebels. While they retreated, Colonel Williams cut down trees and burned bridges to slow the Union chasers. After retreating to just northeast of Pikeville, Kentucky, Williams set an ambush for the Union soldiers along a winding road that constricted Nelson's forces. That night, Union forces decided to make camp because of rain and the road blocks set up by Williams's men, and the Confederate forces were able to successfully retreat back into Virginia. However, the indecisive victory for the Union did allow them to strengthen their hold on Eastern Kentucky and ended almost all fight for the Big Sandy Valley.
Images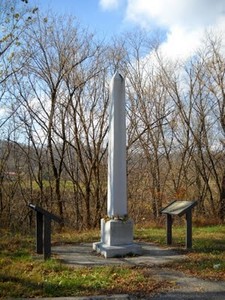 Description of the Battle on the Monument at Ivy Mountain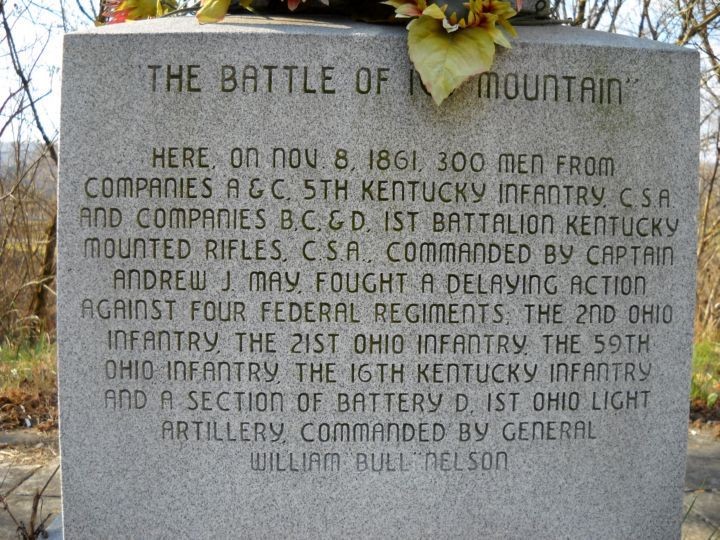 Backstory and Context
While recruiting new soldiers to aid the confederacy and help the fight against Union forces in Kentucky's Big Sandy Valley, Confederate Colonel John S. Williams ran out of ammunition and pulled back to Pikeville to rearm. Running out of ammunition was a common problem for the Confederate forces in the Big Sandy Valley as they were somewhat ill-equipped. Under the command of Federalist Brigadier-General William Nelson, Union troops pursued after Williams and his men. Nelson ordered Colonel Joshua Sill to attempt to cutoff the Confederate forces. Trying to prepare times for an evacuation, Williams sent out a cavalry unit to stall the Union troops. When this cavalry was able to escape Nelson, he pursued them to an area northeast of Pikeville known as Ivy Mountain or Ivy Creek. Here, the Rebels under the command of Captain Andrew J. May launched a surprise attack against ranks of Union troops constricted by a narrow bend in the road.

During the fighting, neither side was able to gain any definitive advantage. In addition, May's men had cut down trees and burned bridges during the conflict.These roadblocks along with the rain convinced Nelson and his men to make camp. As a result, the Confederate soldiers were able to successively retreat back into Virginia. Although Colonel Sill's forces did not arrive in time to completely cutoff the Rebels, his men did skirmish with their remnants and occupied Pikeville for the Union. Because of this indecisive victory, the Union was able to consolidate their power in the mountains of Eastern Kentucky and drive back Confederate offensive in Kentucky.

Estimated Casualties: 293 in Total; 30 (U.S.) and 263 (Confederacy).
Sources
http://www.nps.gov/hps/abpp/battles/ky003.htm http://www.thekentuckycivilwarbugle.com/2012-1Qpages/ivymountain.html http://www.rootsweb.ancestry.com/~kyfchgs/fcmarker.html
Additional Information