The Mandolin Inn
Introduction
Built in 1908, The Mandolin Inn is a historic Edwardian Style home with a large and plentiful history. The Mansion was home to Nicholas J. Schrup, an Affluent business man who started the American Bank and Trust, as well as going on to be an Iowa State Senator. The home went through many changes of hand, but over 108 years later, it is still a beautiful site to see. With all the original wood and hand-painted walls, this is certainly a cozy place to get a way from it all for a while.
Images
The beautiful stain glass of St. Cecelia. This is a "blessed mistake" piece of art. One of the panels is flipped upside down. This is done to show that nothing is perfect except God.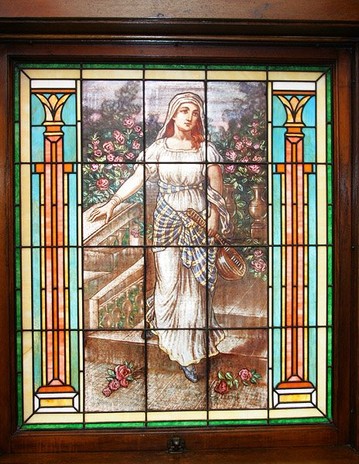 The gorgeous hard wood staircase. The stain glass picture of St. Cecelia sits upon these chairs.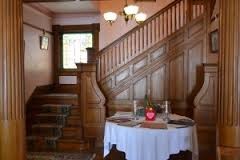 The House's Outside. The gorgeous wrap around porch can be seen.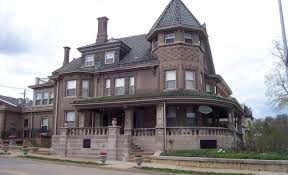 Backstory and Context
The Mandolin Inn is a must stop on your journey through Dubuque. The home is a beautiful Edwardian style home, named after the stylings of England's King Edward. This style is like Victorian but much less fussy. The home is beautifully adorned with hand-carved wood, custom moldings, and hand-painted walls. The home was built in 1908 by Mr. Fridolin Heer, who was an architect of many other Dubuque mansions at the time. The home was built for Nicholas J. Schrup, a very prosperous and intelligent business man. He would go on to start American Bank and Trust, as well as to be Knighted by the King of Belgium, and was an Iowa State Senator. After Mr. Schrup passed in 1950, his children sold the beautiful home to the Blessed Virgin Mary Nuns. The Nuns occupied this home until 1972, when they then sold the home and it became a half-way house for juvenile delinquent children. Proof of the children's residency can be found in a storage cabinet in the attic, where they graphittied the old wooden panels deep in the attic. After the house was a halfway home, it became a law firm. The lawyers used the first floor for their practice, and then rented the 2nd, 3rd and basement floors to college students. In 1988, the Mansion was restored to its full glory and was from then on known as The Mandolin Inn Bed & Breakfast. It got the name The Mandolin Inn from the gorgeous piece of stain glass in the entryway that depicts St. Cecelia, the patron saint of musicians, holding a mandolin. The current owner has made handicap accessible changes to the home to make it much more friendly to all people who wish to enjoy its beauty. It is one block away from historic Jackson Park.
Sources
Boynton, Amy. "About." Mandolin Inn RSS. N.p., 23 Apr. 2012. Web. 14 July 2016.