The Ukrainian American Archives & Museum of Detroit
Introduction
The mission of the Ukrainian American Archives & Museum of Detroit is to educate the public about the history, culture, and art of Ukraine, with a special focus on Ukrainian American immigration. The museum exhibits traditional crafts such as pottery, woodcarving, and embroidery. In addition, it acts as a center for research, with a large library and document archives. Finally, the museum hosts various heritage programs that teach the Ukrainian language and folk crafts such as religious icon painting and beadwork.
Images
The Ukrainian American Archives & Museum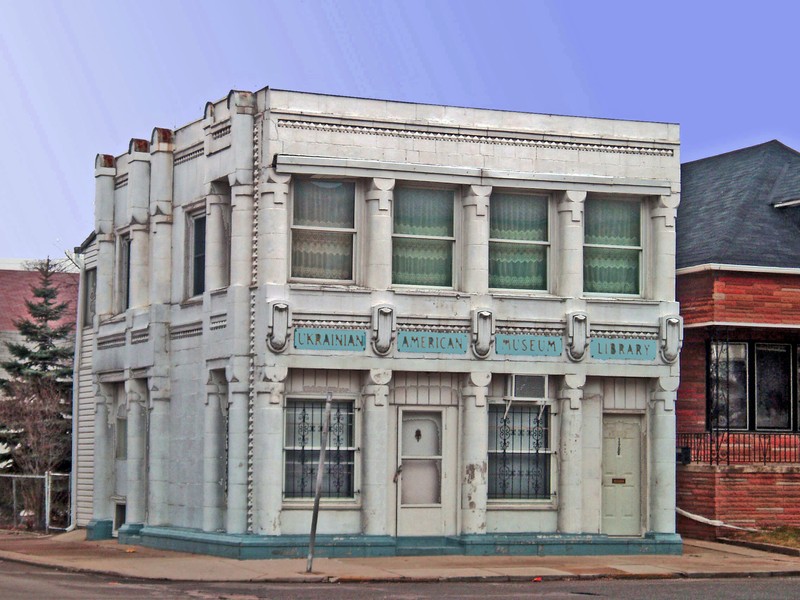 Part of the museum's traveling exhibit "A Cultural Thread: The Enduring Ukrainian Spirit"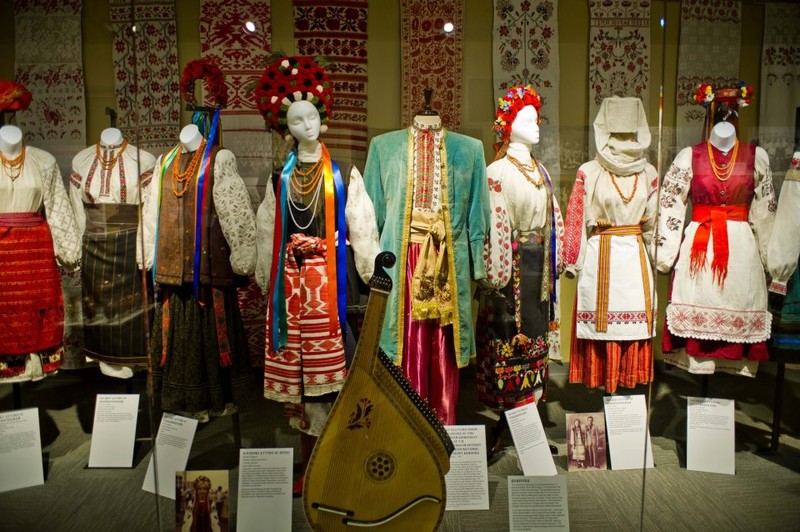 Traditional Ukrainian clothing from the early 1900s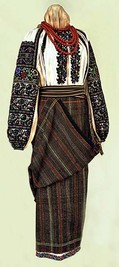 Pysanky, or decorated Easter eggs, from the museum's collection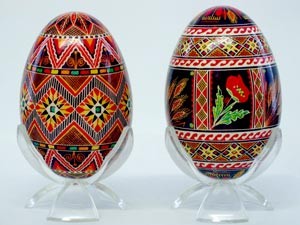 Painted ceramics from the museum's collection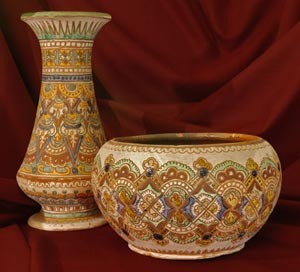 Backstory and Context
The Ukrainian American Archives & Museum of Detroit showcases the culture and history of Ukrainian immigrants and serves as a research center and library. Its collection consists of Ukrainian folk crafts, art, textiles, and musical instruments. Artwork includes sculpture, prints, and paintings by Mychajlo Dmytrenko and Oleksander Kaniuka as well as religious icons byHalyna Cisaruk, Jerome Kozak, and Yuri Krus. Ukrainian history is told through such cultural artifacts as elaborately painted ceramic vases, a Hutsul ceremonial ax, and a hand-carved candelabrum. Visitors can learn about the cultural importance of the bandura, a string instrument commonly played in Ukrainian folk music, and of pysanky, intricately painted Easter eggs. Traditional garments display beautifully woven fabrics with embroidered details and beadwork from different regions of Ukraine.

The museum also acts as an important center for Ukrainian and Ukrainian-American research, with a focus on immigration. It holds a significant collection of archives, photographs, oral histories, and a library of over 25,000 books. In addition, the museum hosts classes in Ukrainian and English and workshops in various traditional folk crafts such as embroidery and pysanky decorating. In 2013, the Detroit Historical Museum hosted a traveling exhibit from the Ukrainian American Museum in order to introduce Ukrainian history to a broader audience. The exhibit, entitled "A Cultural Thread: The Enduring Ukrainian Spirit," included artifacts and photographs exploring the impact of Ukrainian immigrants on Detroit. 1

The museum is currently housed in a two-story historic building that used to be a bank. The bank was at one time on Woodward Avenue, but was later moved to its current address on the corner of Charest and Conner in Hamtramck. Roman and Ivanka Dacko bought the building after immigrating to Detroit from Ukraine after WWII. The Dackos were heritage collectors and eventually combined their collection with another Ukrainian museum in Warren to form the Ukrainian American Museum in 1958. The museum acquired a larger building in October 2015 in order to better accommodate its collections and events under one roof and plans to move once renovations are complete. 2



Sources
1. "History of the Museum" and "Our Collection." Ukrainian American Archives and Museum Website. Accessed July 14, 2016. http://www.ukrainianmuseumdetroit.org/home.html 2. Hayda, Zwenyslava. "Ukrainian American Archives and Museum of Detroit Purchases Larger Building." The Ukrainian Weekly. Published October 23, 2015. Accessed July 14, 2016. http://www.ukrweekly.com/uwwp/ukrainian-american-archives-and-museum-of-detroit-purchases-larger-building/
Additional Information