Clarysville General Hospital
Introduction
The Clarysville General Hospital, located just a few miles west of Cumberland, Maryland, treated thousands of sick and wounded soldiers during the Civil War. The site was a working inn serving travelers along the new National Pike roadway at the time it was appropriated for use as a hospital by the army.
Images
Postcard of the Clarysville General Hospital: https://news.lib.wvu.edu/wp-content/uploads/2015/09/clarysvillehosp.jpg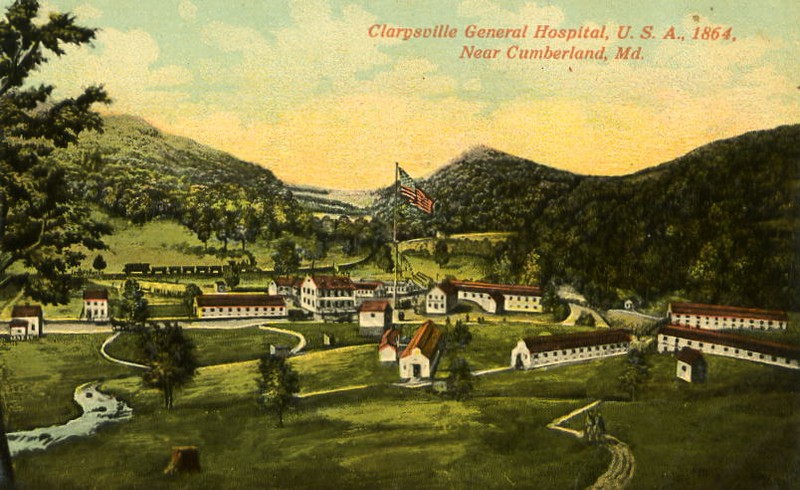 Backstory and Context
Wounded and sick soldiers from Civil War battles fought in Virginia were sent to Cumberland for recovery partly because of its convenient location near the C&O Canal, National Pike roadway, and the railway system. Due in part to these new transportation systems, Cumberland experienced large developmental growth and had become the most populated city in western Maryland. On the outskirts of Cumberland, the Clarysville Inn had been in operation for more than 50 years. It was currently a stagecoach stop for travelers on the national highway. The inn is estimated to have been constructed by Gerald Clary in 1807 when the land it was built on was acquired. However, the architecture of the building, including the window frames, cornice, and double-ended chimneys, was similar to that of other local buildings erected in the mid-1800s.
In 1862, upon finding the conditions at the Cumberland hospitals to be substandard, the army took over the Clarysville Inn property for use as a hospital during the remainder of the war. The inn offered a clean atmosphere with plenty of fresh air and good water that was conducive to healing for recovering soldiers. Dr. M.M. Townsend of nearby Eckhart, Maryland served as the hospital director, and several new wooden structures were built to accommodate convalescing troops.
It is estimated that between 1862 and 1865, the Clarysville General Hospital treated several thousand Union troops and some Confederate troops. At least 1,000 and as many as 2,000 troops were patients at the hospital at any given time. At Antietam National Cemetery, 177 interred soldiers are documented as having been patients at the Clarysville General Hospital. Following the war, the temporary wards that had been built were torn down and the inn was returned to the owners, and the inn resumed its normal operations. The original Clarysville Inn was destroyed by fire on March 10, 1999.
Sources
"Maryland Inventory of Historic Properties." Maryland Inventory of Historic Properties. http://mdihp.net/dsp_county.cfm?search=county&id=542&viewer=true&updated=N&criteria1=C&criteria2=AL. "Whilbr - History of Antietam National Cemetery." Whilbr - Western Maryland Historical Library. http://www.whilbr.org/antietamNationalCemetery/index.aspx. "Cumberland History." NPS.gov Homepage (U.S. National Park Service). https://www.nps.gov/nr/travel/cumberland/history.htm. Askey, Carol. "The Historic Clarysville Inn." RootsWeb.com Home Page. 1999. http://www.rootsweb.ancestry.com/~mdallegh/Photos-old/claryinn.htm.
Additional Information